Liverpool FC: Why Craig Bellamy and Kenny Dalglish Is a Match Made in Heaven
September 23, 2011
Scott Heavey/Getty Images
I've grown up with Kenny Dalglish; now to be signed by him is a massive honor. This is an exciting time. When Kenny took over, watching as a fan last season I got the buzz as well - Craig Bellamy, September 2011
The above statement was taken from Craig Bellamy's interview with Liverpool the day after the close of the summer transfer window. Bellamy's signature was a shock to many, and still is in some ways. However, there may be much more to his return to Anfield than meets the eye.
Liverpool had signed Bellamy once before in 2006 for £6.5 million from Blackburn Rovers and in that time he looked like he was coming into his own. He got off to a flying start in the UEFA Champions League as he scored on his debut but eventually cooled down. However, he struggled to find the net for Rafael Benitez in the Premier League taking until the middle of October when he broke his duck against his former club.
He showed his ability to inspire the Reds when he scored a brace against Wigan Athletic in December 2, 2007 also providing an assist in the 4-0 victory. December continued to be his break out month as he scored four goals in total and then began January with another.
But it would all come to a halt in the minds of many when he was alleged to have attacked John Arne Riise with a golf club while the team was training in Portugal. It would cost both players two weeks' salary, and they apologized to their manager.
Dubbed "The Nutter with the Putter" due to the incident, in their next Champions League match against Barcelona Bellamy scored the equalizing goal only to celebrate it by emulating a golf stroke. In ultimate irony he set up the game winning goal of Riise as the Reds ran out 2-1 winners over Barca.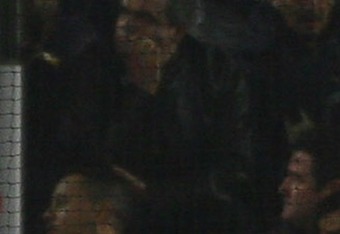 Stu Forster/Getty Images
From that point on it seemed that the days of his career in Red where over, and by April he was reported from Wales on Saturday to have stated that he would be leaving Liverpool due to a breakdown of communication and conflicting tactical ideology of how he should be used by Benitez.
It would come to fruition that following summer with him making a £7.5 million move to West Ham United where he would start another phase of his career.
Fast-forward four years and you are up to the summer of 2011, when the initial rumors broke that Bellamy was a rumored target by Kenny Dalglish I was honestly completely open to it. For some reason I kept finding reasons that it was a great decision.
It would be for a limited expense because it would most likely end up a free transfer with Manchester City just wanting him off the books. Signing him for free would mean he could always be sold for a profit other than his wages. Although there is the history of incidents, it seems to be an unfortunate side effect of his character.
It is that character on the pitch that is the true convincing argument. When Bellamy is on form he is a game changer. Liverpool need game changers, period. One of the biggest flaws the Reds have lacked in the past two seasons is a player or two that can really make things happen. Fernando Torres was an offensive game changer upfront until he lost touch with who he was as a player. Xabi Alonso was that in creative form before leaving for Real Madrid.
Steven Gerrard was the one game changer that was left at Anfield by January of 2011 but with his injury history of recent seasons it was a lacking category when Kenny Dalglish regained the reigns at the turn of 2011. The fact that Gerrard just returned from six months on the injured list Wednesday September 21, 2011 against Brighton proves that point all too well.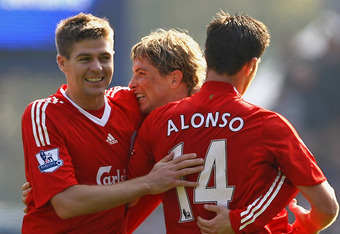 Alex Livesey/Getty Images
The arrival of Luis Suarez in January signaled that Dalglish and Damien Comolli had figured one thing out: the Reds needed players that were not afraid to go after a game and make something happen. Suarez proved he was just that scoring on his debut against Stoke City.
However, the Reds management knew they needed another player that could inspire the club. This time they needed someone with experience, passion, versatility, and desire to achieve what he had never achieved and someone that was ready to fight for the cause to push the Reds back to glory.
Craig Bellamy embodied all of that. At 32 years old the Welshman has seen all sides of the English game from the early days of his career at Norwich City, to title challenges with Newcastle United, Scottish Champions with Celtic and near Champions League Glory with Liverpool.
There is no doubting his passion for the game; he has always been a fiery and charismatic player on the pitch. Bellamy's former national team manager and previous Manchester City boss Mark Hughes had this to say about the player:
…He is an outstanding player who provides us with qualities that we are lacking slightly. He has blistering pace, has bags of enthusiasm, has a superb attitude to training and will be a great addition to the squad.
His former manager hits much of the nail on the head and continues to back up the elements that undoubtedly led to the signing of the player.
Bellamy has the ability to play all over the attacking third. He can achieve as a striker, support forward, winger or attacking midfielder and moves seamlessly between the midfield and attack. The current crop of Liverpool players need more like Bellamy because he has the ability to contribute all over the pitch.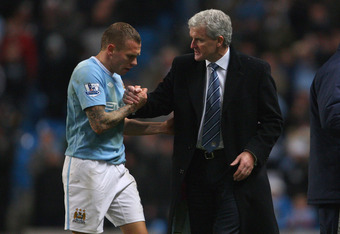 Stu Forster/Getty Images
Most of all Bellamy has stated that he knows why he is coming back to Liverpool, to succeed;
The Liverpool team when I first signed is a lot different to the Liverpool side of the last couple of years so we need to get back into the Champions League and look to push the club on from there again…

…We're not in Europe so it gives us a great opportunity to concentrate on the league. Cup competitions speak for themselves and obviously we want to do well in cups, but this gives us the opportunity now to go week by week and really concentrate on our league position and get back into the Champions League
On top of it all is the players love for his new manager, a point that must be considered when you look forward to how he may act considering his troubled past. Bellamy had this to say on his now manager Kenny Dalglish:
To every Liverpool fan, Kenny is probably the best player ever to pull on the red shirt so that speaks for itself. He was the first player-manager to do the double and just how he conducted himself really.

I know we've had bits of success since then but the club hasn't been the same since he left, so to come back in and be a part of this with the players who are here—it's a good time.
Kenny Dalglish also had much to say about Bellamy in his own press conference on September 22, 2011:
We knew what we were getting when Craig came into the club.

Having a year out at Cardiff rather than the Premier League, well, we're getting the benefit of that.

He's got a hunger to come out an impress and maybe he went anyway with a wee bit of unfinished business the last time he left here.

So he's got a desire to re-write that and we'll get the benefit.

He will make a contribution to the football club over the length of his contract—hopefully last night was just the beginning.

He loves playing football and he's really enthusiastic and determined to do well.
The truth that these two are a match made in heaven is written all over their comments and the actions of both. Bellamy has been on the fringe of the team as he adjusted but now looks set to oust Andy Carroll from the starting 11.
Carroll is no doubt a talent, but he has failed to prove he is anything like the player he was with Newcastle in the first half of last season. That is why he had £35 million splashed on him, but now a free transfer looks to take him out.
Bellamy is in many ways the combination of Luis Suarez and Dirk Kuyt rolled into one. He runs all day, is all about making a difference in the side and has the ability to be clutch like Dirk Kuyt. He has that will to score, wears his heart on his sleeve, can score from distance or close range, and his passion can inspire the team when he is on his game just like Luis Suarez.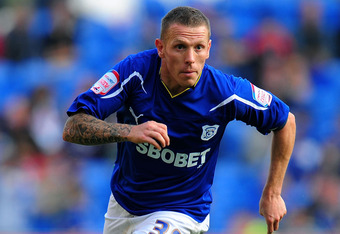 Stu Forster/Getty Images
After seeing Dalglish's excitement over Bellamy's debut goal and the nonchalant reaction from the forward is proof that he is hungry to succeed and has much more left to show this season.
The new era of Craig Bellamy is upon us and I look forward to seeing all that he can achieve in his second chance at the club.
You can click the link to read the Liverpool vs Wolves preview as well as all of the Week 6 Previews and Predictions for the EPL.
Thanks for following me and be sure to read further on Bleacher Report and at the links below. You can follow me on Twitter @thedailyatz and Facebook or visit my Website.