English Premier League: 5 Bold Predictions for EPL Week 5 Sunday Matches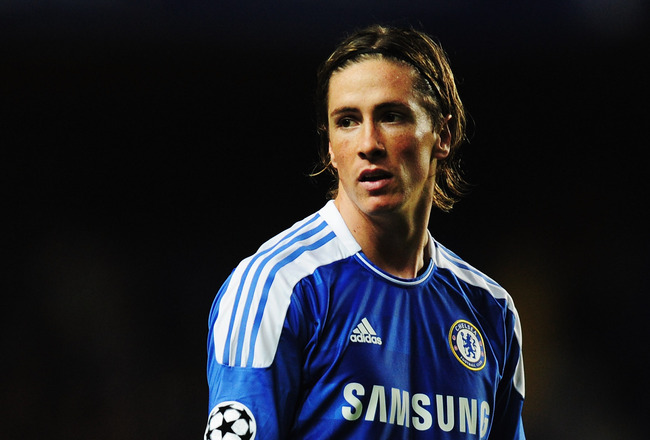 Jamie McDonald/Getty Images
Saturday saw its fair share of surprises with Blackburn Rovers upsetting Arsenal 4-3 in what could be one of Arsene Wenger's last games in charge as I know he deserves respect for his years of service, but he could finally have hit the end of his time at the Emirates.
All three newly promoted teams saw victory with Norwich City taking down Bolton Wanderers who are having a tough start to their season. Swansea City picked West Bromwich Albion apart in a 3-0 victory as did Queens Park Rangers when they took the attack to Wolverhampton Wanderers in a 3-0 victory.
Everton was just as surprising, but it proves how much David Moyes truly has to offer as a leader. Despite his club having limited means for the last several seasons he continues to put the right players on the pitch at the right time. Moyes substitution choices on the day proved the difference as both Apostolos Vellios and Royston Drenthe scored in the last seven minutes to give the Toffees their first win at home this season.
As action packed as Saturday was, this Sunday's four matches have the chance to be just as full of excitement or more and this will be a great second day of play in the EPL.
Tottenham vs Liverpool: Ledley King Done for Season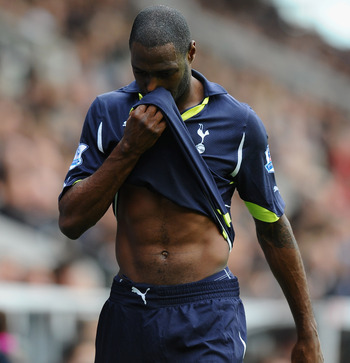 Mike Hewitt/Getty Images
Ledley King has remained healthy so far this season but he is always a worry to make an exit due to a recurring injury.
The Tottenham defender will once again be facing world class competition for Luis Suarez, Stewart Downing and the rest of the Liverpool attack.
There is possibility that pushing himself to hard could cause him to cause his body problems. It is unfortunate to know for a fact that his talent is let down by his body so often.
Fulham vs Manchester City: David Silva and Samir Nasri Create Five Goals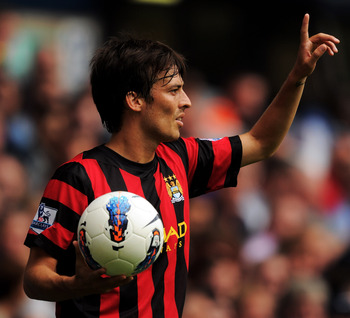 Michael Regan/Getty Images
David Silva has been sensation all season for Manchester City. His second season in the EPL looks to be where he will begin to shine as the freshman learning curve seems to be over.
Samir Nasri likewise has been in fine form since joining the Citizens from Arsenal starting in week three of the new campaign.
Fulham have struggled all season in the league and I can see the two City midfielders running riot in the middle of the park creating at least five goals for their club in a blow out victory.
Sunderland vs Stoke City: Nicklas Bendtner and Peter Crouch Get off the Mark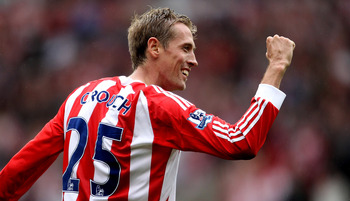 Scott Heavey/Getty Images
Both Sunderland on-loan Striker Nicklas Bendtner and new Stoke City front man Peter Crouch are both looking to get their first goals for new clubs.
Each of them joined a new side on the last day of the transfer window and they will both be looking to make an impression after not scoring in their debut match's.
Bendtner will most likely have the tougher time of it with Stoke City having one of, if not the most physical sides in the league. The Dane has one goal and one assist in his four career appearances against Stoke City.
Peter Crouch will face off against a back line for Sunderland with hopes of continuing his career form against Sunderland. In his last six games against the Black Cats he has scored three goals and provided two assists.
Tottenham vs Liverpool: Steven Gerrard Scores in a Surprise Cameo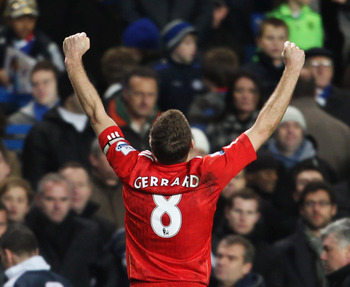 Scott Heavey/Getty Images
Steven Gerrard originally wanted to make his full return to action against Tottenham. However, it now looks like that could be delayed with him still working in training to get fully match fit.
I believe he will start on the bench but will come on around the 60th minute to make a half hour cameo and lift the squad for the last half hour.
The shock of that possibly happening would to see Gerrard put one past Brad Friedel and give his Liverpool Reds the victory signally the return of Captain Fantastic.
In the past five seasons he has made seven appearances against Spurs scoring one goal and providing three assists.
Manchester United vs Chelsea: Torres Scores a Hat Trick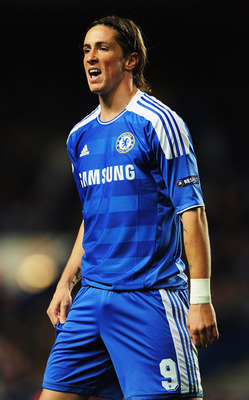 Jamie McDonald/Getty Images
Fernando Torres has been on the rocks for the last few weeks. Between continued poor form since joining the club in January, locker room problems between himself and his teammates and his Spanish National team status in the air the 27 year old is circling the drain in more than one situation.
But this week he showed some renewed vigor in Chelsea's Champions League opening round victory against Bayer Leverkusen. The forward worked his butt off throughout the match and provided both assists of the game that the Blues won 2-0 thanks to both David Luiz and Juan Mata slotting Torres' service home.
This weekend could be his coming out party as he was a goal threat constantly against the Red Devils when at Liverpool when he scored three goals in six games against the Reds rivals.
He failed to score for Chelsea in his chances before, but after this week we could see a different Torres at Old Trafford as big games for some reason seem to usually be when Torres decides to shine as of late.
Wayne Rooney may have scored two straight league hat tricks but a Torres three spot would be sensational.
Keep Reading