Memorable Moments from Sam Allardyce's Blackburn(ing) Feud with Arsenal
September 16, 2011
Clive Brunskill/Getty Images
Quick: run a Google search of "Sam Allardyce Arsenal." You won't be disappointed.
A relatively quiet morning of mine became Pleasantvilled—ie. what had been dull and dreary became infinitely more interesting as I scrolled through the annals of Big Sam's continued feud with Arsenal (and particularly Arsene Wenger) over the years.
Whenever Arsenal played Blackburn, there was a surefire chance that words would fly between Arsene and Allardyce. And chances were often good that they weren't predicated upon notions of courtesy.
It might be a bit of a stretch, but the feud evokes the cantina scene in Star Wars: A New Hope, when the weird-looking guy (Allardyce does look like an animated walrus, after all) with the weirder-looking friend seems intent on informing young Luke Skywalker that neither he—nor his friend for that matter—likes the young Tatooine-ian.
I've always felt Robbie Savage, the former Blackburn player and now television "analyst" slips in perfectly to that role of the weird guy's friend. Anyways, to make a cumbersome analogy short, Wenger attracted the ire of Allardyce, and we don't really know why, other than something about le Frenchman's comportment rubbed the big Englishman the wrong way.
It's an interesting side note that the managers of Premier League sides best known for playing the most physical blends of football end often seem to take the most umbrage with Wenger. Stoke City's Tony Pulis, Wolves' Mick McCarthey and, of course, Big Sam. The list seems continual.
It's a cruel twist of fate that Allardyce has since left the comfortable confines of Ewood Park and is now at the helm of Championship-level West Ham United. There's little chance Arsenal will face the Hammers this season, meaning we can only revel in the past.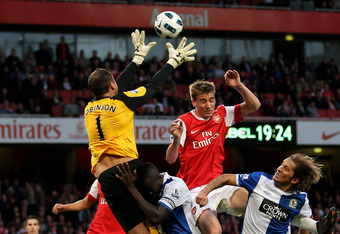 Julian Finney/Getty Images
And what a past it was.
Allardyce's list of complaints with Wenger ran longer than Piers Morgan's nightly listing of why he, and no one else, is the most famous Arsenal fan in the world.
Here's some of the choicest morsels from what was often a rather churlish affair with Allardyce and Wenger:
—Accusing Monsieur Wenger of impacting referees' decision-making by complaining about "rough treatment" Arsenal was forced to deal with when playing Blackburn's physical-minded players.
—Accusing M. Wenger of refusing to stop by for the oft-customary post-match drink between managers. I must say that I find this one in particular highly amusing, as I'm sure Wenger contemplated accepting the invite just so he could splash his aged and full-bodied Bordeaux right into Sam's smug sphincter of a face.
—Accusing M. Wenger's trophy-winning sides of the early 2000s as being the "dirtiest" in the league.
—Arguing that he is "as advanced" as Wenger in coaching acumen and only his purported image prevents him from enjoying the same status as a purveyor of fine football.
Current Blackburn boss Steve Kean seems less inclined to begin a war of words with Arsenal—come to think of it, he doesn't really seem to say much at all, does he? Alas, the wonderful era of Allardyce arguments looks to be put on hold as long as West Ham are mired in the Championship, barring a chance meeting in the Carling or FA Cups.
Tomorrow's match will have to be about the football and not the feud.
Such a shame.