12 Terrible Big-Game Coaching Blunders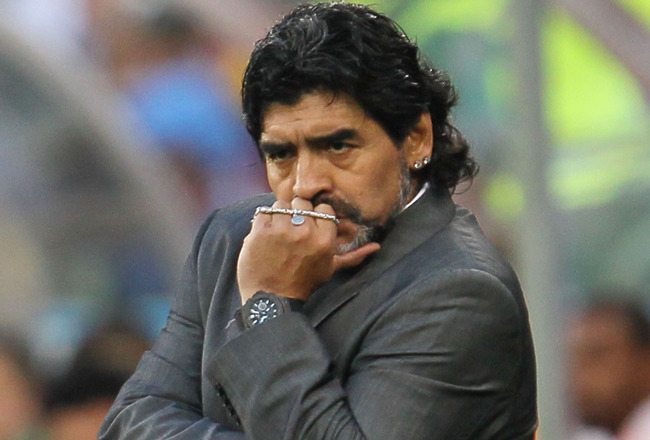 Chris McGrath/Getty Images
Managers are in a unique position and have the ability to change the course of a game. While their screaming and hollering from the sidelines may be more cathartic for them personally than useful for the side as a whole, the coach can arm his players with the best tactics and team selection to get the desired result.

And, if things need changing, then the correct substitutions at the right time can hugely change the course of a match.

Conversely, the wrong strategic set-up or player choices can cost the team dearly and increase the opposition's chances of winning.

Here are 12 such occasions when gaffes from the gaffer have led to catastrophe.
Craig Levein Plays a 4-6-0 Formation (Czech Republic v Scotland, October 8 2010)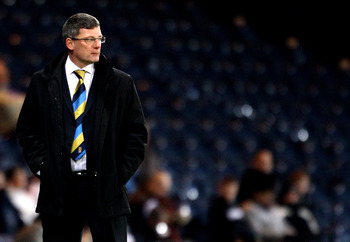 Jeff J Mitchell/Getty Images
Scotland manager Craig Levein actually beat the Czechs in his first match in charge of the national team in the March before this European Championship qualifier, with Scott Brown scoring the only goal of the game in a friendly at Hampden Park.

However, he was soon under pressure when a 3-0 friendly defeat in Sweden was followed up by a goal-less draw away to Lithuania and a 2-1 home win over minnows Liechtenstein which was only secured with a 90th-minute winner from Stephen McManus.

Such attacking impotence must clearly have been playing on Levein's mind when he travelled to Prague with the squad to face the Czechs in their third Group I qualifier, and he certainly raised eyebrows when he announced he would be fielding a side without a recognised striker. Kenny Miller, who had already scored 10 goals in the SPL for Rangers at that early point in the season, was left on the bench along with fellow forward Chris Iwelumo.

The aim was to secure a useful away point against the Czechs, but it soon became clear that the Scots were going to be fighting against the tide. That the Czechs struggled to convert their many chances suggested that an at least slightly more enterprising approach may have benefited Scotland more.

The home side finally made the breakthrough on 69 minutes when Roman Hubnik pounced at a corner. Levein eventually brought on Miller and Iwelumo for the final quarter of an hour, but the damage was already done.

Just four days later, Miller was restored to the side as Scotland welcomed Spain to Hampden. That it took the world and European champions until the 79th minute to score the goal that sealed a 3-2 win for them hints at what might have been for Scotland if Levein had only tried to play football in Prague. As things stand, Scotland lie third in Group I, two points behind the Czechs.
City: Architects of Their Own Downfall (Manchester City V Liverpool, May 5 1996)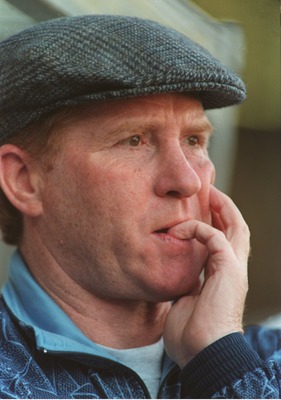 Mark Thompson/Getty Images
As a team packed full of superstars and backed by a billionaire sheikh prepares to launch its first assault on the Champions League, it is easy to forget that, not so long ago, Manchester City were a club that was relegated from the Premier League in the most comedic of circumstances.

Going into the final day of the season, City knew they only had to better Southampton's result against Wimbledon to stay up for another season. That would be no mean feat—Liverpool had beaten City 6-0 in the league and 4-0 in the League Cup earlier in the campaign.

City looked dead and buried when a Steve Lomas own goal and a strike from Ian Rush had the Reds 2-0 up at halftime at Maine Road, but they battled back admirably, and goals from Uwe Rosler and Kit Symons drew them level with 12 minutes remaining.

At that point, someone in the crowd told City boss Alan Ball that Southampton were losing to Wimbledon, meaning City were on course to stay up. Ball ordered Lomas to take the ball to the corner flag and shield it there to help run down the clock, which the midfielder dutifully did.

Sadly, whoever passed the Southampton score on to Ball had gotten his facts wrong. The Saints were actually drawing 0-0, but by the time the message spread to the City players it was too late. The final whistle went, and they were relegated on goal difference.
Gullit Benches Shearer for Derby (Newcastle United V Sunderland, August 25 1999)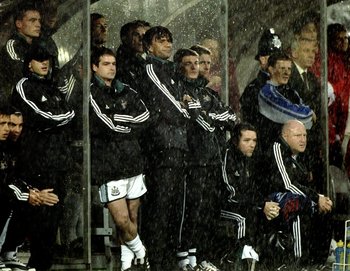 Graham Chadwick/Getty Images
Gullit's first season at Newcastle had gone reasonably well, and it ended with the Magpies reaching the FA Cup final.

However, the Dutch legend's relationship with key members of his squad was rapidly deteriorating, to the point where he was barely speaking to star striker and club captain Alan Shearer and did not even give midfielder Robert Lee a squad number.

This frosty atmosphere bore itself out on the pitch. Newcastle lost their first three matches of the 1999-2000 season and went into the local derby against Sunderland on the back of a 3-3 draw with Wimbledon in which they had blown a two-goal lead.

Much to the surprise of everyone, Gullit left both Shearer and fellow big-money striker Duncan Ferguson on the bench, instead starting this hugely crucial game with only young forward Paul Robinson in attack at St James' Park.

The home side went ahead through Kieron Dyer, the player who had taken Lee's squad number, but Sunderland's classic little-and-large strike duo of Kevin Phillips and Niall Quinn scored a goal each to give the Black Cats the lead. Shearer was introduced just before Phillips' 75th-minute winner, but could not salvage a point for his team.

Shearer was (and still is) a god on Tyneside, and there was no way Gullit was going to get away with losing a derby after benching the club's much-loved local hero. He resigned three days later.
Maradona's Argentina owned by Germany (Argentina v Germany, July 3 2010)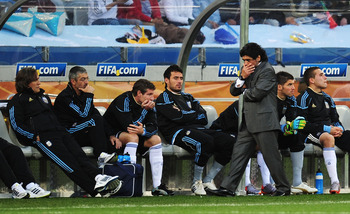 Clive Mason/Getty Images
In spite of Diego Maradona seemingly doing all he could to sabotage their efforts, Maradona's Argentina managed to qualify for the 2010 World Cup finals in South Africa.

This was despite a record-equalling 6-1 defeat in Bolivia, plus further losses against Brazil, Ecuador and Paraguay, before back-to-back wins over Peru and Uruguay saw them book their place in South Africa without the need for a playoff.

Maradona called up more than 100 players in the build-up to the tournament, including veterans Arial Ortega and Martin Palermo. But when it came to his 23-man squad for the finals, there was no room for Esteban Cambiasso or Javier Zanetti, despite them winning the Champions League with Inter Milan the previous month.

Still, when you have the abundance of attacking talent that Maradona had at his disposal, it can cover up for a multitude of sins, and the Albiceleste won all four of their matches en route to the quarter-finals.

The last eight was where they came unstuck, and in spectacular fashion. Lulled into a false sense of security by those wins over Nigeria, South Korea, Greece and Mexico, Maradona persisted with his all-out attacking philosophy.

Lionel Messi, Carlos Tevez, Gonzalo Higuain, Angel di Maria and Maxi Rodriguez all started against a Germany side that had torn through England in the last 16. Javier Mascherano was the only player for Argentina with any defensive capabilities to speak of.

Joachim Loew's side produced an even more fearsome performance against Argentina, winning 4-0 courtesy of two goals from Miroslav Klose and one each from Thomas Muller and Arne Friedrich.

Defender Martin Demichelis had said in the build-up to the match that if he played as badly as England's John Terry had in the second round, he would not be able to return home. It must have been an awkward moment when he stepped off the plane at Buenos Aires with his tail between his legs.
Steve McClaren starts Scott Carson in goal (England v Croatia, November 21 2007)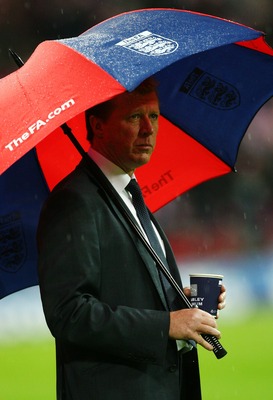 Alex Livesey/Getty Images
A month before this do-or-die Euro 2008 qualifier at Wembley, Paul Robinson had plunged England's hopes of reaching the finals by palming a save into the path of Roman Pavlyuchenko, who pounced to score and seal a 2-1 win for Russia.
It was one error too many for Robinson, who had been a great servant for his country but had never recovered from the ball which bobbled over his boot and into the net in Croatia the year before.
England manager Steve McClaren had one match left in the group, the return fixture against Slaven Bilic's side, to get things right or face being the first boss to miss out on a major tournament since Graham Taylor in 1994.
Although he had the experienced David James at his disposal, McClaren looked back at that keeper's history of clangers and saw one even more chequered. So he decided to be bold and make a big call, a statement of intent that would shock all the journalists who had been criticising him virtually from day one and show the fans who were getting on his back that he truly was the boss.
He picked Scott Carson. He got it wrong.
Carson is undoubtedly a talented keeper. At that stage he was playing every week for an Aston Villa side that looked to be going places, and had played well in the European Under-21s the previous summer. He had even gone to the 2006 World Cup after Robert Green pulled out through injury, although he was never likely to see any game time.
Still, at 22 years old, he was yet to receive his first cap, so McClaren gave him his debut in a friendly against Austria five days before the Croatia game. Carson passed his audition, keeping a clean sheet, and so he was picked to start again at Wembley in a match in which England had to avoid defeat in order to qualify.
Eight minutes in, Niko Kranjcar's speculative shot came towards Carson. Like a rabbit in the headlights, the young keeper was clearly overawed by the enormity of the occasion on only his second senior appearance, and he reacted too slowly to stop the shot from going in.
England went on to lose the match 3-2, and the image of a defeated McClaren standing under his umbrella in the rain was burned into the memory of every England fan.
Phil Brown gives an on-field team-talk (Man City v Hull City, December 2008)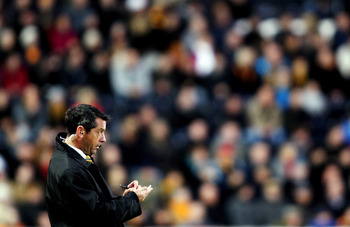 Ross Kinnaird/Getty Images
Hull City were on a high going into this Boxing Day clash at Eastlands. The newly-promoted Tigers had already recorded amazing wins away to Arsenal, Tottenham and Newcastle early in the season, and they went to visit Man City having taken seven points from their previous three games.
However, they soon came unstuck, and they were 4-0 down at the break thanks to two goals each from Felipe Caicedo and Robinho.
Rather than conduct his team-talk in the away dressing room, Hull boss Brown decided it would act as an effective motivational tool to give his players a dressing down in front of a bemused crowd.
The gamble did not pay off. Hull went on to lose 5-1, and they scraped survival on the final day after only winning one more league game for the remainder of the season.
One bit of good that did come from Brown's al fresco chat was that it spawned one of the best goal celebrations in Premier League history, when Hull's Jimmy Bullard marked his equalising penalty on the same ground by recreating the moment the following season.
Graham Taylor substitutes Gary Lineker (Sweden v England, June 17 1992)

Shaun Botterill/Getty Images
Before Steve 'Wally with the Brolly' McClaren, there was Graham 'The Turnip' Taylor. The Aston Villa boss was always going to have a tough task following on from Bobby Robson, who led England to a World Cup semi-final in 1990 before stepping down.
Taylor at least went one better than his eventual successor by actually reaching a European Championship, but once England were in Sweden for the 1992 finals many will have wished they hadn't bothered.
Two goalless draws against Denmark—a team that had failed to qualify but were reinstated after civil war rendered Yugoslavia's position untenable—and France meant they had to win their final match against the hosts if they were to reach the second round.
Things got off to a good start when David Platt opened the scoring after just three minutes, only for Jan Eriksson to level for Sweden early in the second half. With England needing another goal, the man to turn to was Lineker. Winner of the Golden Boot at the 1986 World Cup, the Tottenham striker's record of 48 goals was second only to that of Sir Bobby Charlton.
But Taylor had other plans, and he replaced Lineker for Arsenal's Alan Smith on 64 minutes. The move may have been more easily forgivable had Lineker not announced before the tournament that he would retire from international football at the end of the summer. The eyes of striker and manager did not meet as the former took to the bench.

England went on to lose the match on a goal from Thomas Brolin and Denmark, the team that never even qualified, beat West Germany in the final.
Graeme Souness plays 'George Weah's cousin' (Southampton v Leeds, November 1996)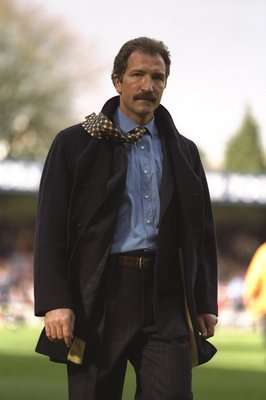 Gary M. Prior/Getty Images
It was the ultimate football blag, and has gone down in history as a moment that shows what can be achieved with enough chutzpah and the right level of gullibility from those being conned.
Ali Dia was a footballer. That much was true. He had played in the French lower leagues before coming to England to try his luck, and how. A fiend of Dia's called Southampton manager Graeme Souness, pretending to be former World Footballer of the Year George Weah, and he extolled the virtues of his "cousin," Dia.
Souness, a fearsome man both as a player and manager who does not suffer fools gladly, was taken in by claims that the striker had played for Paris-Saint Germain and Senegal, and gave him a one-month contract.
Dia found himself on the bench at The Dell, and came on after half an hour for Matthew Le Tissier. The Saints legend later remarked that watching Dia shamble around the pitch, completely out of his depth in a Premier League fixture, was "like watching Bambi on ice".
Souness eventually hauled him off on 85 minutes, just after Leeds went ahead, and the most bizarre 53-minute cameo in English history came to an end.
Leeds ran out 2-0 winners, Dia's contract was soon cancelled and Souness's managerial reputation never fully recovered.
Managers Passing Up on Future Superstars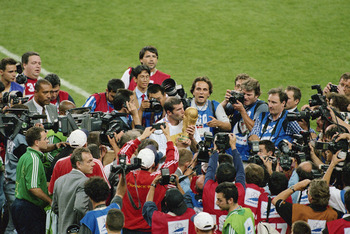 Stu Forster/Getty Images
There are many tales about English clubs seeing a young player on trial and passing on them, only to see them later blossom into greats of the world game, though they would understandably keep rather quiet about ever laying eyes on them.
Some are apocryphal, some have some solid basis in fact, but all are entertaining nonetheless.
Let's start at Ipswich Town, who at varying times during the 1980s invited talented colts who went by the names of John Barnes, Ruud Gullit and Paul Gascoigne, but were not impressed with any of them. They were probably right.
There is a story which goes that Manchester City had a look at some Portuguese dandy called Luis Figo and thought better of it.
Not to be outdone, Tottenham Hotspur ran the rule over two French chaps called Zinedine Zidane and Christophe Dugarry, but decided they were not Premier League quality. Zidane would endure more hard luck in Britain when Newcastle turned down the chance to sign him for £1.2 million, insisting he was not good enough to play in the second tier of English football, let alone the Premier League. Poor guy just couldn't get a break.
But perhaps the most glaring miss of all was made by Sheffield United, who came close to agreeing to a deal for a precocious number 10 when manager Harry Haslam went on a scouting trip to Argentina in the late 1970s. The Blades settled on a £200,000 deal, but were then either unable or unwilling to stump up the cash, and the deal fell through.
If anyone knows what happened to Diego Armando Maradona, do let us know.
Villa play kids in big Euro tie (CSKA Moscow v Aston Villa, February 26 2009)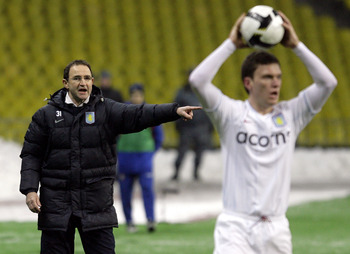 Epsilon/Getty Images
At the time, Aston Villa were a credible threat to the top four clubs, with the Champions League a seemingly attainable target.

With Martin O'Neill at the helm and the likes of Ashley Young, Gareth Barry, James Milner and Emile Heskey (no, really), the Birmingham club were very much on an upward trajectory.

So much so, in fact, that the usually pragmatic and canny O'Neill already viewed the UEFA Cup as beneath his club before they had even reached the next level.

Having secured a 1-1 draw in the first leg at home, Villa faced a tough but not impossible task of winning the return leg in Moscow, or at least matching the score from the first leg and forcing extra time and penalties.

Instead, O'Neill decided that progressing any further in the competition would hamper their bid for a top four place. After all, they still had difficult games against Manchester City, Tottenham, Liverpool and Manchester United coming up.

So O'Neill left first-teamers Young, Barry, Milner, Heskey, Brad Friedel, Gabriel Agbonlahor, Carlos Cuellar and Stiliyan Petrov at home, and instead fielded a team made up of squad players and youngsters at the imposing Luzhniki Stadium in sub-zero conditions. CSKA won 2-0.

Sadly for Villa, the gamble did not pay off. They lost all four of the aforementioned domestic fixtures (including a 5-0 drubbing at Anfield) and went on to finish sixth.
Carlo Ancelotti persists with Torres in the Champions League (April 6 & 12 2011)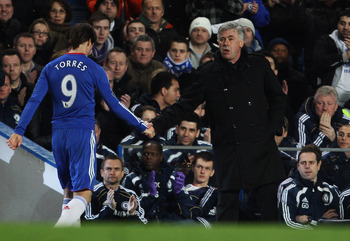 Scott Heavey/Getty Images
It must be tough being the manager of Chelsea. Sure you have a vast transfer budget and a squad chock full of talent, but you have to deal with living in the shadow of Jose Mourinho's achievements at the club, and a trigger-happy chairman in Roman Abramovich.
So when the billionaire Russian oligarch splashed out a British record £50 million on Fernando Torres in the January transfer window, Carlo Ancelotti knew he would have to come up with a pretty compelling argument for not playing him.
Torres had actually scored nine Premier League goals for Liverpool in the first half of the season, but it was clear for all to see that injury and a resulting lack of confidence had made him a shadow of the player who had previously terrorised defences for both the Reds of Merseyside and Las Rojas of Spain.
The faltering striker did not score on his debut against his former team, nor in any of the ensuing 10 matches he played in before the Blues met title rivals Manchester United in the quarter-finals of the Champions League.
Torres was ineffectual in the first leg at Stamford Bridge, in which Wayne Rooney scored the only goal, but Ancelotti must have felt Abramovich's star burning into his back because he kept the Spaniard on for the full 90 minutes, substituting for Didier Drogba instead.
Unable to make a stand against his boss, Ancelotti then started Torres again in the return leg at Old Trafford, this time with Drogba on the bench. Another insipid display eventually saw the Italian manager switch his strikers at halftime, but it was too late. Drogba did get on the scoresheet, but United won 2-1 on the night and 3-1 on aggregate. To rub salt into Chelsea's wounds, United regained the Premier League title that Chelsea had won under Ancelotti the previous season.
Ancelotti was fired just minutes after the club;s final game of the season at Everton in a corridor at Goodison Park, and getting the best out of Torres (one goal in 23 games) is now the problem of Andre Villas-Boas.
Arsene Wenger's stubbornness sees his team lose 8-2 (August 28 2011)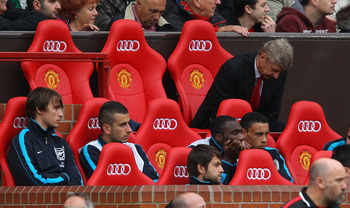 Alex Livesey/Getty Images
There are, understandably, a unique set of mitigating circumstances surrounding this seminal result.
Arsenal had just lost two of the best players, not just at their club, but the whole Premier League, in Cesc Fabregas and Samir Nasri. They were also denied the service of new signing Gervinho and midfielder Emmanuel Frimpong through suspension, and defenders Thomas Vermaelen, Bacary Sagna and Kieron Gibbs due to injury, with midfielder Jack Wilshere a long-term absentee.
However, faced with a squad stretched to its limit, Wenger had to bolster his team with young players Francis Coquelin, Armand Traore and Carl Jenkinson.
United, meanwhile, were in fearsome form, having beaten Manchester City 3-2 in the Community Shield, before kicking off their league campaign with wins over West Brom and Tottenham.
However, many teams come to Old Trafford with far less talent than this makeshift Arsenal team and still keep the scoreline respectable. Wenger's big mistake was his insistence in still trying to play 'The Arsenal Way' even though he did not have the necessary elements on the pitch to do so.
You know the rest. United ran riot over a suicidally open Gunners team which would have benefited from Wenger swallowing his pride and just putting men behind the ball and trying to at least keep the score down, if not snatch a point.
Instead, Arsenal were dealt a morale-sapping thrashing, shipping so many goals that this one match could genuinely have a say in where they finish this season if it goes down to goal difference. What was once the Premier League's flagship fixture was reduced to a hockey score that will be at the forefront of the Gunners' minds whenever they face United for years to come.
Still, it's easy to say all this in hindsight.
Keep Reading