Serie A: 15 Unknown Players Who Could Become Stars in Italy This Soccer Season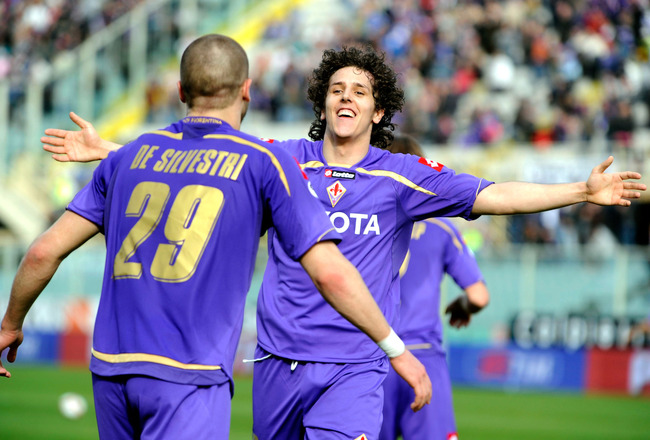 Roberto Serra/Getty Images
The 2011 Serie A season is finally slated to begin Friday, and with a new season comes the chance for lesser-known skilled players to become household names.
There are more than a few young and talented footballers waiting in the wings for this season to get underway and to put Italian soccer fans on notice with their exceptional skills.
Here are 15 players whom fans might not be familiar with at the moment, but they'll be more than knowledgeable about them at the end of this year.
Abel Hernandez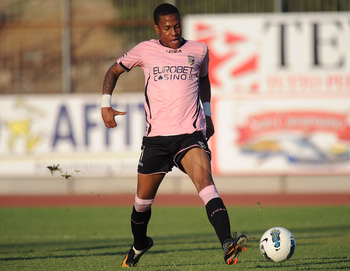 Tullio M. Puglia/Getty Images
Palermo forward Abel Hernandez has yet to have his breakout season with his Italian club, but now at 21 years old, 2011 could be his year.
Hernandez is a talented young player who had his big international moment in 2009 when he scored the equalizing goal against Ghana in the 2009 FIFA U-20 World Cup for his native Uruguay. He has scored a total of nine goals for his country and was a member of the 2011 Copa America winning squad.
Hernandez had three goals in 12 appearances for Palermo en route to their eighth-place finish in the league last season, with 2011 possibly becoming his greatest year yet with the Rosanero.
Federico Marchetti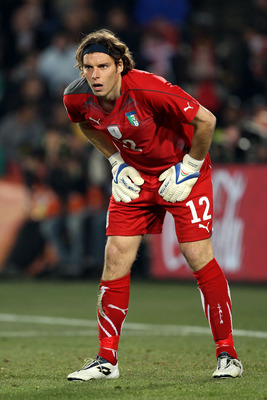 David Cannon/Getty Images
Federico Marchetti has had himself a roller coaster of a career since 2008. That season, Marchetti had 137 saves and then 117 in 2009, but 2010 would prove to be what he has called a "nightmare" situation with Cagliari.
The Italian goalkeeper was frozen by his club and then had his transfer request denied last season but was finally able to leave Cagliari and join Lazio this offseason.
Regardless of his off-field dispute, Marchetti is still one of the most promising goalkeepers in Serie A. 2006 World Cup champion Gianluigi Buffon has even called the new Lazio man his "favorite young goalkeeper."
Alejandro Dario Gomez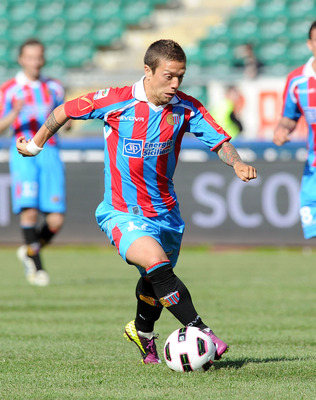 Giuseppe Bellini/Getty Images
Calcio Catania's young midfielder Alejandro Dario Gomez may not be a name you're all too familiar with at the moment, but you will be soon.
Gomez earned his contract with Catania through his time with Argentinian club San Lorenzo and the Argentina U-20 national team. In 2007, the 23-year-old was part of the FIFA U-20 World Cup champion team for his native country.
Two years later, he would sign with San Lorenzo and score eight goals in 47 appearances for his club.
Gomez had four goals and four assists for his new Italian team just last season and will hope to build upon those stats in 2011. The young Argentine will look to bring his team back within the top half of the league table this year.
Ignazio Abate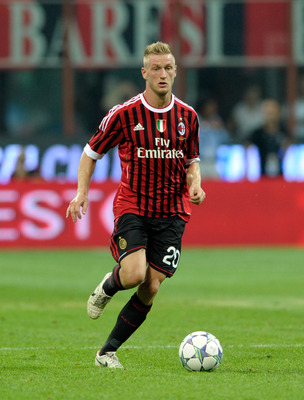 Claudio Villa/Getty Images
There's no taking away the talent and production of veteran Milan defender Alessandro Nesta, but he isn't getting any younger.
The 35-year-old World Cup Champion and teammate Thiago Silva had helped anchor arguably the best defense in the league last season, conceding just 24 goals as a unit in 2010-2011.
Ignazio Abate also looked promising during his time on the pitch last season for the Rossoneri and has proven his ability to get up-field and provide help for his attacking teammates.
When the time comes that Nesta must retire or if he goes down with an injury this season, Abate will no longer be overshadowed and will continue to be a solid defender in the new year.
Alexander Merkel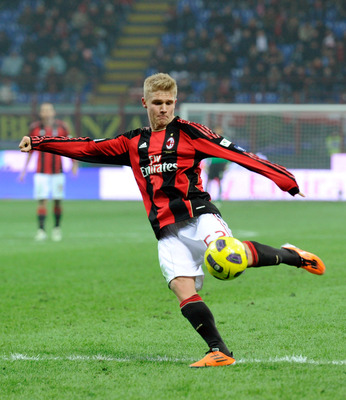 Claudio Villa/Getty Images
German-born footballer Alexander Merkel went from promising young prospect of AC Milan to one of the best breakout candidates of 2011 with his recent move to Genoa.
Merkel is just 19 years of age right now and has shown spurts of greatness on the pitch and now finds himself in the perfect opportunity to showcase his abilities.
Genoa finished 10th in the league standings in 2010, but if the German is able to adjust to his new responsibilities on the pitch and his new surroundings in general, Merkel could very well become the face of the club for his new team sooner rather than later.
Mauro Zarate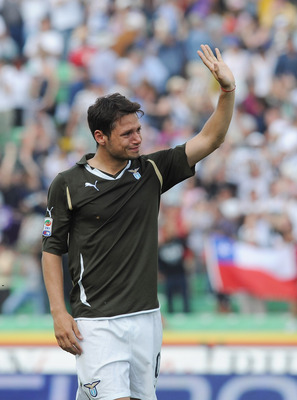 Dino Panato/Getty Images
In yet another move to improve the offense with the departure of Samuel Eto'o, Inter Milan was able to convince Lazio to loan forward Mauro Zarate for the 2011 season.
Zarate had himself an impressive 2010 campaign, posting nine goals and seven assists through 28 games.
The Argentine footballer has proven himself as a legitimate goal-scoring threat during his time with his Roman club, logging 25 goals with the club since arriving in 2008.
With the Inter attack now featuring Diego Forlan, Diego Milito, Wesley Sneijder and Zarate, the Nerazzurri look primed to challenge for the Serie A title.
Sebastian Giovinco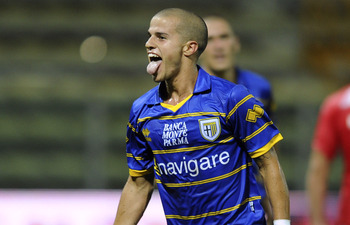 Dino Panato/Getty Images
Though this will be Sebastian Giovinco's first season not under a Juventus contract in his Serie A career, he'll be more than used to his surroundings with Parma.
Giovinco has proven himself to be a prolific goal scorer when given opportunities in his career, recording 13 combined goals from his time on loan to Empoli and Parma over the past few seasons.
The 4-4-2 formation Juventus ran during his latter years with the club didn't really work with Giovinco's style of play, but Parma was more than happy to acquire his contract.
The Crociati locked up one of their better attackers last season and hope to challenge for a top ten finish in the table this year.
Alessandro Matri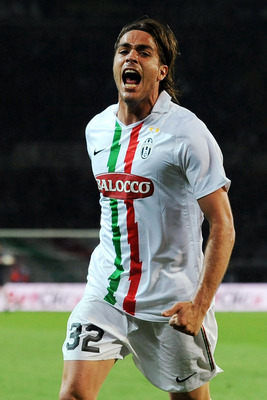 Valerio Pennicino/Getty Images
If there's one attacker who has fit the Juventus system, it's Alessandro Matri.
During his time with Cagliari, Matri posted 41 goals in 118 appearances for the club. When loaned to Juventus last season, the 6'2" front man posted nine goals in just 16 games.
Needless to say, the Bianconeri made a goal to acquire Matri permanently from their Serie A opponents, which they were able to do successfully.
Matri will look to post similar or better numbers to his time with his former club with Juventus and earn the €15.5 million he'll be making over the next several seasons.
Stevan Jovetic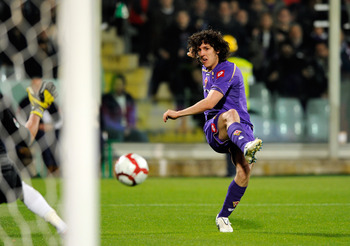 Claudio Villa/Getty Images
If Fiorentina makes a run into the top five of the league table this season, you can bet forward Stevan Jovetic will be one of the main reasons.
Jovetic is just 21 years old and has logged 36 goals in his professional soccer career.
The young attacker lost all of last season due to an injury, so he'll return to his team more fired up than ever to drive the ball into his opposition's net in 2011.
Mauricio Isla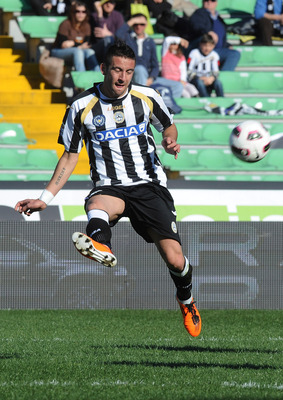 Dino Panato/Getty Images
Similar to the way Jovetic has racked up goals in his short career, Mauricio Isla has proven to be a quality assist man for Udinese.
The Chilean attacker has been moved around in the formation for his Italian club, recently playing right midfielder against Arsenal in the UEFA Champions League playoffs.
Regardless of where he's been lining up on the pitch for Udinese, Isla has racked up 15 goals over the past two seasons and could add a significant amount to that column this year, especially with the departure of Alexis Sanchez.
Yuto Nagatamo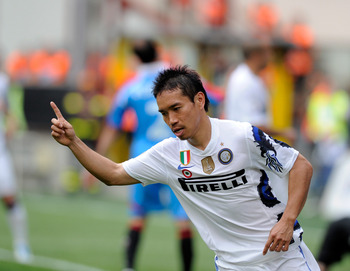 Claudio Villa/Getty Images
Yuto Nagatomo's case with Inter Milan is actually very similar to his cross-town rival Ignazio Abate with AC Milan.
Lucio and Javier Zanetti have been nothing but staples for the Inter defense for many seasons now, but the undeniable truth is they're getting older at a position that requires a great deal of endurance and skill.
Nagatomo appears to be the clear successor to one of their starting roles in the coming seasons, and perhaps the Japanese defenseman gets a shot due to injury and shines for his Milan-based squad in 2011.
Philippe Coutinho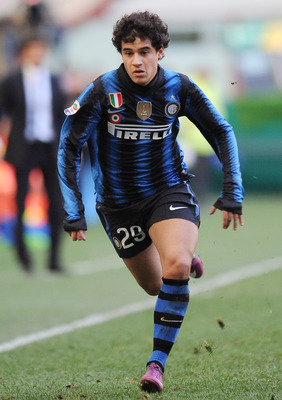 Tullio M. Puglia/Getty Images
From one potential breakout Inter star to another, Philippe Coutinho is nothing less of a soccer prodigy, so it shouldn't be surprising he hails from Brazil.
Coutinho has been money for the U-17 and U-20 Brazilian soccer teams, posting a combined six goals in 15 appearances for his home country.
As stated earlier, the Inter attack is a bit crowded, but perhaps the 19-year-old is placed on loan to another squad where he will be featured with more playing time.
If Coutinho is given significant playing time anywhere in Serie A, expect big things in the goal department from this future star.
Ezequiel Lavezzi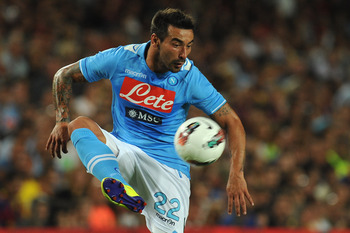 Valerio Pennicino/Getty Images
When it comes down to a player who can contribute in both the assists and goal categories for a squad, Napoli's Ezequiel Lavezzi is one of the most consistent in Italy.
The Argentine attacker posted six goals and 12 assists last season, building upon his seven goals and eight assists in 2008.
Lavezzi and the Napoli found themselves in serious contention for the league title last season and will hope to improve on their third-place finish in 2010.
Marek Hamsik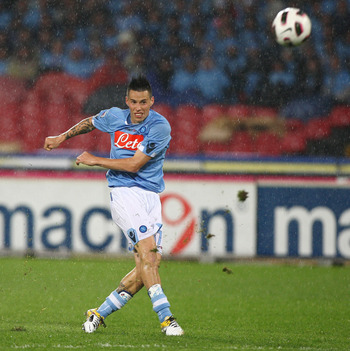 Paolo Bruno/Getty Images
Contributing to Napoli's third-place finish last season was attacking midfielder Marek Hamsik and his 11-goal, six-assist performance in 36 games.
Hamsik has a deadly eye for his opposition's goal and is stronger than most at his position. These qualities are a heavy part of the reason the 24-year-old finds himself the captain of the Slovakian National team.
The rumor mill had the Napoli star linked with 2010 Serie A champions Milan, but the third-place finishers were able to hold onto their productive goal producer and should prove to be a formidable foe in 2011.
Bojan Krkic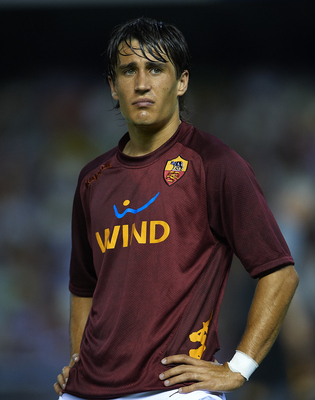 Manuel Queimadelos Alonso/Getty Images
If AS Roma was looking for a spark in the goal department, then they made the right move by buying Bojan Krkic from FC Barcelona.
In just nine games started for his former Spanish club last season, he was able to log six goals and two assists on 31 shots.
Bojan was never able to obtain a consistent amount of time with the Barca starting 11, but now that he finds himself in Rome he has the opportunity to shine and rack up the goals that he has the potential to make when given time on the pitch.
Keep Reading