Arsene Wenger Ban Upheld, but Applicable Rule Under Review: What Gives?
September 7, 2011
Julian Finney/Getty Images
If there's one thing that we've learned about the politics of football over the last few years, it's that it truly is a game of favorites, backstabbing, under-the-table dealings and simple, old hypocrisy.  
The revelations of the last 12 months concerning FIFA and the World Cup draws, Greece and the deep-seeded match-fixing scandal, the blatant loophole exploitation of Financial Fair Play rules that are set to kick in and so many others have rocked fans worldwide.  Teams are being disbanded or relegated, accusations are being bandied about, and through all of this I can't help but focus on one little bit that affects the club I have supported my whole life: Arsene Wenger's additional two-game match ban.
I'm a sucker for integrity and I'm probably a bit naive in my assumptions that most people are inherently good, so when UEFA called Wenger out in the match against Udinese for communicating with his assistants, I looked to the Arsenal response and got what I thought was a valid excuse.
"There is a disagreement between Arsenal and UEFA," Arsenal spokesman Mark Gonella said. "We were told that the manager would be permitted to relay instructions to Pat Rice through Boro Primorac, who spoke to Pat by phone. Subsequently we were told he could not, so that's why we are appealing Monday's decision."
So if this is the case, when UEFA told Wenger to stop after the first half and they did, why is there an additional ban?  It would seem Wenger was doing exactly what they said he could.  Who's lying?  Is this UEFA trying to save face as they failed to keep up with modern technology?  Should they not be thanking Arsenal for showing them an obvious leak in the system for immediate clarification?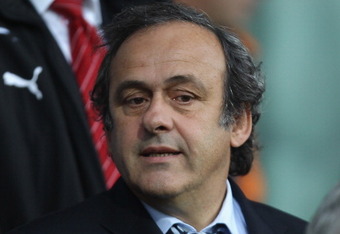 Ian Walton/Getty Images
Ok, that last question is absurd, but I think I make my point.
Is it not ironic that shortly after their decision to ban Wenger for another two matches, UEFA president Michel Platini made comments that indicated his doubt in the effectiveness of the rule and indicated that it would be under serious review for the 2012-2015 edition of the UEFA rules?  He has been attributed by many sources to have said something to the effect of the rules being "maybe not good."  This was all reinforced by further comments that called the rule banning managers from the sideline or the stadium altogether obsolete due to modern technology.
So, to summarize (unless someone is lying somewhere):
Someone in UEFA says Arsenal can do "X."  They do it, are seen doing it and suddenly now have to stop doing "X."  Even though they are told that it's OK, they get slapped with a fine for improper conduct by team officials and Wenger gets an additional two-game ban.  Platini then declares the rule obsolete and says it will be reviewed and likely changed for the 2012-2015 version of the UEFA rulebook.  
Does anyone else find that at all shady?