Arsenal FC: Transfer Window Success Makes This Team Better Than You Might Think
September 2, 2011
Chris Brunskill/Getty Images
It's not yet two days since Arsenal dipped deeply into the transfer pool, but opinions are already running amok, mine included.  
On one side you have the naysayers, who are still naysaying. On the other, the die-hards who are convinced that all the Gunners really needed was to get back their injured stars.  In the middle are those of us who realize that there are both positives and negatives to take from the offseason, though we realize that we've certainly gotten a lot better from the signings that were made.
We are keeping on open mind, though, being careful to see how the team performs before we really make a judgment.  That being said, I will put my own neck on the line to say that Arsenal is substantially stronger for the mid-week signings, and that the losses of Cesc and Samir are now, at least partially, mitigated.
Let me start off by saying that you can't easily replace a talent like Fabregas.  Cesc has an unnatural ability to find the pass where there is none to be made, and is able to play to the talents of those around him.  His play on the pitch is an inspiration to his teammates, and his humility and diplomacy in front of the camera is commendable, to say the least.  
I will also say, however, that Francesc Fabregas was not the leader that Arsenal needed, or still needs.  Cesc led by example on the pitch, but for all those who claim he was a terrific leader in other respects, I'm sorry to say that I believe you are sorely deluded.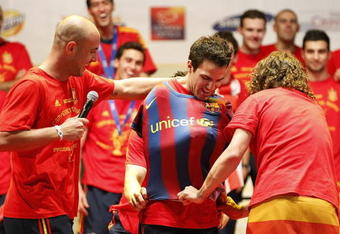 Angel Martinez/Getty Images
I don't have a press pass to the locker room to see how he reacted there, but the soft-spoken, often conflicted, Cesc hardly seemed the person to inject steel in a side sorely lacking in it at times.  
A true leader doesn't allow himself to be Shanghai'd by his fellow Spaniards into wearing a Barca jersey.  A true leader (even as he was trying to effect a departure from the Emirates) who respected Arsenal would have told the Barca players to shut their mouths instead of spouting off and disrespecting the Gunners.  Where was Cesc's fire for Arsenal FC?  In his play?  Yes.  In his speech or actions off of the pitch?  I'm not convinced.
So Arsenal have lost a terrific talent.  Had he stayed, the midfield would be immeasurably better, as would any midfield who had a player of his caliber, but the defense would not.  For everything that was lost from midfield when Fabregas and Nasri left, the Gunners made up for in defense with the signing of Per Mertesacker.  
Could they have done better?  Cahill would have been preferred, maybe even Samba or Jose Enrique, but Per is a fantastic signing for Arsenal. He provides something that Cesc does not—he's a natural leader, and despite having a cool head and can manage a defense.  
While Mertesacker is short on pace, he is terrific at reading the play and positioning himself effectively at all times. This will allow players like Gibbs, Jenksinson, Sagna and Santos to get forward, as they know there is a solid presence to cover at the back. Partnered with Vermaelen and Sagna, and whomever claims the LB spot, the defense has gone from a weakness to a strength overnight.  No Fabregas or Nasri would ever do that.
The additions of Benayoun and Arteta also cannot be understated.  Arteta was the 2006 EPL Midfielder of the Year and is lethal from set pieces.  He manages the midfield well, and is also an extremely creative passer, much like his countryman, Cesc.  He may not have the pace, but he is certainly no slouch, and should complement Wilshere extremely well, and help Ramsey to continue his development.  
Yossi Benayoun is a talented playmaker when fit, and was coveted by King Kenny, who wanted him to return to Liverpool.  He is also the captain of his international side, and provides leadership in a stop-gap method until the winter transfer window or next season, where many are hopeful Wenger will pursue Yann M'Vila and/or Eden Hazard.
Don't get me wrong, I'm not saying that Arsenal hasn't suffered with the loss of two midfield maestros, but what I am saying is that I think that the team is better for their departure.  A solid defensive line, with creativity in the midfield and promising young talent coming through should turn this season around.  
No guarantees, of course, but I think that there's a lot more to this side than the naysayers would have you believe.