Juventus Will Win the Serie A This Year and the Champions League Next Year
September 2, 2011
Tom Szczerbowski/Getty Images
After a successful transfer campaign, and being outspent only by the likes of Manchester City and Barcelona, Juventus have completely overhauled their squad adding not only quality to the first team but depth to their bench.
Generally I do not like to talk up the chances of Juventus, especially seeing as though for the last couple of years the Bianconeri have let me down. However this year, looking at Juventus' squad I see no reason why we cannot win the Serie A this season, and build upon our success to go on to win the UEFA Champions League next year. Hear me out for a few minutes, you have to understand just how strong or at least deep the Juventus squad is this year.
Defence: All in all Juventus secured the services of three new defenders in the transfer window. Stephan Lichtsteiner and Reto Ziegler from Lazio and Sampdoria respectively, and Frederik Sorenson from a loan to permanent contract deal. The signings of Lichsteiner and Ziegler will surely solve the wing back problems that Juventus have been experiencing over the last few seasons.
Players at Antonio Conte's disposal this year are: Marco Motta, Giorgio Chiellini, Fabio Grosso, Andrea Barzagli, Reto Ziegler, Leonardo Bonucci, Stephan Lichtseiner, Paolo De Ceglie, Frederik Sorenson and Vincenzo Camilleri. Not to forget Goalkeepers in Buffon, Storari and Maninger
With that said Juventus' defence will most likely look like this:
Buffon; De Ceglie; Chiellini; Bonucci; Lichtsteiner
OR
Storari; Ziegler; Barzagli; Sorenson; Motta
The addition of Stephan Lichtsteiner alongside the back line will ensure reliability on the right hand side of the defence.
Midfield: Last campaign Juventus' centre of midfield was controlled by Alberto Aquilani (now at Milan) and Felipe Melo (now at Fenerbache on loan). This year expect Leverkusen star turned Juventus holding midfield Arturo Vidal to pair up with Italian legend Andrea Pirlo.
A combination of creativity and direct play in the midfield will allow Juventus a number of attacking options going forward. Consider also that Claudio Marchisio has been demoted to the bench and Michele Pazienza has also been signed for the centre of the park.
The Bianconeri made one of the signings of the summer in the form of Eljero Elia just on deadline day, and as a result have seemingly solved their left midfield crisis, which has been an issue since the departure of legend Pavel Nedved.
Elia has already proven himself on the International stage, and at such a young age will also prove to be a long term solution to the wing crisis. Serbian Milos Krasic will partner Elia on the oppostie side of the field, giving Juventus the added pace needed on the wings. Young Paraguayan Marcelo Estigarribia has also been brought in on loan after his impressive Copa America performances.
Players at Antonio Conte's disposal this year are: Michele Pazienza, Claudio Marchisio, Marcel Estigarribia, Andrea Pirlo, Arturo Vidal, Simone Pepe, Milos Krasic, Luca Marrone, Eljero Elia and Emanuele Giaccherini.
All in all the Juventus midfield will look something like this:
Elia; Vidal; Pirlo; Krasic
OR
Pepe; Marchisio; Pazienza; Estigarribia
Forwards: Perhaps the most impressive part about the Juventus transfer campagin was their signing of Roma forward Mirko Vucinic. The Montenegran has already proven that he can get goals in the Serie A, and form with Juventus so far would suggest that will continue. Partner him with Matri who signed on a permanent deal and Quagliarella—who did the same—and you have an attack good enough to rival any defence.
This said Juventus still have club legend Alessandro Del Piero, Luca Toni, Vincenzo Iaquinta and Amauri all sitting on the bench. In Conte' preferred 4-4-2 formation only two will be able to start, putting added pressure on the two Conte chooses to go with to perform extremely well.
Players at Antonio Conte's disposal this year are: Mirko Vucinic, Alessandro Matri, Fabio Quagliarella, Alessandro Del Piero, Luca Toni, Vincenzo Iaquinta and Amauri
Countless combinations could be made, but Conte's preferred two:
Vucinic; Matri
OR
Quagliarella; Del Piero
In essence, Juventus are two deep in every position this year. Add the other squad players, no European competitions and you will have a Juventus squad which will be fit for every match—and let's hope injury free. Such depth will prove to be invaluable going in to the end of the season, perhaps carrying Juventus straight to the title whilst Milan and Inter fight it out in the Champions League.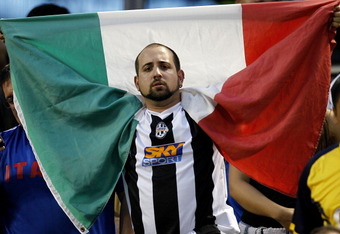 Jeff Zelevansky/Getty Images
If Juventus do manage to qualify for the Champions League, added funding from sponsors, the new stadium and prize money will go a long way to cementing an already solid squad. In the end, if it pans out for Juventus correctly they could compile a squad next year that is good enough to take Champions League glory.
It will be down to Antonio Conte to keep the team in the right frame of mind this season, not allowing them to slacken off, as has been the case in the last two campaigns and get to the Champions League first.
A new stadium, new squad, new coach. New era for Juventus? Only time will tell, but they have definitely taken the right steps this transfer window, addressing key problems in the midfield and defence. Added quality upfront will surely not go astray either.
Forza Juventus.
Do you think Juventus will have what it takes to get to the top of Europe in the next two years? Or at the very least the top of Italy?