English Premier League: Liverpool Bid Alberto Aquilani Adieu
August 27, 2011
Farewell, Alberto. Anfield hardly knew ye.
England wishes you molto bene luck with AC Milan (oh wait, these two sides have quite the recent history in the Champions League...cough cough 2005). Either way, the seven-time winners of the European Cup/Champions League hold the option to buy Aquilani from Liverpool at the end of the season, should the player feature in at least 25 matches.
Seems possible.
My first recollection of Alberto Aquilani in a Liverpool shirt was way back in October 2009, while I was watching an Arsenal vs. Liverpool Carling Cup match, amid the din of a boisterous Parisian bar.
Aquilani had transferred from AS Roma that summer, but had missed the first couple months of the season due to injury. Benitez had been ridiculed for paying top dollar (er, pound) for the Italian international, top the tune of £20 million.
With Xabi Alonso having left for Real Madrid, Liverpool were in dire need of an established central midfielder to complement Steven Gerrard. Their 2009-10 struggles were a direct reflection of an inability to shore up their midfield.
Aquilani made his first appearance with the club as a substitute during the tail end of that Cup tie.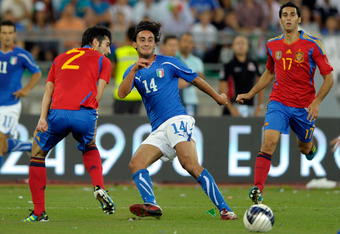 Even though he was one of the few established stars (he was 25 at the time) on an Emirates pitch littered with teenage starlets, his class that night was evident from his first touch on the ball.
A camera caught a banner brought by a traveling 'pool supporter, which depicted an austere Aquilani doing his best Russell Crowe pose, with the caption Il Gladiatore beneath.
His technique was excellent, he spread the play well, and he showed no apprehension in attempting the truly spectacular.
One of my most vivid memories from that match was watching Aquilani attempt an overhead kick from the top of the penalty box. It sailed harmlessly over the goal, but a message had been sent.
This dude wasn't afraid to try s***.
The problem was, he never got much in the way of chances to try anything during his spell with Liverpool.
Like the Dire Straits song Romeo and Juliet (The Killers did a fantastic cover as well), perhaps "it was just that the time was wrong."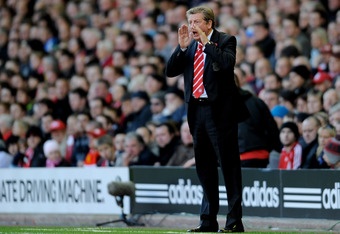 Aquilani arrived at Liverpool at the start of Rafa Benitez's far-from-glamorous farewell tour of a season. He saw decent playing time under the portly Spanish tactician, including a very good spring 2010, where he won a few Man of the Match honors.
Yet that summer, Benitez was gone, having failed to qualify for Champions League football.
Benitez's replacement, Roy Hodgson, seemed to deem the Italian surplus to requirements upon his arrival from Fulham. He brought in his own players—Christian Poulsen (boy, that was a doozy, Roy) and Raul Meireles—who were both central midfielders.
Aquilani was promptly shipped out on a season-long loan to Juventus (Poulsen's former club), where he was a rare bright spot during another frustrating campaign for Il Bianconeri, who have made a habit of under-performing in the past two seasons.
With 31 starts under his belt, Aquilani looked happy to be back in Italy, and appeared to be enjoying his football. By all accounts, he wanted desperately to remain in Turin.
Juventus refused to pony up and pay his option, however, and he returned to Merseyside.
To his credit, he hit the ground running, undeterred by the difficult circumstances surrounding his offseason. He was one of Liverpool's best performers during their preseason tour, a fact that was noted by new manager Kenny Dalglish on Friday during the farewell press conference.
"When he came back his pre-season training was excellent. We gave him a few games, he did well in those games. But the problem for us was trying to get him in the team. We couldn't get him in the team."
Three managers in three seasons was the sort of changeover that spells death—or, a likely transfer—for any player not considered a must-keep.
Dalglish had recruited heavily in midfield himself this offseason, bringing in a holding, creative option Charlie Adam from Blackpool, and Sunderland starlet Jordan Henderson.
Like pasta dough squeezed out through a tube, Aquilani went through the ringer for Liverpool only to be discarded as extra doughy scraps, unnecessary for the main course.
Now he gets a chance to prove his worth once more, this time in an aging Milan central midfield, which saw longtime creator Andrea Pirlo leave this offseason for—you guessed it—Juventus. (Oh wait, did you guess Liverpool?)
To my mind, I thought Aquilani could have contributed for Liverpool this season.
He looked more polished than young Henderson, and more dynamic going forward than Adam. Yet with Meireles still on the books, and Captain Fantastic himself, Steven Gerrard, due back in late September, there just wasn't enough room in the side.
It's too bad, but then, that's the business end of football.
Aquilani does get to return home to his family, which had remained in Italy during his time in England.
And who knows, maybe one night this season Dalglish will settle in for the evening Champions League highlights as an iconic Liverpool drizzle patters his windows.
Maybe he'll see Milan win an important match, buoyed by a spectacular overhead kick by a certain player he decided to loan out.
And maybe he'll feel a twinge of regret. He owes Aquilani at least that.