World Football: Power Ranking the Top 20 Footballers Under 20 In the World Today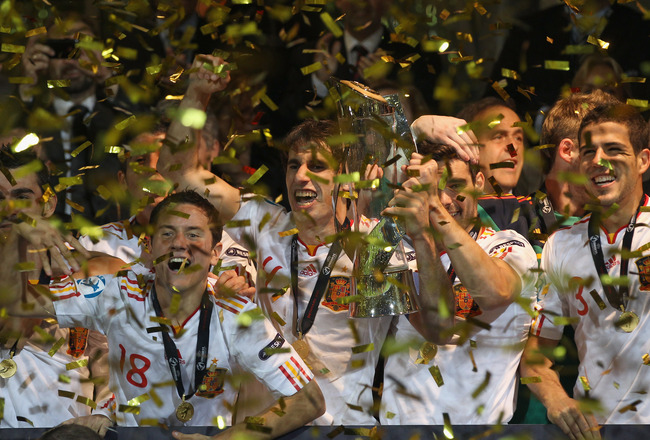 Ian Walton/Getty Images
The best players in the world won't be the best players forever. The years come and go, and eventually they all succumb to retirement.
Fortunately, there is always a wave of new talent on the horizon. A new group of players hungry and ready to prove themselves. These young men are the future stars. They are the future world beaters. They are the future World Cup winners.
They are the future of football.
This is the list of the 20 best teenage footballers in the world today. Watch for them as they embark on new seasons with their respective clubs this coming year.
20. John Flanagan
Shaun Botterill/Getty Images
Liverpool - RB - 18
John Flanagan is one of the few players this late on the list who has already broken into the first team at his club.
The Liverpool-born defender has eight games of Premier League experience with his boyhood club under his belt.
Flanagan will continue to work his way slowly up the rankings at Anfield. While he started the season opener, that was more in spot duty for the injured Glen Johnson rather than a sign of things to come this year.
That said, it wouldn't be out of the realm of possibility to see Flanagan overtake Johnson in the first team as soon as before his 20th birthday.
19. Oriol Romeu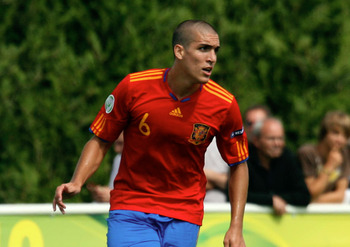 Xavier Laine/Getty Images
Chelsea - DM - 19
Oriol Romeu is a 19-year-old defensive midfielder who was brought in by Chelsea to patch up after Michael Essien's injury.
He is a versatile player who has played in central defense with the Barcelona youth teams in the past.
He has also developed into an important player with the Spanish youth teams.
Oriol Romeu is one of the oldest players on this list. He is only 19 for another month. He is, however, closer to being a full first team player than most of the others.
While he may not break through as soon as this season, he is a bright talent and Chelsea will soon see how lucky the are to have him.
18. John Guidetti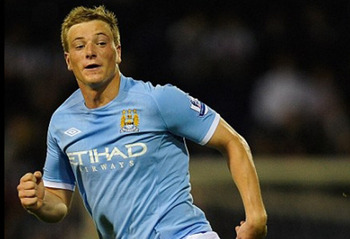 Manchester City - ST - 19
John Guidetti is the dark horse on this list, but you cannot deny his talent and ability.
The Swede was brought in to Manchester when Sven Göran Eriksson was manager, but he has since fallen behind a long line of talented forwards.
He has grown quietly but explosively in the youth teams, and at 19, he is knocking on the door of first team duty behind Mario Balotelli.
Guidetti will likely spend the next few seasons away on loan, and will come back as a better and more experienced player. If he continues his impressive development, it will be impossible for Roberto Mancini to keep out of the first eleven.
17. Souleymane Coulibaly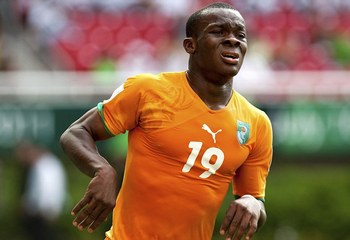 Tottenham - CF - 16
Souleymane Coulibaly is a 16-year-old Ivory Coast centre forward who joined Tottenham Hotspur from Italian club Siena.
The Abidjan-born goal machine starred at the FIFA U-17 World Championship for the Ivory Coast team, scoring nine goals in four matches before his team crashed out in the Quarter Final to France.
Coulibaly has a bright future in the Premier League. He is destined for a couple of years in the Tottenham youth setup, but he has all the skill and talent to become one of the world's best strikers before long. He has the potential to become the new Samuel Eto'o.
16. Connor Wickham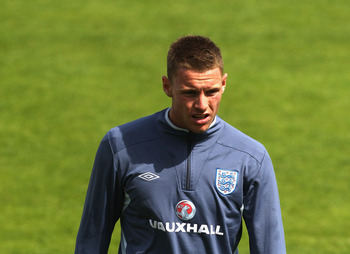 Ian Walton/Getty Images
Sunderland - ST - 18
Connor Wickham made a very smart move turning down clubs like Chelsea and Manchester United, and joining Sunderland this summer.
Rather than face a few seasons on the bench, he'll come straight into the first team and become an important player right away.
Having just turned 18, Wickham is one of the younger first team players in the Premier League.
He already has great size and a maturity far beyond his age. He'll continue his development for Sunderland this season, and projects as a partner for Asamoah Gyan to create one of the best strike pairings in the Premiership.
15. Jon Toral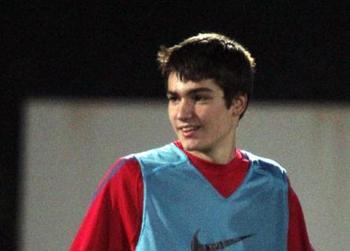 Arsenal - CM - 16
At just 16, Jon Toral has followed almost the exact same path as fellow Barcelona academy product Cesc Fabregas.
The Spanish midfielder, who has an English mother, joined Arsenal this summer for 300,000 pounds.
Toral is a brighter prospect than Fabregas was at his age. He has great size at 6'3 and is a real box-to-box midfielder. He is a great passer and is very versatile in the heart of the pitch.
Arsenal will allow him to follow the same route through the youth ranks as Fabregas. It is important that they hold on to this one.
14. Alex Oxlade-Chamberlain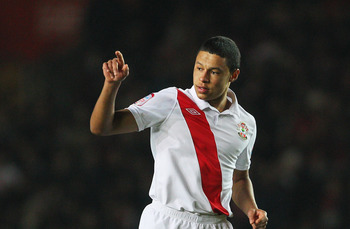 Clive Rose/Getty Images
Arsenal - WG - 18
Having only turned 18 a week ago, Alex Oxlade-Chamberlain plays a game that is far beyond his age.
That is what prompted Arsenal to spend 12 million on him this summer. Oxlade-Chamberlain plays a dynamic style that is based on speed and skill.
He is a true winger, and fortunately for him, joins a thin corps at that position at the Emirates.
He will likely follow the same path as Theo Walcott for now, acting as a substitute and injury replacement before eventually breaking into the first team in a few seasons. He isn't quite as highly touted, but as mentioned Arsenal need wingers and Walcott didn't have the luxury of the club having that problem when he arrived.
13. Iker Muniain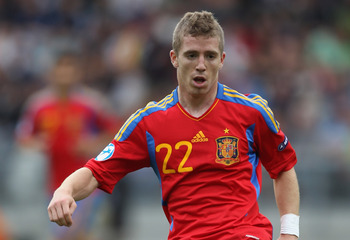 Michael Steele/Getty Images
Athletic Bilbao - WG - 18
The 18-year-old Iker Muniain has been a top talent for a long time.
In fact, people knew about him as far back as 2008—he broke onto the scene in the Spanish Youth National Teams and Bilbao's B team as a 16-year-old.
He plays as a winger or a forward, and has been chased by several of Europe's top clubs, including Liverpool, Manchester City, and Real Madrid.
He will likely follow the path of fellow top Spanish prospect Sergio Canales, continuing to impress this season before joining a top club next summer. That club could very well be in England.
20-year-old Thiago Alcantara is the best young Spanish player. Iker Muniain is a close second.
12. Adem Ljajic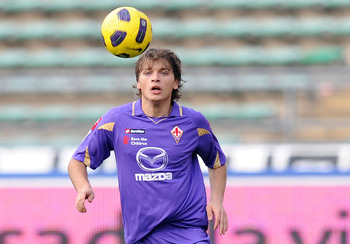 Giuseppe Bellini/Getty Images
Fiorentina - AM - 19
Like Romeu, Adem Ljajic is due to turn 20 in just a month time. It's scary to think of everything he has already accomplished.
He is entering his third season on Italy's top stage with one of its developing sides, and has ensured his place as one of the team's top players.
He already has experience with Serbia's senior team.
As mentioned, Fiorentina are very much a club on the rise. For now, he will remain a player with them. If he continues his strong development, he could be in line for a move to one of Italy's top clubs. It is likely he stays in the Serie A for now.
11. Erik Lamela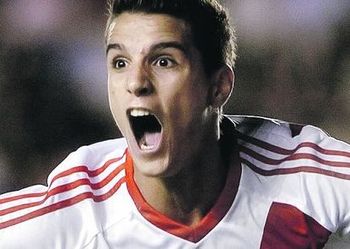 Roma - AM - 19
19-year-old Erik Lamela is very much a young Lionel Messi. They play a similar game and have similar hype coming out of Argentina.
I'm not at all saying Lamela is the world's future best player, but he still has a sky high potential. That is why Roma splashed out 10.5 million to sign him this summer.
Lamela will come in and become a key player for Roma right away. They are hoping he can be a good complement to Daniele De Rossi in the centre of their midfield and start a prosperous partnership with fellow signing Bojan Krkic. Roma are improved, and Lamela is a big part of that.
10. Philippe Coutinho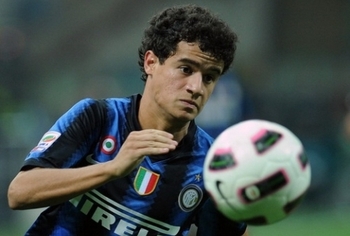 Inter Milan - AM - 19
Philippe Coutinho is a young Brazilian midfielder who plays a very similar game to compatriot Kaka.
He's a great passer, has a strong and accurate shot, and has amazing technical skill.
Having spent the 2009 and 2010 seasons away on loan in Brazil with Vasco Da Gama, he broke through with Inter last year as an injury replacement. He should become an important first team player this year.
Manager Rafa Benitez will tell you that "Coutinho is the future of Inter," and he's right. This season, Coutinho will compete with Ricky Alvarez for playing time behind Wesley Sneijder, and he projects as a long term replacement for the Dutch superstar.
9. Ryo Miyachi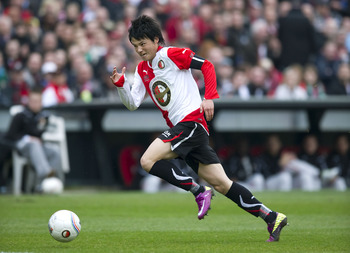 Olaf Kraak/Getty Images
Arsenal - WG - 18
Ryo Miyachi is a super talented Japanese winger that only broke on to the world scene when he was signed by the London club in January.
He spent the first half of 2011 on loan with Feyenoord, but finds himself very much in Arsenal's plans for the upcoming season.
'The Japanese Messi' will likely battle with Alex Oxlade-Chamberlain for playing time these next few seasons, but long term Arsenal will probably move Theo Walcott to the forward position to create undoubtedly the best wing pairing in the world.
Miyachi will become a key player for them.
8. Phil Jones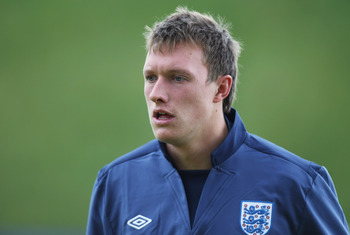 Ian Walton/Getty Images
Manchester United - CB - 19
Phil Jones became the second teenager Manchester United have paid a lot of money for in the past decade, and the first one turned out alright.
While many would argue that the estimated 16 million pounds Manchester paid to get him from Blackburn was excessive, Jones is the best defensive prospect in the world and will be worth every penny in the long run.
This year, Jones will join Chris Smalling on the United bench, but it wouldn't at all be surprising to see him overtake veteran Rio Ferdinand as the team's primary centre back alongside Nemanja Vidic. If you need proof, look to Tom Cleverley. United have showed an interest in letting their youth players play.
Jones could very well be the next top youngster to break through.
7. Romelu Lukaku
Chelsea - ST - 18
Although he just turned 18, Lukaku has been on the radar of several of Europe's top clubs for several years now.
Chelsea won the battle.
Lukaku brings to London an impressive scoring record of 33 goals in 73 games at Anderlecht. He did almost all of that work legally as a child in Belgium's top league.
Part of what makes him so attractive to Chelsea is that he plays such a similar game to star striker Didier Drogba. They are hoping he can create a partnership with Fernando Torres that will rival the best strike pairings in the world.
That could start as soon as this season.
6. Xherdan Shaqiri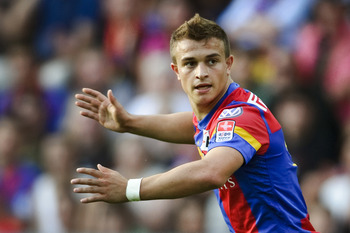 EuroFootball/Getty Images
Basel - WG - 19
Xherdan Shaqiri is a Swiss winger of Kosovan descent.
He is entering his third full season with Basel of the Swiss Super League, having made 65 appearances with 10 goals. He has already played in 11 internationals, contributing with one goal.
Basel will be lucky to hold on to Shaqiri for much longer. As they qualified for the Champions League next season, he will get plenty of exposure to some of Europe's top clubs.
He is a great player, and will likely end up on an elite English team like Liverpool next summer.
5. Mario Götze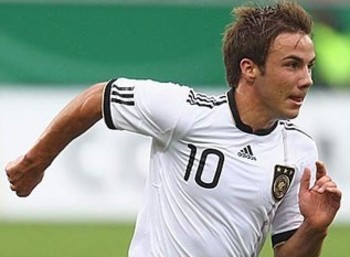 Borussia Dortmund - AM - 19
At 19, Mario Götze has arguably already accomplished more than any other player on this list.
He led his team to a Bundesliga title, becoming a key player in the heart of their midfield, and set out on what will be a long, successful international career having made seven appearances for the senior German team.
Next year will be his first on the European stage.
He will be given the chance to showcase his skills against some of the best scouts in the world, and if you had to pick one player on this list who will not be the club he is now next summer it would be Mario Götze. He likely will not follow international teammate Mesut Özil to Germany; there is more interest in England.
Manchester United and Arsenal are very interested.
4. Josh McEachran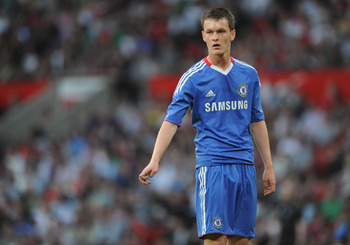 Michael Regan/Getty Images
Chelsea - CM - 18
Josh McEachran is an 18-year-old all-action centre midfielder in the Frank Lampard mould that is ready to step into the Chelsea first eleven.
He made nine league appearances last season, and has established himself as one of England U-21's most important players.
Michael Essien's injury will mean an increased role for McEachran this season, playing alongside some of the best players in the world. Expect him to become a key player in the first squad next season as he turns 19.
Simply put, Josh McEachran is the future of Chelsea.
3. Christian Eriksen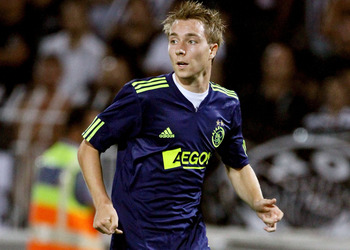 Getty Images/Getty Images
Ajax - AM - 19
Christian Eriksen is the latest graduate from the Ajax academy that has brought up so many great players through the years.
The Danish attacking midfielder became a key player for them this season, starring in 46 games and adding eight goals.
He has also made an impact for the Danish national team, having made 15 appearances and putting his country back on the map.
This season, Eriksen will likely continue his development at Ajax. That said, it is only a matter of time before he joins a bigger club. Manchester United are the most likely candidates, with them reportedly lining him up as a replacement for the retired Paul Scholes.
2. Neymar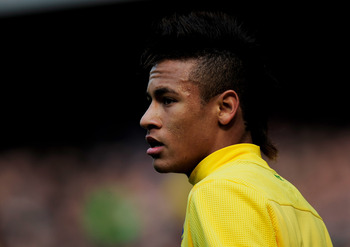 Jamie McDonald/Getty Images
Santos - CF - 19
Neymar has been chased by almost all of Europe's elite teams for several years now.
Real Madrid and Chelsea have been the frontrunners, with both having come very close to securing his services.
His road to the top of the world has been quick.
He has established himself as one of the most prolific goal-scorers in the world, with 30 goals in 67 games for Santos and six goals in 10 games for the full Brazilian national team.
For now, Neymar will stay in Brazil. Santos have him tied up to a contract that won't run out until December 2014. Odds are, though, that he will be playing in Europe this time next year. Chelsea remain the favourites to sign him, envisioning the Brazilian as the ideal strike partner for fellow youngster Romelu Lukaku.
They could be very, very scary together.
1. Jack Wilshere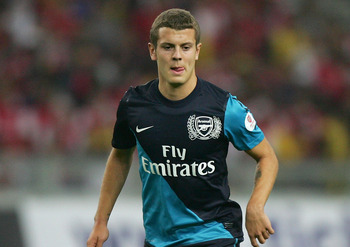 Stanley Chou/Getty Images
Arsenal - CM - 19
Jack Wilshere tore his way onto the world stage as an 18-year-old last season.
He appeared in 35 games for Arsenal, becoming a mainstay in the heart of their midfield and often dominating games.
He is primarily an offensive player, with great passing and an outrageously intelligent footballing brain, but is a strong tackler and is good in his own half.
He has already made five appearances for the English senior team.
Wilshere will step into an increased role after the departure of Cesc Fabregas and the imminent one of Samir Nasri. He has the ability to carry a team, and Arsene Wenger is hoping he'll do just that.
Arsenal need him to step up and become a world class player.
He will also continue his development in the National team. Fabio Capello believes in him, and his youth and energy is a welcome addition to an aging England team. A World Cup triumph could be on the horizon.
Together with Josh McEachran, Wilshere will make England the best team in the world.
Follow Jacob Ware on Twitter at @JacobWare95
Keep Reading