Arsenal vs. Liverpool EPL Weekend: Tactical Preview and Prediction
August 19, 2011
Arsenal play host to Liverpool this weekend in one of the high-profile games of the season.
It's still early days, but this game will give us a clearer picture of where both teams currently stand.
For Arsenal, it's a turbulent period with the worst squad under Arsene Wenger's regime.
On the other hand, Liverpool have added some exciting players to their roster, but it could take some time before the new players click together as a unit. The early signs are positive though.
Performance-wise, the Reds had a good outing against Sunderland last weekend, but couldn't finish off with all the three points, thanks to poor refereeing and mediocre defending.
While creativity wasn't a problem for Liverpool, Arsenal created virtually nothing at St. James park.
Without the vision of Cesc Fabregas, the directness of Samir Nasri and the pugnacity of Jack Wilshere, Arsenal looked quite ordinary in the final third.
The midfield seemed more like that of a bottom-half team than a team vying for Champions League spots.
Things will improve with new signings, but it's not going to happen before the Liverpool game.
The suspension of Gervinho and Alex Song adds insult to injury and, as a result, Wenger is struggling for bodies in midfield.
Tenacious youngster Emmanuel Frimpong will in all likelihood make his first Premier League start. So will the newly-signed fullback Carl Jenkinson.
Liverpool have no problems whatsoever in team selection.
If anything the manager, Kenny Dalglish, is spoiled for choices. The only concern is defence, which looks pretty shaky.
It remains to be seen whether a toothless Arsenal team can cut open the rearguard. 
Tactical Game
Arsenal played the usual 4-2-3-1 in their first game, but in effect it was a 4-1-2-2-1 with Song shielding the back four.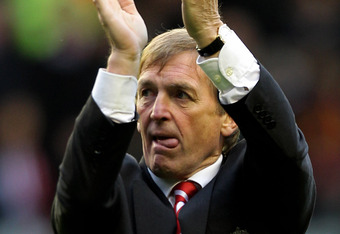 Aaron Ramsey and Tomas Rosicky play further up, but both offer very little defensively.
Arsenal's midfield is very weak and the wide players will have to take up added responsibility in the final third.
Against Udinese, Arsenal looked lethal through the wings—especially on the right side. The presence of Sagna makes Arsenal's right flank strong both defensively and offensively.
When Theo Walcott joins him, the necessary firepower is added to cause trouble for any defence.
With Gervinho suspended, Andrey Arshavin might start on the left wing, but he's not at his game anymore and doesn't cause too much trouble.
Up front, Robin van Persie is the danger man. He wasn't sharp against Newcastle, but it was more due to lack of match fitness than anything else.
Having been appointed the captain, van Persie will be keen to get on with the game and lead from the front.
Unlike Liverpool, Arsenal now have a good defence, especially the centre-half pairing of Thomas Vermaelen and Laurent Koscielny, which looks to be the real deal. They also have an assured keeper in Wojciech Szczesny, who has built on his successful first campaign.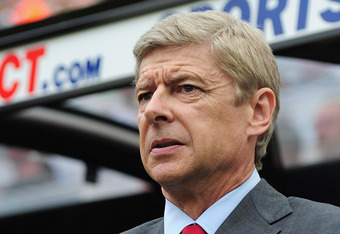 Arsenal's soft spot is their midfield. If you can't control the midfield, you can't control the game. And a midfield of Frimpong-Ramsey-Rosicky wouldn't dominate too many games, so Liverpool have a real advantage in midfield.
There is no focal point in midfield for Arsenal to dictate the tempo of the game. This might prove very costly come the end of the game.
Liverpool, on the other hand, have a strong midfield.
Dalglish played a 4-4-2 in their opening fixture to the surprise of many.
In effect it was a 4-2-3-1 with the two central midfielders dropping deep, allowing the wide players—Stewart Downing and Jordan Henderson—to push up.
One of the two strikers dropped deep very often, resulting in a more fluid 4-2-3-1 shape than the rigid 4-4-2.
In midfield, Charlie Adam and Lucas Leiva played well in the first half against Sunderland, but looked less compact in the second.
The major concern is the right flank. John Flanagan is just a talented prospect and showed his naivety when Seb Larsson scored the volley to level the score last weekend.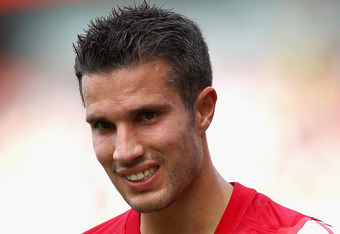 The selection of Henderson was more down to his price tag than ability.
Dirk Kuyt or Raul Meirles should start ahead of Hendreson for obvious reasons if the selection criteria are form and ability.
Luis Suarez played well, but looked lethargic. He's the danger man capable of creating and scoring himself.
Andy Carroll is always a danger with his height and presence. For a tall man, he's surprisingly good with his feet.
Downing is a pin-point crosser and the presence of Carroll makes Downing a bigger threat than what he actually is.
Adam has the best left foot in the Premier League and is a brilliant short-range and long-range passer.
Arsenal's midfield is no match when you compare them with Liverpool's. 
Game Plan
Arsenal will look to attack through the right side as always.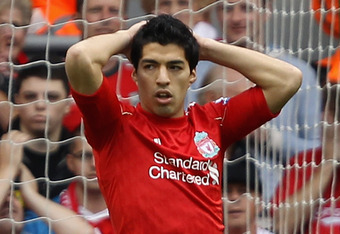 Ramsey, if he clicks, is capable of playing defence-splitting passes.
The problem though, is he has been highly inconsistent given his performances so far—including the preseason.
Much will depend on how the young enforcer Frimpong plays. Arsenal prodigy Frimpong is a tenacious player built like a tank.
He may be inexperienced, but Juan Roman Riquelme summed up this young man's ability and potential after Boca Junior's Emirates Cup game, saying Frimpong was the most important player for Arsenal (Goal.com).
It's no exaggeration considering how tightly the young starlet marked Riquelme, who is one of the best playmakers of his generation without a shadow of a doubt.
Van Persie is capable of special things, but doesn't have enough support from midfield.
The thought of Arshavin made Liverpool fans tremble once upon a time, but now he is a mere shadow of his former self, though he's still capable of the extraordinary. Probably more chance of Alex Ferguson retiring?
Liverpool have much more options in attack.
Adam plays the defence-splitting passes and Downing makes the run on the flanks—mostly on the left.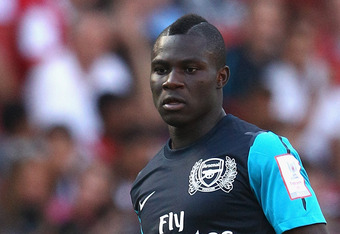 Suarez is a skillful player who creates as well as finishes. His intelligence on and off the ball could prove to be too much to deal with. With him you can always expect goals. Furthermore, if the combination of Downing-Caroll clicks, Arsenal will struggle in their penalty box. 
Possible Starting Lineups and Predictions
Arsenal (4-1-2-2-1):
Szczesny, Sagna, Koscielny, Veramelen, Jenkinson, Frimpong, Rosicky, Ramsey, Walcott, Arshavin, van Persie.
Liverpool (4-2-3-1):
Reina, Flanagan, Carragher, Agger, Enrique, Lucas, Adam, Kuyt, Downing, Suarez, Carroll.
Expect a tight game with Liverpool dominating the proceedings. Arsenal will struggle to keep possession for longer periods and will create little.
Liverpool will dominate the midfield and Downing will hassle and harry the defence from wide areas.
Suarez will look to get in behind the defence and a high line of defence may well play into his hands.
The lack of support may force van Persie to drop deep and play the trequartista role with Walcott further up, which would only make Arsenal more potent.
I predict a 2-1 win to Liverpool, with Carroll on the score sheet.