Arsenal Trophy Tragedy: Are Gunners Fans Prepared to Be Even More Patient?
August 17, 2011
Julian Finney/Getty Images
There is no denying, to a degree, that Arsenal fans have been patient with Arsene Wenger. The Gunners' faithful have now endured six successive seasons with Wenger's young and immensely talented squad unable to secure silverware. Wenger has established a team over the six years that possessed the calibre and high octane of Cesc Fabregas, Samir Nasri, Emmanuel Adebayor and Kolo Toure alongside the consistent presences of Robin van Persie, Alexandre Song, Bacary Sagna and Theo Walcot, yet the young Gunners' still are yet to relieve the fans' trophy demands.
What is even more frustrating for Arsenal fans is that they would have developed an awful case of deja vu. It appears to be the constant, everlasting problems for Wenger. The unnecessary goalkeeping errors, the long-standing defensive frailties, the lack of physical intensity and the inability to clinically finish off opponents.
Fans have been patient, resting assured that come the transfer window, Arsene Wenger will sign the quality player who can eradicate the lingering tentative issues. However, time and time again little materializes and the North London giants play their exciting brand of football with the occasional brilliant goal but in the end lack the mentality and quality to reach the highest peak, always crumbling in the final stages.
Last season is a cruel highlight. Arsenal managed to advance to the Carling Cup Final where they encountered lowly Birmingham City yet despite boasting possession, creating chances and having a strong side, Wenger's men crumbled with a school boy defensive and keeper lapse, ensuring a late Birmingham City victory.
Or the countless occasions opponents were able to storm back into the match and somehow take points from Arsenal. The horror against Newcastle United which will forever haunt trivias and stats as the Magpies evaded a four-goal deficit in the final half hour to manage a thrilling draw.
The season was summed up as Arsenal endured a huge demise in the final months, winning just three matches from their last fourteen since the Carling Cup nightmare. Wenger promised to implement quality changes during the current summer transfer window, particularly with the Arsenal board granting an enhanced transfer budget.
However, despite the need for success at the Emirates reaching an all-time high and Wenger's vow, little has materialized. Ivorian striker Gervinho, a £10.5 million acquisition from French champions OSC Lille and teenager star Alex Oxlade-Chamberlain from Southampton for £15 million are the only notable signings for the Frenchman.
Wenger has not evoked the feeling of a manager eager to eradicate a lingering trophy drought. Meanwhile, rivals Manchester City, Chelsea, Liverpool and Manchester United have all pursued strongly this summer and have added impressively to their roster. The giants have combined to spend over £220 million this summer.
If the Frenchman was utilizing his typical tentative financial approach so far it was a poor move. It was obvious to World Football that captain Cesc Fabregas was to finally complete his inevitable Barcelona transfer for a fee ranging from upward £35 million but the Frenchman showed no effort to acquire a replacement despite the knowledge funds would soon arise to back the transfer up.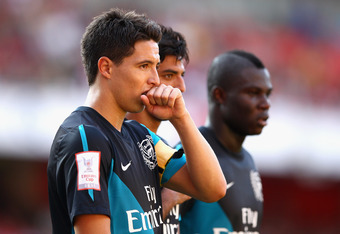 Richard Heathcote/Getty Images
Furthermore Samir Nasri, who enjoyed a breakthrough season in 2010/2011, also never looked set to remain at the Emirates since half way through last season, yet Wenger has still not sufficiently searched for key replacements.
In the Gunners' one-nil victory over Italian giants Udinese Calcio in the UEFA Champions League qualification first leg last night, there were comments that it was the worst Arsenal squad under Wenger since his tenure commenced in 1996.  
However, Wenger was lacking captain Robin van Persie and key midfielder Jack Wilshere. Never the less the weakened Arsenal side managed to succeed in something not often completed by Wenger's recent teams: that is, to play relatively poorly and scrappy and yet come out with a victory.
Although it appears this is an Arsenal squad that will struggle to sufficiently challenge for silverware in 2011/2012, it is not all bad for Gunners' fans. It they are prepared to be patient.
For some time now World Football have been awaiting Wenger's young squad, which the Frenchman had nursed and developed instead of spending heavily, come to fruition. That period appears to have diminish but it seems an exciting new era is arising.
First and foremost there will be no longer the distraction and disarray of Cesc Fabregas and his transfer saga. Despite his brilliance the Spaniard became somewhat of a diversion for the Arsenal squad. Furthermore, players lacking desire such as Samir Nasri, Denilson and Nicklas Bendtner have either departed or are on the verge of completing moves.
Secondly there is an appealing amount of security in positions. For once the goalkeeper position is not wrought with uncertainty and inconsistency. Wenger boasts Wojciech Szczesny as his No. 1 and the 21-year-old has emerged as a phenomenal shot stopper who already possesses impressive maturity at a young age.
The young Poland international has Lukasz Fabianski and Vito Mannone behind him who will implement mass pressure for Szczesny to maintain his performance. The duo, both in their early 20s, are strong deputies who are capable of succeeding at the front of the helm.
Furthermore, defensively, Wenger has cheaply established a strong array. Laurent Koscielny and Thomas Vermaelen appear to be on the verge of creating a strong centre half partnership with Johan Djourou are more than able deputy. Now all the Frenchman requires is an added quality presence. Meanwhile, Bacary Sagna, the renowned right back is showing no signs of his form diminishing and is set to remain a Gunner for some time.
Young left back Kieran Gibbs evokes the potential to emulate Ashley Cole if consistency is added to his game. The England international looks set to enjoy a defining season after his promotion to first choice left back after Gael Clichy transferred to Manchester City for £7 million.
In the midfield, renowned defensive midfielder Alexandre Song has continued his rapid rise in World Football and continues to produce consistent, strong performances. The Cameroon international is another player who is unlikely to depart the Gunners' anytime soon. Furthermore the 24-year-old has stiff competition with teenager Emmanuel Frimpong developing excitingly and his tipped to become one of the best midfielders in the Premier League in the coming years.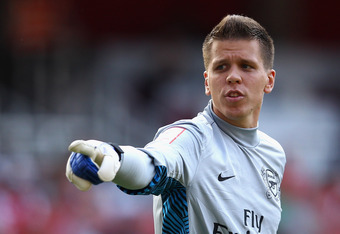 Richard Heathcote/Getty Images
It gets better. Twenty-year-old midfield general Aaron Ramsey, who has become the captain of Wales' national side, appears to have eroded all lingering scars from his horrific leg break in February 2010 and has become the main presence in the Arsenal midfield since Fabregas departed.
Ramsey boasts an efficient partnership with Arsenal heart and soul, Jack Wilshere. The 2010/2011 PFA Young Player of the Year will become one of World Football's best midfielders and the 19-year-old is the future Arsenal captain.
A young midfield bursting with talent and ability. With time it will develop incredibly and there is no denying it has the potential to take a similar path as Barcelona's current midfield had. However, it will take much time and development.
In the forwards the front three of Gervinho, Theo Walcott and captain Robin van Persie, as the season ages, will begin to become more efficient and the natural ability, speed and finishing of the trio is sublime and also has the potential to achieve what Barcelona's front three does, albeit it would be quite a feat.
It improves, however, with Wenger boasting an incredible amount of teenage attacking talent that many predict will become attacking giants in World Football. Ryo Miyaihci, Alex Oxlade-Chamberlain and Joel Campbell have all joined the Arsenal first team roster and the teenage trio are all engulfed in promise.
If Wenger can implement some quality transfers of high calibre and experienced presences, then coupled with the natural development of Arsenal's young squad, there is a hallmark of a tremendous squad emerging.
But are Arsenal fans patient enough?