Arsenal FC: 5 Potential Captains Who Can Replace Cesc Fabregas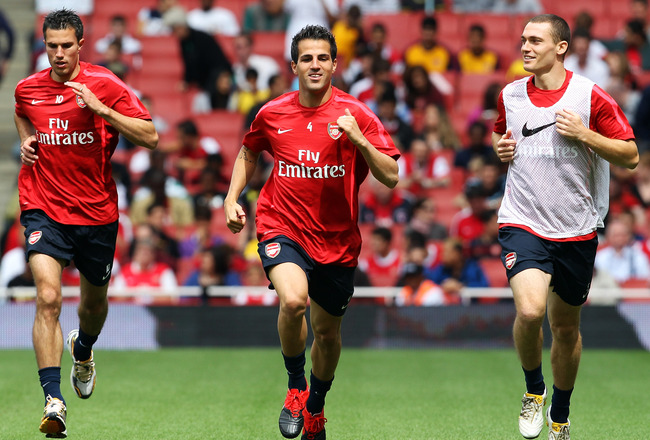 Bryn Lennon/Getty Images
I'll just skip the part about Cesc Fabregas leaving to Barcelona this summer.
Everyone knows he will at some point this month. It is now just a matter of when the situation is resolved, not if.
So let's focus on the future here. With Fabregas's departure, the captain's armband will be unassigned for the first time in years, and there is no clear successor to the Spaniard's throne.
However, a few suitors have emerged to take the main leadership role at the club, although some make stronger cases than others. Though each have their own issues, they would all make able replacements for Fabregas, were they to be given the armband.
Enjoy.
Jack Wilshere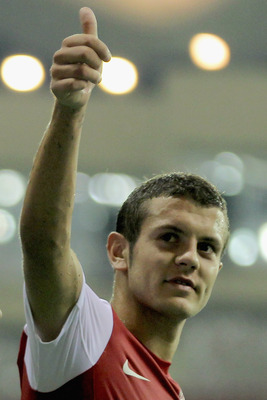 Lintao Zhang/Getty Images
He's fiery, passionate, tenacious, pugnacious, and best of all, he's English. So why isn't the future heart and soul of Arsenal capable of being the next captain? It is exactly that—Jack Wilshere is the future.
As of now, however, young Wilshere simply is not ready for that level of responsibility, nor the burden that comes with that little armband. Though we are all very familiar with him now and he seems like a grizzled veteran, it is important to remember that the boy is still 19.
All of the above traits have led to Wilshere being earmarked as a captain for the future. Indeed, he possesses all of the qualities one would want in the captain of Arsenal FC. He has plenty of time, though, and this transition can wait a few years.
Samir Nasri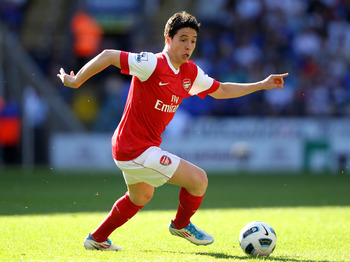 Clive Brunskill/Getty Images
After growing up in the tough suburbs of Marseille and learning his trade on the streets, Samir Nasri is certainly a tough player on the pitch.
This tenacious attitude led to Arsene Wenger handing him the captain's armband several times last season. Though he impressed in those displays, a litany of on and off the pitch issues would prevent the French wizard from becoming Arsenal's permanent captain.
The primary one would obviously be his long-running transfer saga, in which he has effectively held the club ransom for higher wages, while hinting that he will only be able to win trophies and the Ballon d'Or somewhere else.
Obviously, this would constitute a major obstacle, as would Nasri's relative inconsistency. He practically did not show up for the latter half of the season—hardly setting an example for younger players.
Tomas Rosicky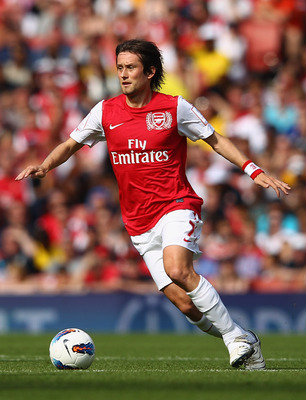 Richard Heathcote/Getty Images
At the age of 30, Tomas Rosicky is one of the oldest and most experienced players on the squad. As captain of the Czech national team, he has a considerable amount of experience leading a team. And, having worn the armband for Arsenal on several occasions, Arsene Wenger clearly trusts his ability.
Tomas would no doubt make a quality captain if we were given the honor, but there are a couple of crucial factors working against the Arsenal number 7.
First and foremost, he has been unable to establish himself in the starting XI with any consistency. And with Aaron Ramsey and Jack Wilshere becoming mainstays in the side, it will only get tougher for Rosicky to get the consistent playing time a captain obviously needs.
Couple that with his many injury problems, and Rosicky, while undoubtedly a great dressing room presence, probably is not the best choice for captain.
Thomas Vermaelen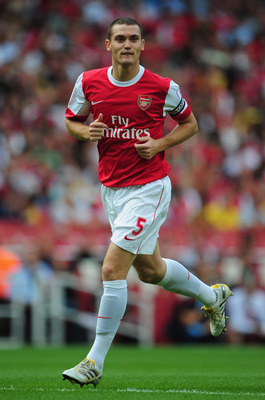 Mike Hewitt/Getty Images
Many Arsenal supporters, including myself, have been hankering for a leader in the back for some time now. Finally, at long last, it seems as if we may have one of the highest quality in Thomas Vermaelen, and giving the Belgian the armband would only serve to solidify his position in that role.
At 25 he is young, but not too young, thus allowing him to retain the captaincy for quite some time. Vermaelen has taken a vocal role in the squad of late, and the back line plays noticeably better and with more organization when he is playing.
That "when" might be a bit of an issue, though, if the dreadful Achilles tendon problem of his were to prove to be a chronic issue. However, I am willing to bet that this will not be the case, and would happily give Vermaelen the captaincy, if it were not for one man...
Robin Van Persie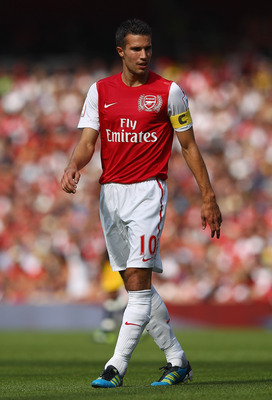 Richard Heathcote/Getty Images
Not only has Robin van Persie served a long tenure at Arsenal, he has proven himself to be extremely loyal during his time in North London. On top of that, van Persie can lead by example with his incredible skill as a striker, or be a vocal leader, which he has shown a propensity to do in many matches.
Need more? Arsene Wenger has so much confidence in van Persie that he made his striker vice-captain, and entrusted him with the leadership duties whenever Cesc Fabregas was unable to play. Even in the Emirates Cup, van Persie was given preference over the aforementioned Thomas Vermaelen.
So, why even make this list? Well, as every football fan knows, Robin van Persie is one of the most injury-prone players on the planet. He has only played slightly more than 50 percent of all possible games for Arsenal, and one would not want one's captain to be constantly out of the side.
Perhaps I am just hopeful, but I truly believe this will be the season in which van Persie stays fit for the whole year. After putting together a sterling run of fitness after the New Year and having a proper summer of rest, I believe this is the season when it will all come together for van Persie.
And if that is truly the case, the choice for our next captain is an easy one.
Keep Reading

Arsenal: Like this team?