Arsenal FC: Is Arsene Wenger Risking a Dangerous Cultural Shift at the Emirates?
August 4, 2011
Richard Heathcote/Getty Images
The oft-repeated refrain of, "we're only a player or two away," was once again a life-preserver for the Arsenal faithful to cling to dearly, hopeful that Arsene Wenger will fortify the squad ahead of the impending Premier League season. Despite the club of their affection resembling more of a sinking ship than a team in its ascendancy, Wenger and his acolytes seem resigned to continue waiting for Arsenal's return to relevance.
While it's certainly true that Arsenal is a club loaded with talent and promise, the criticisms of Wenger and his philosophies aren't necessarily without their merit.
For the last several seasons, the French manager has preached patience, vowing to see out a plan that relies upon developing players through the system, rather than spending lavishly and anchoring the club with debt.
It's difficult to fault a man for such a business model, as it is fiscally responsible, and ultimately satisfying if it achieves the desired results. To watch a young player progress through the academy, as he grows and matures into a first-team contributor, is one of the greatest aspects of supporting a football club, in my opinion. The evolution of a footballer can be a thrilling process to witness.
Of course, the ultimate goal is to see those young players mature together, coalescing into a trophy-winning side capable of challenging the elite squads in the league.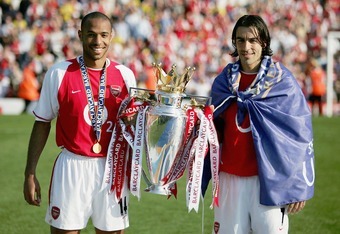 Clive Mason/Getty Images
Due to the financial realities facing many clubs, not all organizations are capable of dreaming of such lofty ambitions. However, Arsenal is a club that resides within the realm of potential contenders on a regular basis, so it stands to reason that one year, they may again actually challenge for silverware.
We've seen it before during Wenger's tenure as club manager, as Arsenal was regularly involved in the chase for significant silverware during the late-'90s and early 2000s. Not only were they consistent contenders, but they won the Premier League title in 1997-98, 2001-02 and 2003-04, as well as the FA Cup in 1998, 2002, 2003 and 2005.
It was a rich era in Arsenal's long history. The professorial Frenchman had taken a club that had seemingly stagnated for several years and turned them into a powerhouse in English football. With several key signings, and his penchant for player development, Wenger transformed the entire culture at Arsenal.
Unfortunately, club football is a world of great ambition, as loyalty is difficult to come by, and many players view their current club as merely a stepping stone, only serving their purposes temporarily, as they chase the glamour and prestige of the world's elite clubs.
Ambition is certainly not discouraged, as the allures of Barcelona, Manchester United, Real Madrid and Milan are undoubtedly great. The bank vaults of Chelsea and Manchester City have their appeals as well, although of a decidedly different nature than the storied histories of Europe's elite clubs.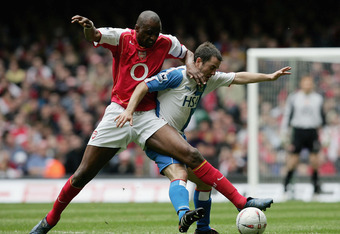 Shaun Botterill/Getty Images
Once Arsenal's winning stopped after the 2005 FA Cup, a wave of departures occurred over the next several seasons, in which we saw many players seeking to improve upon their fortunes by transferring to more prestigious clubs.
The dismantling began almost immediately. Incredibly-influential midfielder, Patrick Viera, making way for a young Cesc Fabregas, departed Arsenal after the FA Final, signing a five-year deal with Juventus in Serie A. His physical presence in the heart of the midfield has been sorely missed since his departure. 
Perhaps the most critical was that of the next Gunner captain, Thierry Henry's transfer to Barcelona following the 2006-07 campaign. The talismanic forward was an unstoppable force for Arsenal, contributing mightily to their successes during the early years of Wenger's reign.
Just after the conclusion of the 2007-08 season, instrumental midfielder Mathieu Flamini chased his dreams to A.C. Milan, transferring to the distinguished Italian giants just as he was becoming indispensable to Wenger's squad.
Though less impactful, Alexander Hleb's departure to Barcelona shortly thereafter continued the disturbing new trend.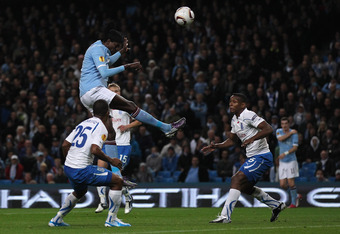 Alex Livesey/Getty Images
Shortly before the opening of the 2009-10 season, long-time defensive stalwart, Kolo Toure, was sold to nouveau riche Manchester City, a club intent upon building a champion with their recent infusion of cash from Abu Dhabi Investment Group. Arsenal made a tremendous profit on Toure, and his sale, though disliked by many fans, eased tension between he and fellow-defender, William Gallas.
Joining Toure in his chase for glory with Manchester's upstarts, was the mercurial forward Emmanuel Adebayor. He had emerged as a lethal goal-scoring threat for Arsenal, netting 30 goals during 2007-08, easing the loss of the electric Henry. Adebayor would struggle to duplicate that success however, and struggled with injury and inconsistency the following season.
Another massive profit was made on his sale, and while most fans weren't terribly upset to see Adebayor leave, the dual sales to a direct Premiership competitor raised a few eyebrows amongst the club's supporters.
However, with the gross profits believed to be in the range of £40 million between the two transfer fees, there was a strong belief that those funds would be spent on supplementing Wenger's talented, young squad that he had nurtured with such care.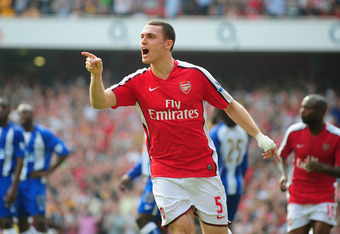 Clive Mason/Getty Images
Wenger continued his established trend of attempting to unearth gems at bargain prices. Belgian defender Thomas Vermaelen, Ajax's former captain, was brought in to partner with Gallas in the heart of the defense. That turned out to be a masterful acquisition, as Vermaelen quickly settled into the English game and excelled for the Gunners.
One year after selling Toure to ease the rift with Gallas, Gallas' desires were seen as too rich for Arsenal's tastes and he was then allowed to leave to Tottenham. At the same time, and though no one would shed many tears for these departures, Michel Silvestre and Philip Senderos moved on, joining a significant crowd of outgoing players leaving North London, specifically in defense.
Though the sheer number of outgoing defenders was troublesome, the emergence of Vermaelen, plus the previous summer's transfer funds, led to hope of a revival for the Gunners. Wenger, however, steadfastly clung to his frugality, opting to sign bargain French defender Sebastian Squillaci, and the then-unknown Laurent Koscielny to fortify the defense with Vermaelen and Johan Djourou.
A devastating, season-long injury to Vermaelen, and the inconsistent showings of Squillaci and the inexperienced duo of Koscielny and Djourou, contributed heavily to another season of heartbreak for Gunners faithful.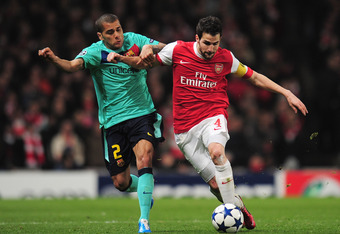 Shaun Botterill/Getty Images
With so much talent, and Wenger's insistence that patience with the young club would soon pay its dividends, Arsenal seemed on the verge of something special. However, despite quality throughout the club, there were glaring needs that required addressing if the club were to ever take that next step that would see them seriously challenging for silverware once again.
Defensive lapses had devastated Arsenal's hopes several times in the last few seasons, yet Wenger, despite his own admission that frailty at the back required addressing, has yet to do so. Instead, he sold yet another defender, the last member of the "Invincibles," left-back Gael Clichy, to who else but Man City. Now, that departure was nearly-inevitable, as Clichy was on the last year of his contract, and rather than watch him walk for nothing after this season, Wenger chose to make money on the deal.
Clichy's defensive value was already questionable in the minds of many, so his departure won't likely be devastating. However, with a defense that was already heavily responsible for the club's failures in recent seasons, reinforcements were necessary, not more departures.
Elsewhere in the squad, we've been treated to the well-documented transfer saga of Arsenal captain Cesc Fabregas. With his Barcelona DNA tugging at his heartstrings and compelling him to return to his boyhood club, even the Arsenal supporter steeped in the most copious amounts of denial realizes how this protracted tale will eventually conclude. Large segments of the fan-base have already moved on, severing their emotional ties to the maestro, realizing the Spaniard's departure is virtually inevitable.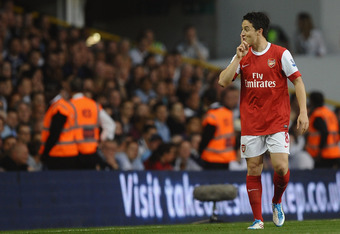 Laurence Griffiths/Getty Images
Not only have Arsenal supporters had to endure the never-ending media speculation regarding Fabregas, and the the chorus of Barcelona players pining for the return of their mate from their days together at La Masia, but Gunners fans are also uneasy about the future of Samir Nasri.
Nasri became the latest object of their affection with his masterful dribbling, and a knack for spectacular goals throughout first half of the 2010-11 season. His virtuosic displays earned him mentions in the race for Player of the Year honors, as well as increased attention from clubs across Europe.
As he is entering the final year of his contract, and has yet to commit his future to Arsenal, the media has been rife with conjecture over the immediate future of the 24-year-old Frenchman. Though most of it has not come from Nasri himself, media outlets have continued to run with stories regarding his alleged greed and displeasure with a perceived lack of ambition at his current club.
Le Professeur Wenger has stated his intention to keep both Fabregas and Nasri, potentially even beyond this season, but desire and reality are often very different.
In the case of Fabregas, it is widely accepted that he is destined to return to the Catalan club of his youth, which also happens to be the pinnacle of success and prestige in modern football. However, Nasri's future is less certain, as his former-club Marseille doesn't hold the same level of attraction that Barcelona does.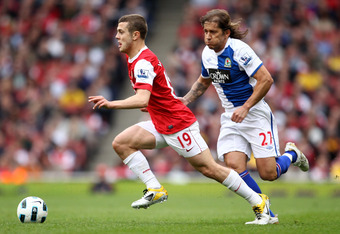 Julian Finney/Getty Images
If Nasri is truly dissatisfied with the current direction that Arsenal appears to be headed, then perhaps he can be persuaded to stay with a few key signings, which might signify a renewed resolve at the club. Some have postulated that he is unhappy with his pay at Arsenal, and that he would only be appeased by a move to Man City, Chelsea or Real Madrid, clubs that could certainly satisfy his financial desires.
At this late date, so close to the dawning of the Premier League season, it is conceivable to envision Arsenal dealing with the departure of one of these key players, but certainly not both. The emergence of Jack Wilshere, Nasri's ability to play a central midfield role and the return of Aaron Ramsey, combine to give Wenger confidence that he could cope with the sale of Fabregas. As for a potential Nasri departure, his wing position could be manned by Andre Arshavin, or the recently acquired Gervinho.
However, to even contemplate selling the both of them would be a risky proposition that would send an undesirable message to supporters, admitting Arsenal's status as a secondary club without the ability to keep its core players.
Additionally, such a negative vibe surrounding the club could permeate the dressing room, leading to further instability and personnel defections.
If Robin van Persie continues to cement his reputation as a lethal, though injury-prone, forward, what guarantees his willingness to stay at Arsenal? While he has displayed tremendous loyalty in the past, he is nearly 28 years old, and might not be willing to gamble on Wenger's philosophy. Players of his age generally realize that their time to win titles is running out, and if Arsenal aren't truly going to challenge for silverware, certainly another club might offer the opportunity.
Jack Wilshere, thrust into the limelight as a precocious 19-year-old, starred for Arsenal throughout his debut season, and is already playing a prominent role for the English National Team. What happens if he thrives once again in the heart of the Gunners' midfield, and the likes of Manchester United and Chelsea come calling in the coming seasons? Is his loyalty so strong that he could resist a chance to anchor United's midfield for the next decade?
Aaron Ramsey, a Manchester United fan during his youth, could face the same dilemma. Would he turn down an opportunity to follow in the footsteps of his hero Ryan Giggs?
The same could be said of any number of younger Arsenal players who have the potential to develop into higher profile stars. If Thomas Vermaelen returns to his form of 2009-10, he could see his profile rise dramatically. Similarly, Gervinho or Theo Walcott could turn in a breakout performance, earning them attention from the prestigious clubs in football.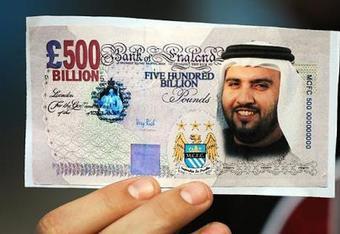 There has to be a reason for them to want to stay at Arsenal, and "beautiful football" can't be the only draw. Athletes, by their very nature, are competitive creatures and want to win. Arsenal's aesthetic is undoubtedly attractive, but it's no longer enough in the modern world of English football.
One can lament the influence of an influx of foreign money on the game, and the transfer imbalance that it has created in recent years but, like it or not, it's the new reality. The financial fair play regulations will seek to level the playing field once they take effect, but their significance will only be truly felt several years from now. That's several Premier League titles and outgoing Arsenal transfers away.
This isn't a plea for Arsene Wenger to ditch his homegrown philosophy and attempt to compete for player's signatures with the financial powerhouses of the game. That's admittedly unrealistic and, frankly, unnecessary. We've witnessed the maturation of his Arsenal club, and have seen that they are not far from competing for the league title, and even the Champions League.
However, Arsenal appears to be a club at a crossroads, and the action taken at this moment will likely influence their fortunes for many seasons to come.
Shaun Botterill/Getty Images
Standing at this critical juncture, Wenger needs to take decisive action, something that seemingly contradicts with his patient, contemplative demeanor. Occasionally, you need to show that you mean business, to avoid becoming a target for bullies hoping to take advantage of a perceived meekness.
While Fabregas may already be a lost cause, Samir Nasri's future with the club still feels salvageable. It's not even specifically about him though, but about the perception of an entire football club.
Arsenal simply cannot watch passively as their young players mature into men and their ambitions outgrow those of the club.
Without the requisite action, executed with a sense of urgency, Arsenal FC runs the risk of letting the current mood at the club permeate the entire organization. If it becomes impossible for the Gunners to retain their stars, the downward spiral could be swift.
The "Invincibles" may now be only a memory, but a new era of success may loom just around the corner, if the club is willing to behave proactively, rather than in a reactive manner.
Otherwise, Arsenal could be in danger of accepting a culture of submission, truly becoming the feeder club that they are recently perceived as, rather than the potential champions that they think they are.