They're Gunner Be Good: The 8 Arsenal Players to Watch in 2011/2012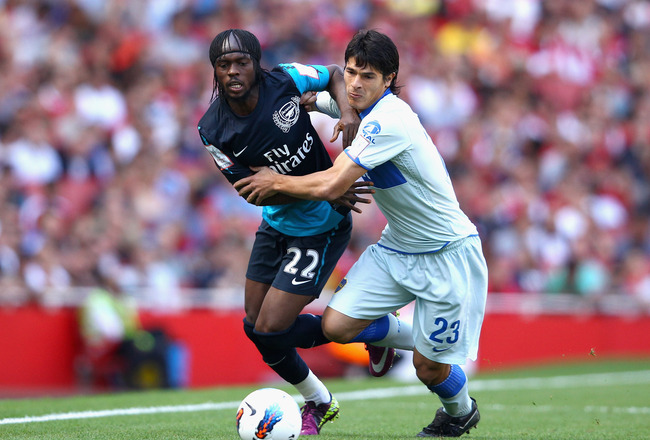 Richard Heathcote/Getty Images
The English Premier League commences in 12 days, igniting worldwide excitement, fear, joy and tragedy. 2011/2012 appears to have the making of a campaign more influential, more thrilling and more tense than the previous and world football fans are salivating.
It has been an exciting summer so far with a number of big-name transfers materializing. With more and more teams now benefiting from investor tycoons, even more money is engulfing football and the transfers will only increase.
Furthermore, with little under a month remaining left in the summer transfer window, there is still much action to be completed. One team who has been surprisingly quiet in terms of transfer activity is North London giants Arsenal. After the Gunners' tumultuous conclusion to 2010/2011, which ensured their notorious trophy drought was extended to six seasons, many believed Arsene Wenger would be immensely involved in transfer movements.
But despite the mass speculation, little has occurred for the Gunners. Veteran left-back Gael Clichy departed to Manchester City for £7 million whilst Wenger managed to acquired highly rated Ivorian striker Gervinho for £10.5 million from French champions OSC Lille.
Captain Cesc Fabregas and key playmaker Samir Nasri have both endured heavy transfer rumours with mass speculation linking the duo with moves to Barcelona and Manchester City respectively. Neither have agreed to anything yet with either Arsenal or rival clubs but it appears Nasri is set to commence 2011/2012 in the red and white. However, Fabregas' future is more tentative.
The speculation has not aided matters internally with the Gunners conveying a poor preseason. Wenger's squad registered just one win against feeble Asian opposition with a 4-0 thrashing of Malaysia XI before drawing with China's Hangzhou Greentown in a goalless stalemate.
Arsenal then conveyed a lacklustre approach to their own Emirates Cup, which the Gunners relinquished for the first time as New York Red Bulls secured the crown. Nonetheless, Wenger's men will begin 2011/2012 eager and hungry to eradicate their renowned trophy drought.
After the accuracy of last season's predictions, Bleacher Report continues the trend for the new, upcoming campaign and establishes the eight Arsenal players to watch in 2011/2012. Take a look.
8. Carl Jenkinson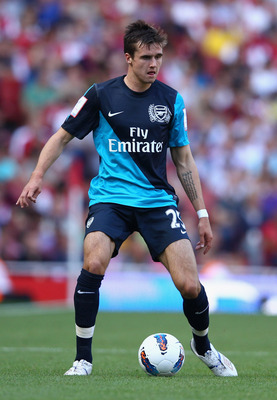 Richard Heathcote/Getty Images
The 19-year-old was all but secured during the final weeks of 2010/2011 before a fee was eventually agreed between Chartlon and the Gunners in recent June. The £1 million defensive signing is touted as one of the brightest teenagers in England and, despite a freak own goal, has performed impressively in the preseason.
A strong and quick fullback, the Englishman is primarily a right-back but is expected to make the transition to centre-half in the coming years. Charlton Athletic youth since the age of eight, Jenkinson had impressed in eight league appearances for the Addicks and whilst on loan with Eastbourne Borough and Welling United.
Expected to rival the renowned Bacary Sagna at right-back for first-team honours, at 19 Jenkinson has a huge future and the Finland U-21 defender could become a surprise package in 2011/2012.
7. Ryo Miyaichi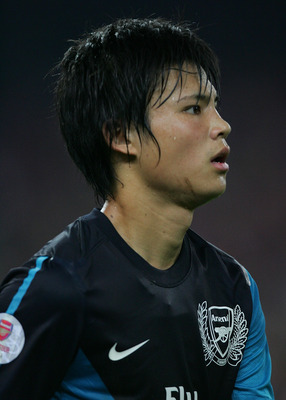 Stanley Chou/Getty Images
The Japanese teenager was secured in January after successful trials with the Gunners, and it is fair to say Arsene Wenger has unearthed another superb gem.
Miyaichi was immediately loaned to Dutch outfit Feyenoord due to work permit issues and the need for experience. Amassing 12 appearances and three goals, the winger was a powerful force for Feyenoord, evoking comparisons to Cristiano Ronaldo and acquriing the nicknames "Ryodinho" and the "Japanese Messi."
Allowed to partake in Arsenal's first-team preseason tour of Asian, the 18-year-old has impressed further with Theo Walcott stating Miyaichi was an amazing talent. Powerful, immensely quick and devastatingly skilful, the Japan U-19 dynamo has a glistening future and with his ability, could quickly become a starting winger for Arsenal.
There are currently work permit issues surrounding the teenager but regardless, it is clear Ryo Miyaichi is a player to watch in 2011/2012.
6. Benik Afobe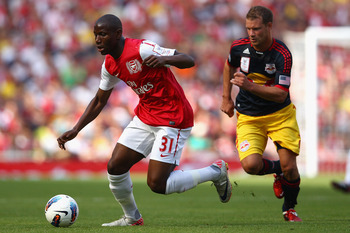 Richard Heathcote/Getty Images
The 18-year-old has been at Arsenal since the age of eight and his form and promise in the reserves and Arsenal academy caught the attention of European kings Barcelona, who became desperate to sign the teenager striker.
Afobe enjoyed an impressive 2010/2011 in which the Englishman spent the entire campaign on loan at League One outfit Huddersfield United. Afobe amassed 32 appearances, eight goals and 10 assists ensuring one of the best players of the season status for the Terriers.
Touted as the next striking sensation in England, the teenager was rewarded with a place in Arsenal's Emirates Cup squad in which Afobe impressed greatly against New York Red Bulls with a 67-minute cameo. Powerful, fast, composed and clinical, the teenager boasted an impressive 11 goals in 23 appearances for the England U-17 side.
Expected to challenge for first-team honours this season, Benik Afobe has certainly emerged as one to watch in 2011/2012.
5. Armand Traore
Richard Heathcote/Getty Images
With Gael Clichy's £7 million departure to Manchester City, a prime opportunity has emerged in the left-back role. The Frenchman had been Arsenal's first-choice left-back since 2006, restricting Armand Traore to two loan spells but now the 21-year-old has a chance to become the dominant Arsenal left-back.
A quick, tenacious presence, the Frenchman has not quite made an impact at the Emirates just yet with only 30 Arsenal appearances in three seasons. However many are aware of the youngster's ability. Traore managed 28 appearances and a debut goal for Portsmouth in the English Premier League during 2008/2009 and last season the France U-21 star impressed with 12 appearances for Italian giants Juventus despite being blighted with injury.
However, fully fit and raring to go, Traore has been one of the most impressive figures during the Gunners' preseason and has conveyed the ability to take on the first-choice left-back role. Alongside boasting physical capabilities, Traore is also a clinical attacker whose speed enables the former AS Monaco ace to sprint down the flanks and provide an extra dimension to Arsenal's attack.
Contesting with Kieran Gibbs for the left-back role and possibly Thomas Vermaelen if tactics are altered by Wenger, Armand Traore is certainly a player to watch in 2011/2012.
4. Kieran Gibbs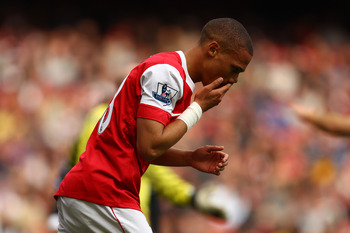 Richard Heathcote/Getty Images
As previously mentioned, Gael Clichy's transfer ensures a superb opportunity in the left-back position and Arsenal fans will be eager to witness whether Kieran Gibbs can step up and finally fulfill his destined role. The Englishman has been an able deputy to Clichy, impressing in limited opportunities to earn two national caps for England.
However, with 50 Arsenal appearances, Gibbs has the experience and the potential ability to eradicate Clichy's departure and emulate the renowned Ashley Cole. A physical and composed fullback, the England international has incorporated an impressive attacking trait into his game but is prone to lapses in concentration and positioning faults.
Although Gibbs has never properly received consistent playing time under Arsene Wenger, expect for a short stint in 2008/2009, where the former Wimbledon greatly impressed after Clichy sustained a season-ending injury in the latter half of the season.
Wenger rates his left-back highly and the Frenchman is also a genius at establishing world-class fullbacks, which ensures Kieran Gibbs is certainly one to watch in 2011/2012.
3. Emmanuel Frimpong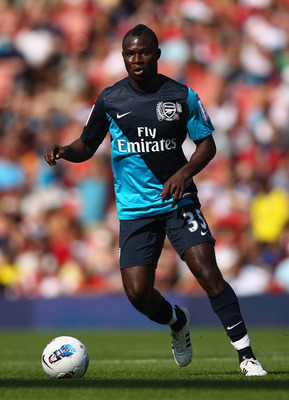 Richard Heathcote/Getty Images
This time last season, Emmanuel Frimpong had just enjoyed a stellar preseason with the Arsenal first team and was destined to play an integral role in Arsenal's 2010/2011 campaign. However, days into the season, the Ghanian midfielder succumbed to a sever anterior cruciate ligament injury and was sidelined for the season.
However, the 19-year-old has fully recovered and once again boasted an impressive preseason with Argentine legend and current Boca Junior midfielder Juan Riquelme hailing the midfielder as the most important player for Arsenal during the Emirates Cup.
A combative defensive midfielder who possess impressive physicality and creativity, the teenager has long been touted as a future Arsenal star having joined the Gunners academy at the age of nine. Intelligent and strong, Frimpong is expected to play a commanding role in the Arsenal midfield this season.
Provided the Ghanian maintains his fitness, Emmanuel Frimpong is destined to become a player to watch in 2011/2012.
2. Gervinho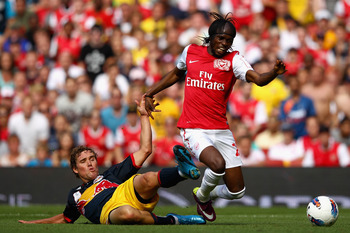 Richard Heathcote/Getty Images
The £10.5 million signing from French champions OSC Lille has easily been Arsenal's best player in their recent friendlies and Emirates Cup, providing an energetic, skillful and intelligent presence in the Gunners' forward line.
The Ivorian arrived with a glistening reputation after enjoying a stellar 2010/2012 in which the 24-year-old was pivotal for the Mastiffs as they secured their first Ligue 1 trophy in 57 years alongside the Coupe de France. Gervinho boasted 53 appearances, 18 goals and 10 assists.
Quick and physical, Gervinho is versatile and can ensure impact all across the front line. The Ivory Coast international has high intentions to join Arsenal and is expected to thrive due to his style of play suiting Wenger's football theory.
Gervinho immediately won fans over in his first game, when he scored the two goals in Arsenal's 2-1 friendly victory over German giants FC Cologne. As the Gunners search for that energetic and clinical presence up front, Gervinho is one to watch in 2011/2012.
1. Aaron Ramsey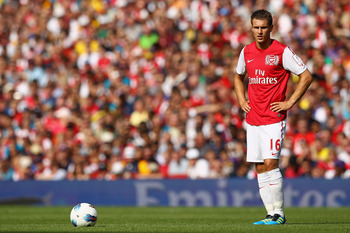 Richard Heathcote/Getty Images
Feb. 27, 2010. The horrific day when Arsenal beat Stoke City 3-1.
Despite this victory, the Gunners lost young midfielder Aaron Ramsey after a precarious, mistimed challenge from Ryan Shawcross resulted in the Welshman suffering a broken tibia and fibula in his right leg.
2009/2010 had been a breakthrough season for Ramsey, who was fast becoming one of the Premier League's best midfielders.
The injury, however, stole eight months from the Wales international whose rapid development was immediately halted. Last season, Ramsey was forced to experience short loan spells with Championship sides Nottingham Forest and Cardiff City before returning to the Arsenal first team.
A shining light in Arsenal's second-half season demise was the return of the 20-year-old, who concluded the season with eight appearances and a memorable goal against Manchester United that secured the match.
Fully fit, enjoying a strong preseason and diminishing the lingering tentative approach that naturally arises from a serious injury, Ramsey is destined to have an emphatic season, particularly with Fabregas' certain departure.
The one to watch in 2011/2012.
Keep Reading

Arsenal: Like this team?