Arsenal Transfer News: 5 Players Arsene Wenger Should Not Sign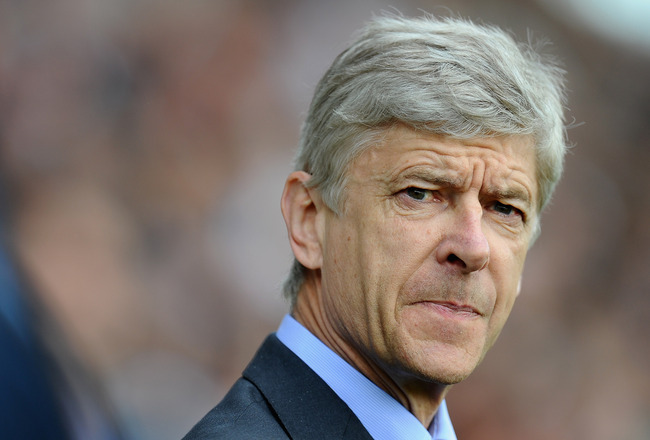 Plenty going on behind that furrowed brow
Clive Mason/Getty Images
These are troubled times for Arsene Wenger.
Arsenal's supporters, Wenger's most ardent fans for the better part of 15 years, have begun to turn against their messiah. Things have reached such a state, that it is now being whispered aloud that should Arsenal fail to qualify for the group stages of the UEFA Champions League, his position at the club may become untenable.
There is a widespread clamour for new signings, and for these caustic "fans," every news story (whether good, bad or neutral) about the club is a chance to rid themselves of even more vitriol.
Nonsense, in my humble opinion...
I'd invite these so-called "supporters" to take a good look around and name even FIVE players who have been traded in this transfer window, who Arsenal should have signed and who would have significantly improved the existing squad.
And if anyone says, "Charlie Adam," they're free to go support Liverpool, as far as I'm concerned.
Wenger and Gazidis are most definitely burning the midnight oil, and they will most certainly deliver the signings the club needs—very different from the signings the "fans" want. And while the more acceptable names of Mata, Jagielka and others get tossed around, let's look at five others who have been in the mix too, but who would not be right for Arsenal.
And in case of two or three, Wenger should not touch them with a barge pole, even if they come nicely gift-wrapped with a £5 million signing bonus for Arsenal!
He's No Samba Boy
Look carefully, you may never see this again
Dean Mouhtaropoulos/Getty Images
That has to be a rare photograph. Christopher Samba with the ball at his feet?
What's next, Denilson making a forward pass?
Signing Samba may help Arsenal win a few more headers at both ends of the pitch, but do they really need an overpriced, clumsy, plodding centre half just because he wins a few headers?
Will he add to the overall game? What will he do in the Champions League, where Arsenal doesn't have the pleasure of facing Stoke, Blackburn and other such football teams?
And mind you, this is the same Samba who impressively marshaled Blackburn's central defence with the signing of the year, Phil Jones,—who would have featured in this piece had it been written two months ago—in a 1-7 loss at Old Trafford last November.
Signing Samba would be akin to taking one step forward and five back.
Next, please....
No "Joey" to Have Around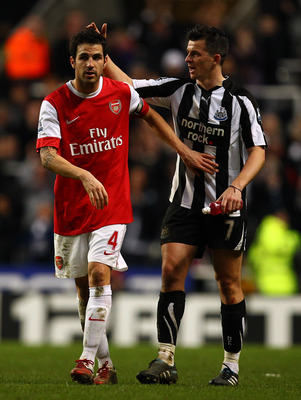 Like for like????
Richard Heathcote/Getty Images
To gain a sense of perspective on how crazy this transfer window has become, take a look at the picture.
Now imagine the red jersey making a slow transition from the player wearing No. 4 on the left, to the No. 7 on the right.
Yup, you got it. That's what they are suggesting.
Joey Barton is the answer to Arsenal's search for a replacement for the soon-to-depart Cesc Fabregas.
Yes, Barton has experience.
Yes, he is the quintessential "hard man."
Yes, he isn't a bad footballer.
But yes, he maims teammates in training. He stubs cigars out on youth team players' eyes. He moons opposition supporters. He assaults taxi drivers.
You get the drift, I hope.
If I may borrow the immortal words of Peter Hill-Wood, the venerable Arsenal chairman, "We don't need his sort."
Le Phénomène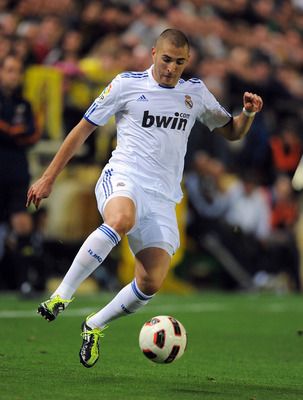 Good player, but not needed
Denis Doyle/Getty Images
In the days of Arsenal's 4-4-2 avatar, Karim Benzema wouldn't have found himself on this shortlist. He and RvP up front would have been a dream combination, surely drawing comparisons with Bergkamp and Henry.
But with Wenger determined to pack his midfield and avoid being hit on the counter attack, it would be a waste to have one of RvP or Benzema on the bench.
So as good a player as he might be—and he started to show glimpses of it again toward the end of last season—he's no good for Arsenal just now.
Mata, Not Matt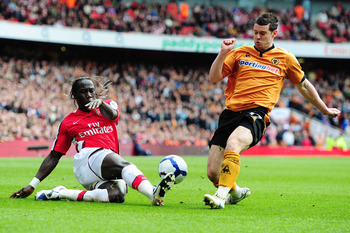 Not in my house!!
Mike Hewitt/Getty Images
This one's quite straight forward, actually.
Matt Jarvis is a player I quite like. But that's for Wolves.
Jarvis is quite pacey, with a decent dribble and excellent delivery, but is he good enough for Arsenal?
Maybe.
Is he better than Arshavin, Gervinho, Walcott and Nasri? And Juan Mata?
Well, er, maybe not.
Case dismissed!
Gary Cahill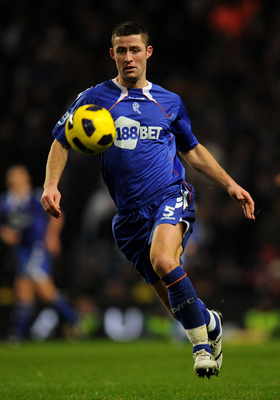 A safe bet?
Clive Mason/Getty Images
I thought long and hard about this.
Gary Cahill is a good defender; he's young, he's strong in the air and good with his feet. He's English too.
So far so good.
But Cahill's entering the final year of his contract and is priced at £17 million.
I can hear the collective groan of my fellow Arsenal fans, but that's not the reason why he features here.
While the price is not really right, I just feel Phil Jagielka is a better defender, a more mature footballer and has, over the years, played for a better team.
And if Arsene Wenger is going to spend £17 million on a defender, I'd rather he spent it on Jagielka.
In an ideal world, here's what I'd like to see happen in the next 10 days:
Arsenal sells Nasri to Man City for a cool £22 million, they keep Cesc, and get Mata, Jagielka and Scott Parker.
Arsenal also sells Almunia, Eboue and (reluctantly) Bendtner—maybe Vela too.
That way Arsenal adds an experienced and commanding centre half, a holding midfielder and leader to give Alex Song some competition (and slot in alongside him when they need to hang on to a lead) and a creative force who will spend (at least) one year learning from Cesc.
The club must also almost balance the books, thereby keeping the boss happy.
If only we lived in an ideal world, though...
Keep Reading

Arsenal: Like this team?