Bob Bradley Fired from USMNT: Top 5 Possible Replacements as Coach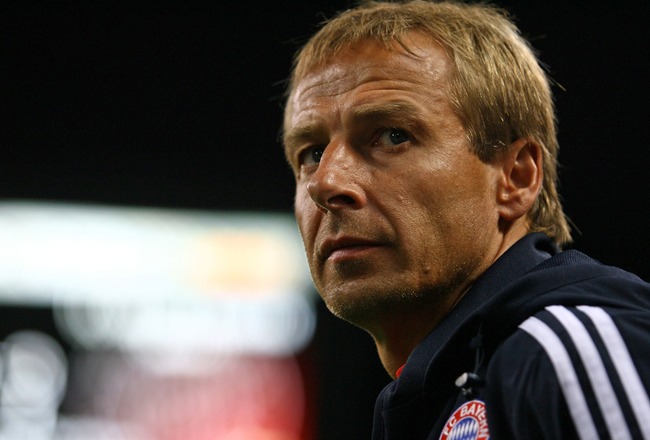 Koji Watanabe/Getty Images
The USSF officially announced this afternoon that coach Bob Bradley had been relieved of his duties as USMNT manager.
Despite leading the USMNT to a first-place finish in Group C at the last World Cup, the news was widely followed by nationwide celebration and jubilation.
Many fans felt as though a fresh start was needed after the last World Cup cycle and that the USSF should have made this decision long ago, when the 2011 Gold Cup title was still a possibility.
We are expected to find out more about the situation and the reason for the coaching separation later this week, as well as possible candidates for the currently vacant manager spot.
If you would like to cease your celebration for a few minutes and observe who could be the USMNT coach of the future, give the following list a look.
5. Frank Rijkaard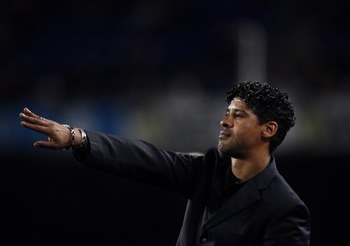 Jasper Juinen/Getty Images
Pros: Young, Global experience winning trophies
Cons: Friendship with success has been put on hold since 2006
The Verdict: Though recently employed by the Saudi Arabian Football Association, a move over the Atlantic is a definite possibility. Rijkaard is widely known for his achievements at Barcelona, at which he led the club to a UEFA Champions League title and himself to the Manager of the Year award in 2006.
However, after failing to lead Turkish powerhouse Galatasaray to a single title in 2010, Rijkaard's coaching stock has really taken a hit. Considering the Dutchman hasn't really smelled success since 2006, Rijkaard might not be the safest choice, but he is certainly an option.
4. Sigi Schmid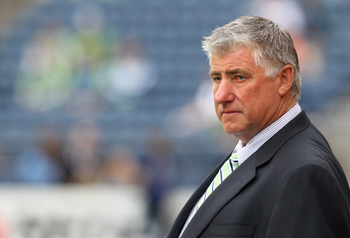 Otto Greule Jr/Getty Images
Pros: Lots of success with depleted Seattle squad, Former US U20 Head Coach
Cons: Currently in the middle of MLS season with Seattle
The Verdict: There has been a lot of talk surrounding whether Schmid will return to the USSF system this summer. Schmid coached the US U20's in 1998-1999 and 2005 and led his teams to relatively successful showings in the 99 and 05 FIFA World Youth Championships.
Schmid has also done a fantastic job with his current MLS team Seattle Sounders, who are currently third in the table despite losing stars Steve Zakuani and O'Brian White.
Needless to say, Schmid knows how to coach a team that is not graciously occupied by star players like the USMNT. However, stealing Schmid away from Seattle in the middle of an MLS season might be a little easier said than done.
3. Marcelo Bielsa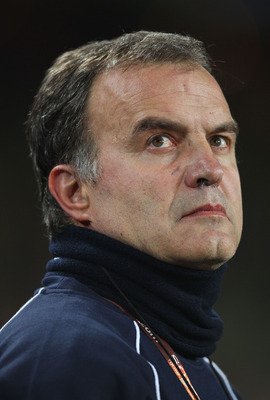 Michael Steele/Getty Images
Pros: Upbeat coach who has had recent success at International Level with Chile
Cons: Turned down USSF position last month, Currently employed at Athletic Bilbao
The Verdict: The Argentine could provide the fresh water splash to the face that the USMNT desperately needs. He was the architect behind Chile's fantastic World Cup qualifying campaign, in which the team finished above Paraguay, Argentina, and Uruguay in the standings.
The USSF showed their interest in Bielsa last month when they offered him a technical director position high up in the US system.
Though he recently accepted a coaching job at Athletic Bilbao, a chance to lead the USMNT to greatness might prove to be just too appetizing to pass up.
2. Marcello Lippi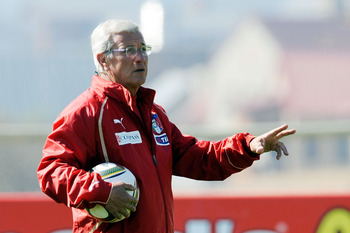 Giuseppe Bellini/Getty Images
Pros: Only candidate to have won a World Cup, Years of experience, Interested in foreign job offers
Cons: May be past his prime
The Verdict: The Italian legend mentioned in an interview last month that he hoped to find a foreign coaching job by the fall, and the USMNT coaching vacancy might just make his wish come true.
Lippi last coached Italy to a disappointing 2010 World Cup finish in which the proud nation finished last in Group F play. However, the experience and prestige that Lippi would bring to the USA would be unprecedented in USMNT history.
Players might feel more comfortable with Lippi's decisions, as those decisions would come from the same mind of a World Cup Champion.
With full trust in their experienced coach, players would be able to focus more on their own play, rather than the mastermind behind it all.
1. Jurgen Klinsmann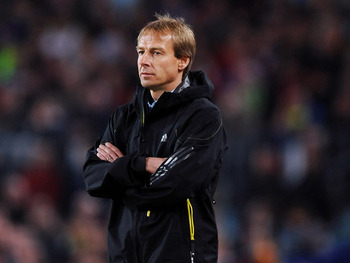 Jasper Juinen/Getty Images
Pros: Unemployed, Interested in Coaching the USMNT
Cons: Has not coached professionally since 2009, Not that much experience
The Verdict: The longer we wait to hear the USSF's official announcement, the more the consensus feeling from fans is that the German will be the next USMNT leader. Sunil Gulati has had a crush on Klinsmann ever since his resignation from Germany after leading his nation to the 2006 World Cup semifinal.
Gulati hoped to agree on terms with Klinsmann at the start of the last two World Cup cycles, both times falling short and hiring Bob Bradley instead.
With the USMNT coaching job currently vacant and Klinsmann still jobless, it seems as though a unification of forces may finally be in order. The only question now is, will the Klinsmann-USMNT marriage be as dreamy as Gulati imagines? Only time will tell.
Other Notable Candidates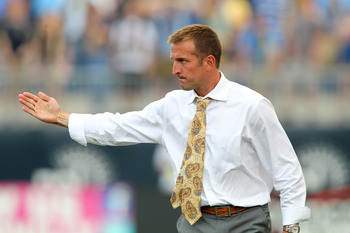 Hunter Martin/Getty Images
Keep Reading

United States (National Football): Like this team?