Everton FC: Why Bill Kenwright Better Be on Everton's American Tour
July 29, 2011
Michael Regan/Getty Images
Everton FC is one of the most cash strapped clubs in the entire world. Football has become a game of currency where Everton have to pull magical moves to battle and compete.
It does not matter what color the money is. If it can be exchanged, it will fuel the building of squads and paying for the facilities to attract world-class players.
Everton has had the second longest run in top-flight football behind only Arsenal, but they have done it not with spending sprees but instead a culture and a feeling around the club.
It has only grown since David Moyes has joined the club, but having a manager who instills faith and can stretch a dollar can only go so far.
Everton is currently on a preseason tour of America, and it is a great move in terms of training because although the competition is not by any means as good as in England, the Major League Soccer teams are in season form.
This pushes the Everton players to keep up stretching their stamina and making them battle physically, helping them prepare for the season.
Bill Kenwright, the Everton chairman, should be battling too, but instead of on the pitch, it should be in the boardroom.
Rich American owners have been taking over in European football. With Kenwright struggling to find a suitor for the Blues, he may need to start looking at owners who would allow him to keep some power, which he obviously wants and allow for the club to not be so cash strapped.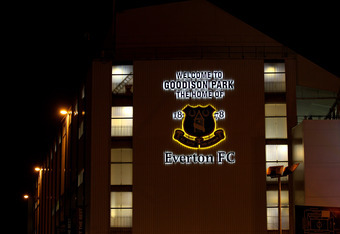 Alex Livesey/Getty Images
This is why the search for an owner and being in America could be perfect together.
Obviously, not all of the American owners have been positive, but they tend to stay behind the scenes.
The Glazers at Manchester United have had fans protest against their ownership, but since they took over the Red Devils in 2005 ,some amazing talent has come through the doors of Old Trafford and so has success.
Players like Nani, Anderson, Nemanja Vidic, Berbatov, Patrice Evra, Michael Carrick and Ashley Young have all come as signings during the Glazers' time as owners.
They have also won three League Cups, one FA Cup, four league titles and one Champions League title.
The Glazers have been reported to milk money out of Manchester United, but they allow for the football minds to be in power, and they have not killed one of the best clubs in the world like many will have you believe.
They have added funds and support Sir Alex Ferguson, and they do not put a stranglehold on the football operations.
This is something Bill Kenwright wants. He wants owners that will allow the football minds to continue to flourish but allow David Moyes to have some breathing room when it comes to the transfer window.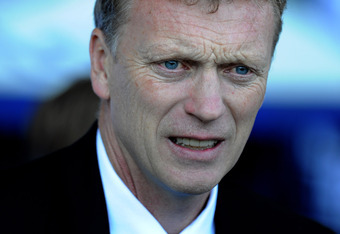 Chris Brunskill/Getty Images
Right now, Moyes has to pull tricks with loans and sell players to buy.
The Red side of Merseyside has even been able to land American owners that are trying to put an impression on Anfield and restore glory to the club.
A feeling like that needs to be instilled by the future owners of Everton FC, whoever they may come to be, but right now, Bill Kenwright needs to be searching for investors and American's have shown a willingness to not push for an insane amount of power.
Stan Kroenke took over at Arsenal last campaign, and mum has been the word from him while Arsene Wenger uncharacteristically has adamantly said how he wants to bring in players.
It cannot be a coincidence that after a long drought without trophies, a new owner comes in and lights a fire underneath the manager and motivates him. The new owners' presence makes the manager feel like his job is more on the line.
David Moyes does not need a fire lit under him and feel pressured to win because he deserves only praise for what he has done, but a new owner will motivate and reward Moyes with trophies for the cabinet.
The New York Yankees one of the biggest sports names in the world has been considering buying an English team, reportedly making a bid for Tottenham last year.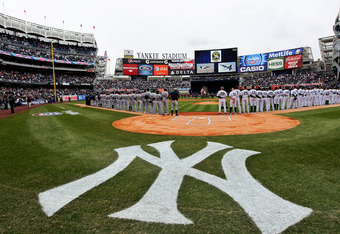 Nick Laham/Getty Images
The Steinbrenners would be perfect owners if they could be enticed to consider Everton.
They have a global reach, which would build the Everton brand.
They also would be able to bring the Red Sox Yankees rivalry to one of the most historic inner city rivalries in England. This would add even more intensity to the Merseyside derby's.
The final reason it would be good is because Everton supporters respect Americans. They have been behind Tim Howard for his entire career with the Toffees. The support they showed Landon Donovan during his short stint with the club is unmeasured.
American owners would be an exciting thing for Everton and there are suitors out there like the Steinbrenners. Bill Kenwright has to reach out and find them and make the right fit happen.