Arsenal Transfers: Arsene Wenger Should Add a Goalkeeper to His List
July 28, 2011
Lintao Zhang/Getty Images
For all the talk about Arsenal getting quality signings in the defensive third of the pitch, one position has been neglected.
Goalkeeper.
Ever since David Seaman's departure from between the posts, there has been a lack of consistent quality in that area.
Yes, Jens Lehmann proved mostly capable throughout his tenure and, yes, Manuel Almunia had his one really good season, but goalkeeping is still one of the weakest positions in the squad.
The current crop of goalkeepers have had their share of problems.
However, it now seems that Wenger is ready to put his faith in the Polish youngster Wojciech Szczesny.
Almunia is likely to head out the door this summer, leaving three young keepers behind a defense still in need of reconstruction
Lukasz Fabianki has had his share of chances, and though injuries have not helped him, he is more backup material than anything.
Vito Mannone did impress in some of the very few chances he has been given, but he is still not ready for a No. 1 spot.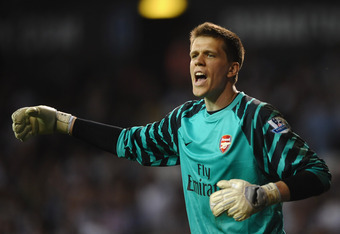 Laurence Griffiths/Getty Images
Szczesny has the most potential of the three, and is also the youngest, but that does not mean he should be entrusted with starting position right now.
He still has not played a full season and, despite Vermaelen's return, he is likely to be in some tough situations thanks to the defense.
If there is one person to compare him to, it is David De Gea, who is possibly the best signing Manchester United has made so far this summer
They are similar in age, yet De Gea has more experience, albeit in a different league.
You could say that, if De Gea is so special, why isn't he the starter or a regular in the Spain senior setup?
Unfortunately for him, he faces three of the top 10 if not top five goalkeepers in the world in Iker Casillas, Pepe Reina and Victor Valdes.
Szczesny has a plus in that he has played for the Polish senior squad, and the fact that his main competition there is also his main competition at Arsenal.
For the moment though, De Gea is the better option, and most most neutrals would look at that transfer as a good one, while in terms of Szczesny there is still a little uncertainty, except in the minds of a lot of Arsenal fans.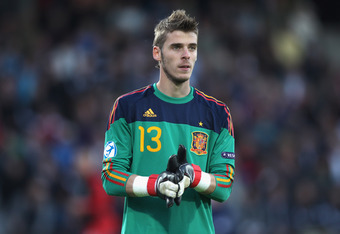 Michael Steele/Getty Images
In the end all Arsenal fans want is for team to do well, just as they do at the beginning of every season.
If Szczesny plays a big part in the season, as Wenger seemingly expects of him, then congratulations, and we really would have finally found our keeper for the future and present.
In the Gunners' current position, that should not be the case, and there are some other options.
The Gunners have been linked with a few goalkeepers in the past and earlier this summer, but those were just rumors.
Mark Schwarzer from Fulham had been mentioned and he is a solid keeper with experience at all levels.
At 38 years of age he would provide just enough years, probably two, to really blood Szczesny and then hand him the baton.
Sebastien Frey of Fiorentina has also been mentioned in the past. He is also over 30 and would only be lacking in Premier League experience.
If these options aren't good enough, Arsenal really should try for Ajax's Marteen Stekelenburg.
It would mean hijacking a move that is close to fruition, but it would worth it. His price may go up a little due to interest from another club but, it should not be more than 10 million euros.
Stekelenburg has stated his interest in Arsenal in the past, and would surely welcome a move to the Emirates if there was serious intent.
The only problem with this transfer is that Stekelenburg would probably not be willing to come in, only to have his place taken after just a few seasons. Though, in this instance, Szczesny could be loaned out to a top division team, whether in the Premier League or elsewhere.
Wenger would face a similar problem that Manchester City had this season, seeing Joe Hart really emerge and leave a distinguished and disgruntled veteran Shay Given on the bench.
This season is one that is full of uncertainty even if there are other new signings. A new goalkeeper could be one of those signings.
As always, the decision rests with "The Professor."