Charles N'Zogbia: Threatening To Strike Shows Why He Is His Own Worst Enemy
July 21, 2011
Richard Heathcote/Getty Images
Reports in this morning's Daily Telegraph suggest that Charles N'Zogbia is set to go on strike in an attempt to force through a move away from Wigan Athletic. Aston Villa have reportedly offered £9million for the French winger, but Wigan are holding out for £10million.
N'Zogbia will allegedly refuse to train with Wigan as he looks to force Dave Whelan to accept the lower offer.
While this behaviour may expedite his exit and help N'Zogbia get a move this summer, it will once again damage his reputation which ultimately will deny him his long-term goal of playing for a "Big Club."
N'Zogbia was first brought to England in 2004 by Sir Bobby Robson. At the age of just 18, his undeniable talent saw him become a first team regular the next season, playing 41 games and scoring five goals. As early as 2006, he was being linked with moves to the likes of Arsenal and this is where the real trouble began.
Charles and his agent began making noises about moves to bigger clubs and this became a regular feature for the rest of his Newcastle career. Barely a transfer window went by under Roeder and Allardyce without suggestions that N'Zogbia was set to leave with names like Juventus and Real Madrid mentioned.
Whether these big clubs were genuinely interested or the links were simply fabrications by his agent to try and engineer a move has never been clear, but N'Zogbia's attitude seemed to deteriorate season after season with a reputation for sulking and several rumoured training ground bustups, most notably with Andy Carroll.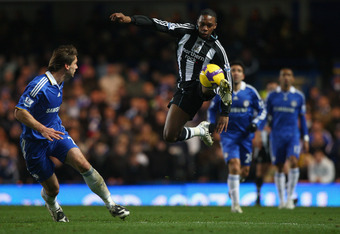 Ryan Pierse/Getty Images
In December 2008 N'Zogbia publicly stated his desire to leave in the coming transfer window to L'Equipe (h/t Caught Offside), "After four years at Newcastle, I want to reach a higher level of ambition. I don't think that is possible here".
Once again, though no offers seemed to be forthcoming for the winger.
Following a defeat to Manchester City in 2009, Newcastle manager Joe Kinnear referred to Charles as "Insomnia." Whether this was a mispronunciation or a regularly used derogatory nickname, has been the cause of some debate. N'Zogbia announced he would no longer play for Newcastle United while Kinnear was in charge.
On the closing day of the January 2009 transfer window, N'Zogbia got his wish for a move away from Newcastle, but he wasn't off to Turin or Madrid, instead, he signed for Wigan Athletic. Wigan, being "a higher level of ambition" seemed debatable; although Newcastle's relegation may well have convinced him he made the right decision.
He was an instant success on the pitch for Wigan and later went on to earn both the Players' and Fans' Player of the Year awards in his first full season with the club.
Once again, though, he was soon looking for a move. In the summer transfer window and a proposed move to Birmingham City only broke down when Charles couldn't agree to personal terms.
By November, N'Zogbia was again campaigning for a move stating in The Daily Star (h/t Sky Sports):
"Wigan's just a stepping stone. They know very well I'm not a player who is going to stay at the club. I give 100 percent on the pitch, but, if there's a bigger club that wants me, the manager and the president have always told me the door is open for discussion."
In January Wigan turned down a series of last minute bids from Newcastle United to bring N'Zogbia back to the club and now Dave Whelan wants £10million with Aston Villa, Sunderland and Newcastle all credited with an interest.
N'Zogbia has been sensational for Wigan, last season he played 38 times and scored 10 goals and was impressive in a struggling team.
There are very few sets of fans in the Premier League that wouldn't be excited to see their team sign Charles N'Zogbia, yet managers of the top clubs fail to show an interest. Charles would have been a cheaper and younger option for Liverpool instead of Stewart Downing and with his electric pace he arguably offers more as a player, but he was overlooked.
Unfortunately, his reputation as a troublemaker, which initially developed from his desire to move to a "Big Club" is the very thing that is preventing such a move.
If Charles had never mentioned his desires to move on and had let his talent do his talking throughout his career I'm pretty sure he'd be playing for one of the top four or five clubs by now.
His bad behavior meant that when he left Newcastle it was for Wigan rather than the likes of Juventus or Arsenal, sadly he has failed to learn his lesson.
Whether Aston Villa or Sunderland are his eventual destination this summer you can expect him to be looking for a "bigger club" by this time next year.