Luis Suarez Is Liverpool FC's Modern-Day Kenny Dalglish
July 21, 2011
Alex Livesey/Getty Images
In the summer of 1977, when the then-manager of Liverpool Football Club Bob Paisley bought Kenneth Mathieson Dalglish from Celtic for a British-record transfer fee of £440,000, not many people knew an awful lot about this expensive Scot.
At Celtic, Dalglish was already a legend, having made 269 appearances and scored 167 goals. His exploits helped the Scottish giants to four league titles, four Scottish Cups and a Scottish League Cup.
Coming to Liverpool to replace the departing Kevin Keegan, Paisley handed Keegan's No. 7 jersey to Dalglish. As Keegan had become a Liverpool legend, his No. 7 shirt had taken on an iconic status. Giving it to Dalglish was a statement by Paisley—that the Scot could fill the boots left by Keegan.
And Paisley was not wrong; Dalglish went on to surpass Keegan and become the club's all-time most admired, loved and adored player. He took Keegan's No. 7 shirt and took it to even greater heights. So much so, that Dalglish became synonymous with Liverpool's No. 7 shirt; it became his shirt.
At the end of Dalglish's playing career, he had collected six league titles, one FA Cup, four League Cups, three European Cups and a European Super Cup. He made 501 appearances for the Reds, scoring 169 goals.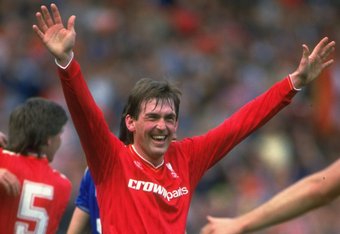 David Cannon/Getty Images
Dalglish remains to this day, one of the few players in British football history to have scored over 100 goals for two different clubs.
When Dalglish himself took over as caretaker manager, he also bought a player that was little known to many. To most Liverpool fans, Luis Suarez was in the spotlight for a memorable World Cup Finals in South Africa and more famous for his blatant handball that denied Ghana a certain goal and progress in the competition.
But when his record at Ajax was looked at, it proved to be nothing short of phenomenal. The Uruguayan striker made 159 appearances for his club side Ajax and scored an astonishing 111 goals.
Dalglish broke the club transfer record to bring a relatively unknown and certainly untried player to Anfield, just as Bob Paisley had done with him 34 years ago.
And as Paisley did, Dalglish gave Suarez the Liverpool No. 7 jersey to wear.
If Suarez is to become the new modern-day Dalglish, then Liverpool have a new No. 7 legend to adore in years to come.
There are certainly many similarities in the play of the two players. Like Dalglish, Suarez is not what one would consider an out-and-out striker that would lead the forward line. But what they both have is creativity, flair, invention and superb technical ability.
But above all else, again like Dalglish, it is the air of expectation that magically appears when the little Uruguayan has the ball. What will he do?
And when Dalglish was watched, there were words uttered that are now being uttered when fans watch Suarez, and those words are "How did he do that?!"
The Liverpool Echo reported that Mark Lawrenson, a former teammate of Dalglish, said that Suarez reminds him of Dalglish. There is no higher compliment that can be given to a Liverpool player than that.
If Suarez has a fraction of the impact that Dalglish had on the Liverpool team, then the Reds will be back to winning ways in no time.
Finally there is something else that Suarez shares with the great Dalglish and that is the smile and the cheeky grin when he scores.
One of the endearing memories of Dalglish as a player is the smile that erupted over his whole face when he scored. Suarez has the same unadulterated joy etched all over his face when he hits the back of the net.
Liverpool fans loved seeing Dalglish's smile; we hope that we will get to see Suarez's as much as we did Dalgish's.