Women's World Cup: If America Had to Lose It, I'm Glad It Was vs. Japan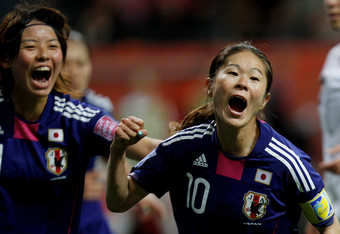 Friedemann Vogel/Getty Images
Like many American soccer fans watching the FIFA Women's World Cup Final 2011, I was gutted upon seeing Saki Kumagai drill her penalty into the top corner of Hope Solo's net.
The United States' goalkeeper made a valiant effort to keep the Japanese defender's shot out, but was not able to save the American women from defeat against their opponents in the showpiece of women's soccer.
While Japan was able to celebrate the culmination of their storybook World Cup, the clock struck midnight on the United States, sending the high-flying squad to a crashing defeat much akin to a plane being knocked out of the sky.
Yet, for all that went wrong—from the plethora of American misses in the first half, to the 116th-minute equalizer for Japan when all seemed done and dusted—I felt that a lot went right.
People may disagree, saying that ultimately the United States let the game, which they bossed, slip away, but hey, we wouldn't have made it to the final without a drama-filled win over Brazil or a comprehensive victory over France, both successes in their own rights.
Ultimately, the Americans will go home empty-handed, but this World Cup was by no means a failure.
And, if I had to pick a team to lose against, I'd choose Japan.
Let's start with the final group match against Sweden.
Now, while the Scandinavians were by no means unsportsmanlike or the "easy-to-hate" type of opponents, it was too bad that we had to taste defeat to the fifth-ranked side in the world (four places behind us) en route to second in the group.
The game was also quite frustrating for American supporters in that, following Abby Wambach's header to make it 2-1, the offensive pressure shown in the last 20 minutes proved futile.
Sweden wasn't the worst team to fall to, but that match certainly left a sour taste in my mouth.
Then came Brazil.
While Brazil's talent was evident—including that of five-time FIFA World Player of the Year, Marta—this game contained a classic example of the theatrics that are so often negatively associated with soccer.
In the second half of extra time, defender Erika feigned an injury, which in reality was a disgraceful ploy to run out the clock.
While Wambach made sure that karma won out with her 122nd-minute header, which tied the game at two goals apiece, it was sickening to see the Brazilian defender stretchered off the field, only to make a miraculous "recovery" that had her running down the sidelines ten seconds later.
Regardless of the questionable calls made by referee Jacqui Melksham, that game would have proven harder to swallow than food for someone with strep throat had the Americans not triumphed on penalty kicks.
Following the victory over the much-maligned South Americans, the United States met France in the semifinals.
I watched the French play England in the quarters, and I have to say, I thought England deserved to go through. Sure, Jill Scott's opener might have been a bit fortuitous, but England controlled the game until Elise Bussaglia tied it with less than two minutes showing.
In addition to the sense of heartbreak I felt for the English supporters, I observed that Sofia Bompastor has about as much trouble staying on her feet as Cristiano Ronaldo. She further fueled my fire by scoring a rather fluky equalizer in the semis.
However, that didn't do much, as Wambach (she scores a lot, huh?) netted the go-ahead leading up to Alex Morgan's coup de grace.
United States 3, France 1.
A defeat against Brazil would have stung more than losing to the French, but regardless, I would have still been disappointed.
Enter the Final.
I had high hopes for the American women and thought they had a pretty good chance, given their spirited quarterfinal performance and demonstration of flowing football in the semis.
I knew the neutrals would be rooting for Japan, but I held true to my American heritage, donning a red, white, and blue shirt as I sat down in front of the television.
I celebrated Morgan's opener and Wambach's header, both times optimistically thinking that it would be enough to kill off the opposition.
I rued the misses of the first half, still thinking, "It's our day."
I cringed at the equalizers, the first a defensive mistake, the second an unlucky bounce.
And finally, I hung my head at the sight of Japan lifting the trophy.
However, despite the disappointment, things went back to normal today. Most of us got up, showered, went to work, and will return home safely tonight.
Halfway across the world, despite having somewhat recovered, many citizens of Japan are still trying to put their lives back together.
And though the game's ending was the opposite of what I wanted, I managed to muster a bit of happiness for Japan.
As anyone who has half a brain knows, the Asian nation has been through a lot in the past year. Their citizens have been in need of some happiness for a while, and while this victory certainly won't bring back the bulldozed buildings and lost lives, it will hopefully bring some smiles to faces that have been so glum for so long.
As a team, Japan hung tough, played good soccer, and, perhaps most of all, showed great sportsmanship and character.
I may be American, but I'll tip my cap to the new champions.
Congratulations, Japan. You deserve it.
This article is
What is the duplicate article?
Why is this article offensive?
Where is this article plagiarized from?
Why is this article poorly edited?