World Cup 2014: Projecting the USMNT's Starting 11; Part II, Midfield, Strikers
July 16, 2011
Shaun Botterill/Getty Images
This is the second part of a two part series. Here is Part I.
Like the Yanks' defensive situation, the midfield, to a certain extent, is uncertain. However, unlike the defense, this uncertainty occurs because there is depth. There are quite a few player combinations and formations the US can play with that could work.
Over the last few years, the Yanks' ability to score, especially from natural strikers has been lacking. Recent friendly and Gold Cup results, however, show that there may be hope for the US up top.
Here's the rest of USMNT's Starting XI, just for arguments sake, using Bradley's trusty 4-4-2 formation.
Left Midfield/Wing
Starter: Clint Dempsey
Although he can play on the right side, it looks like Dempsey, from what he's shown at Fulham, enjoys the left side better. As one of, if not the Yanks' best scorer, Dempsey—who found the back of the net the most for the US in the Gold Cup—may also find himself pushed forward as an attacking midfielder or even a striker, depending on the formation.
Center Midfielders
Starters: Michael Bradley, Maurice Edu
With more experience, by far, than any other American his age, 23 year-old Michael Bradley seems to have one of the central midfield positions locked down for 2014.
Since making his debut last October against Poland, Jermaine Jones has paired well with Bradley. However, his age and inexperience with the squad are factors playing against him. 
Stuart Holden, who was named the 2011 Bolton Wanderers Player of the Year, was selected and played in the 2010 World Cup roster. However, due to a knee injury sustained with Bolton in March, he was not selected to the Gold Cup roster. If he can stay healthy, Holden, upon his return this fall, assuming he can stay, could have a bright future with the Yanks.
Because Holden could potentially be sidelined until October, it may allow someone like 24-year-old Maurice Edu to fill a permanent spot in the midfield. A notable player for Scottish powerhouse Rangers, Edu was selected and played precious minutes for the US in the 2010 World Cup, playing well with Bradley in the middle. He was on the Gold Cup roster, but played minimal minutes behind Jones.
Although most US fans questioned Bradley for selecting him to the Gold Cup roster, Adu, after his strong play in the Gold Cup, may have many US fans questioning Bradley if Adu isn't selected for upcoming friendlies against Mexico, Costa Rica and Belgium.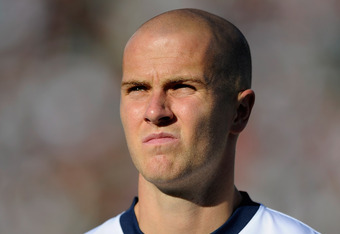 Kevork Djansezian/Getty Images
Adu, the former phenom, is only 22 years old. If he does become a regular on the US squad they may want to think about using him in a 4-5-1, subtracting a striker and adding him as a fifth attacking midfielder.
Other possibilities after Bradley, as the fourth midfielder, or like Adu—added as a fifth, attacking midfielder—is Sacha Kljestan, Alejandro Bedoya, Jose Torres, Robbie Rogers, Mikkel "Mix" Diskerud and Benny Feilhaber, who would've been on the Gold Cup squad had he not been injured.
And honestly, all have real potential to make starts in Brazil in 2014.
Right Midfield/Wing
Starter: Landon Donovan
Like Dempsey, Donovan can really play on either wing and even up front. It all depends on the formation and the players around him.
Is there really an argument, though, for why he shouldn't be a starter?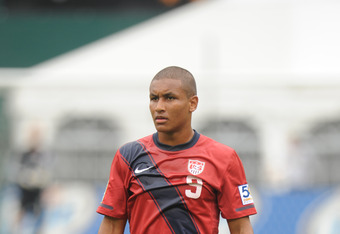 Mitchell Layton/Getty Images
Stikers
Starters: Jozy Altidore, Juan Agudelo
Whether the US decide to use a 4-4-2, a 4-5-1 or a slight variation of either, it appears that Jozy Altidore will have a spot up top in 2014. Although he's struggled in the past with putting the ball in the net, his performance during the Gold Cup, scoring crucial goals against Canada and Guadelupe, may be a sign that he is finally blossoming into the striker many U.S. fans have expected him to be.
If the U.S. decide to line up two players up top, the second spot may go to 18-year-old Juan Agudelo, who scored the only goal in a 1-0 game against South Africa last November and the equalizing goal in a 1-1 draw against Argentina earlier this year. He also has quite the mentor in teammate NY Red Bulls teammate Thierry Henry.
It could also go to Charlie Davies, who showed plenty of promise before his car accident in 2009. Although Bradley hasn't called him to the squad since the accident, Davies has looked great for DC United and will likely make a handful of appearances before it's time to leave for Brazil.
They may be given another opportunity, but because Robbie Findlay and Edson Buddle weren't able to produce in the 2010 World Cup, don't plan on seeing either as a starter in 2014.
Keep an eye out for 21-year-old Teal Bunberry as well. The Canadian-born forward scored the game-tying goal during a friendly against Chile in January.