Liverpool FC: The 5 Worst Transfers of the Roy Evans Era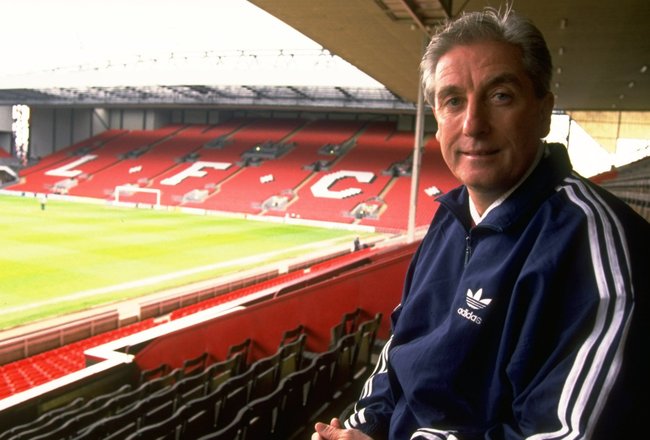 Getty Images/Getty Images
Following on from my article on the five worst transfers of the Greame Souness Era, here we have my suggestions for the five worst transfers made by Liverpool under the management of Roy Evans.
In the Pantheon of Liverpool Legends, Roy Evans place was always going to be secure regardless of whether or not he was hugely successful in his time as Liverpool manager due to the fantastic service he had given the club over the previous 30 years prior to being appointed manager.
Having joined the club as a member of the "ground staff," the name at the time for young players at the club on apprenticeships, in the early 1960's he eventually graduated to the first team squad although he was unable to ever hold down a regular position he impressed the management team with his hard work, determination and tactical awareness. He joined the coaching team in the early 70's and would work under five different managers, Bill Shankly, Bob Paisley, Joe Fagan, Kenny Dalglish and Graeme Souness before being appointed manager of the club following Souness's departure in early 1994.
Evans enjoyed mixed success at Liverpool, his teams played wonderful free-flowing attacking football, the likes of which have not been seen at Anfield since. Unfortunately he never seemed to be able to find that missing piece that would turn the team from perennial challengers into champions. He made some excellent signings, but also overspent on players who simply weren't capable of playing for Britain's biggest club. I've always felt that Evans was harshly treated at the end of his reign as manager though. His successor was in no way more qualified or better positioned than he was to bring a title to Liverpool, and the "co-manager" farce that was forced upon him was a shameful act by the Liverpool board, especially since Houllier was initially brought to the club to be his assistant before somehow talking his way into the managers job!
Anyway, here's five of the worst from the Evans era!
No. 5: Phil Babb
Clive Brunskill/Getty Images
Phil Babb was a pretty decent defender coming off a pretty decent season when Coventry began shopping him around for £1.5 million in the summer of 1994 prior to the World Cup. Liverpool were looking for a pacy central defender to compliment Mark Wright and Neil Ruddock and showed interest in Babb. Unfortunately they waited until after the World Cup, were Babb had been very impressive for Ireland alongside the magnificent Paul McGrath.
On his return to England, Babb's value had skyrocketed and Liverpool were forced to spend £3.6 million, a British record fee for a defender at the time, to secure his signing. Many people criticised the signing at that price, stating that players should never be signed on the basis of performance in a World Cup, and in Babb's case, performances that many (correctly) believed were more down to the fact that McGrath was so outstanding and essentially babysat him throughout the tournament.
Babb took his place on the left side of a three man defense, alongside Neil Ruddock and fellow new signing John Scales, as Liverpool moved to a 3-5-2 system and played well initially. That good form did not last however and Babb became a constant weak point for Liverpool as his mistakes cost the team a number of goals each season. The most memorable moment of Babb's Liverpool career is him sliding crotch first into a goalpost while attempting to clear a shot off the line.
Babb's Liverpool career fell apart slowly and then came to an end when Gerard Houllier arrived. He was sent on loan to Tranmere before joining Sporting Lisbon on a free transfer.
No. 4: Oyvind Leonhardsen
Clive Brunskill/Getty Images
Leonhardsen has a reputation of being a cult hero. My understanding of someone being a "cult hero" is a player of little ability who works hard and is adored by the fans. Titi Camarra and Lucas Leiva are examples of former and current cult heroes at Liverpool and they certainly fit the same description as Leonhardsen.
He arrived from Wimbledon in the summer of '97, for a fee of £3.5 million, with a reputation as a tireless worker who would add something to the Liverpool midfield. Unfortunately he proved to be a square peg in a round hole as he had nothing to offer in Liverpool's vaunted pass and move style.
His obvious flaws meant that he quickly found his way out of the starting line-up and was shipped out to Spurs in the summer of 1999 with Gerard Houllier (somehow) managing to secure £3million for his sale.
No. 3: Sean Dundee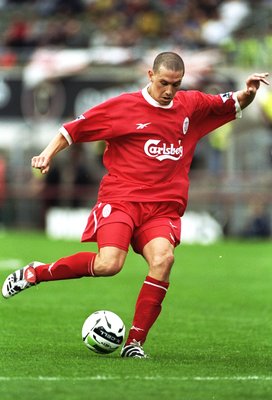 Ross Kinnaird/Getty Images
Sean Dundee arrived in the summer of 1998 as the first signing of the new co-managers era (or should i say debacle) in which Roy Evans and Gerard Houllier attempted to co-exist despite having completely different views on how football should be played and what was needed to be successful. He was expected to replace the aging Karl-Heinz Riedle as strike partner to Michael Owen while Robbie Fowler recovered from a long term injury, and then compete with Fowler and Owen in the long term. He had a pretty decent scoring record in Germany and bragged that he was "quicker than Owen" which had Liverpool fans excited about what he might bring to the team.
Unfortunately it turned out that Liverpool would have been better served signing Crocodile Dundee! Sean simply had no place at a club like Liverpool and managed only three first team appearances before packed off to Sochaux after one horrendously poor season.
Without question one of the worst players ever to play for the club. He would actually appear on the lists for both Evans and Houllier had Houllier not been so incredibly poor in the transfer market, and as was his way, placed the blame for the signing of such a poor player squarely on Evans' shoulders.
No. 2: Paul Ince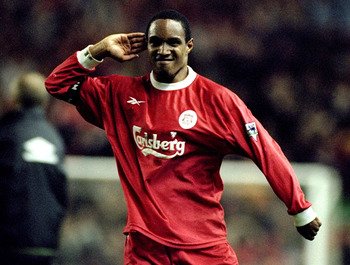 Ross Kinnaird/Getty Images
Paul Ince was brought to Liverpool from Inter Milan to add some steel to the "Spice Boys". Having built an impressive career from himself at West Ham and Manchester United he had headed off to Italy in search of fame and fortune. He surely made himself a fortune in his two seasons at Inter, and despite initially having some problems with both the slow pace of the game in Serie A and the fact that he was playing in a side managed by Roy Hodgson, Ince managed to put together two impressive seasons before decided to return to England so that his children could be educated in his home country.
Liverpool spent £4.3 million to capture The Guvnor and hoped that he would be the man to help drive the team from nearly-men to champions. It simply wasn't to be. Liverpool fans never accepted him, feeling that unless he could deliver a championship, his Manchester United past was just too much to swallow. Perhaps if his performances had lived up to his talking it might have been different, but other than his goal against United in front of the Kop, there's simply nothing worth remembering about his time at Liverpool.
Roy Evans really should never have signed Ince. He simply wasn't a Liverpool player and was never going to adapt to the Liverpool way. Ince didn't last long, just two seasons, before Gerard Houllier send him to Middlesbrough at a significant loss.
Stan Collymore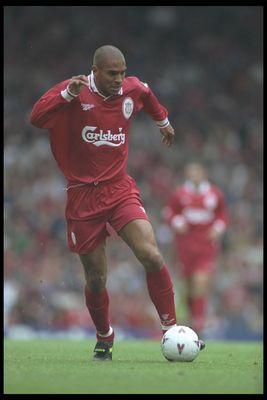 Clive Brunskill/Getty Images
"Super Stan is the Man" was the song that used to ring out from the City Ground as Nottingham Forest faithful when Collymore would bring them to their feet with a bit of magic. Partnering the mercurial Bryan Roy, Collymore tore Premiership defenses to shreds at will and scored goal of the season candidates seemingly every other week. Unfortunately for Forest fans, the better Collymore played the less likely he was to stay at their club. This proved to the be the case in the summer of 1995 when the mighty Liverpool came calling.
Liverpool went big on Collymore, splashing a British record fee of £8.5 million to bring the powerful but skillful frontman to Anfield. Liverpool fans were elated. The thoughts of Collymore's genius partnering the magical Robbie Fowler upfront were mouthwatering. Pundits licked their lips at the mere thought and quickly pronounced Liverpool as title favours.
On the surface all seemed well, especially when Collymore marked his debut with a stunning 25 yard curler on his debut at home to Sheffield Wednesday. Unfortunately, what Collymore did on the pitch was simply a secondary issue in his life. Privately he was a man plagued by inner demons, demons he could not control. Collymore's inability to cope with the demands placed on him by the expectant Liverpool fans, meant that he was unable to bring his best form onto the pitch week in and week out.
When he did play well, he spent the following week worrying that he may not be able to repeat the performance. When he had a bad game he became desperately upset and unhappy. This unhappiness would eventually become serious depression, although that was not until after he had moved on to Aston Villa.
Collymore is, in my opinion, the greatest waste of talent in the history of English football. While the current generation drone on about Wayne Rooney's abilities and all the rest, it is no exaggeration to say that Collymore was a more talented player than Rooney is, and was capable of far more impressive feats on the pitch.
For example, people talk about Rooney's goal against Manchester City this past season and claim it's one of the best goals they've ever seen, I would advise them to go on YouTube and check out Collymore's goal on his debut for Bradford against Leeds, a better goal and one that was more difficult to execute. If his mind had been as strong as his talent he would have gone on to become an all-time great.
Unfortunately it was not and that's why he features here on this list. Collymore's performances for Liverpool were actually very good when he was in the right frame of mind and he had a pretty good scoring record too, including scoring a few very special goals and one in particular that will last long in the memory, the winner in the classic 4-3 victory of Newcastle (his second of the game). He was sold to Villa in May of 1997 for £7 million where his career, and his personal life, fell apart.
While some may say that it's unfair on Evans to blame him for Collymore's issues, the fact is that he was made fully aware of the problems Collymore had and was told that they would likely escalate under the pressure at Liverpool, and with a fee of this type, Collymore simply has to go down as Evans' biggest mistake.
The End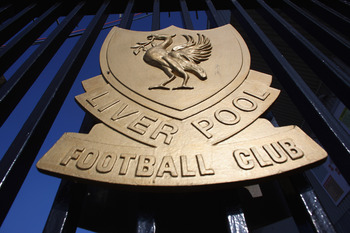 Christopher Furlong/Getty Images
So there you have it, my list of the five worst transfers made by Roy Evans during his spell as Liverpool manager.
Next time, I will be counting down the five worst signings made by his successor, Gerard Houllier.
Thanks for reading, hope you've enjoyed.
Keep Reading

Liverpool: Like this team?