USA vs France 2011: Live Blog of The Women's World Cup Semi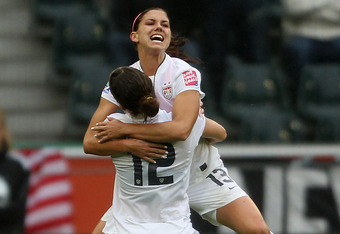 Scott Heavey/Getty Images
USA has defeated France in the 2011 FIFA Women's World Cup semifinal 3-1 and will play in its first final in 12 years on Sunday.
Lauren Cheney put the US up in the ninth minute, but France didn't back down. The US couldn't capitalize Berangere Sapowicz's poor goalkeeping and failed to have another shot on target the rest of the half.
France had the better passing and overall play for much of the game and deservedly equalized early in the second half, but super-sub Megan Rapinoe brought new life into the US and put the pressure back onto France.
Abby Wambach proved her worth once again, scoring the go-ahead goal in the 78th minute from Cheney's corner when she got away from her defender and headed it past the keeper.
Alex Morgan, the youngest player on the team, put the game out of reach just four minutes later when Rapinoe put her in behind, and she chipped it over the keeper.
France will take on the loser of Japan-Sweden in the third place game while the US will meet the winner in the final Sunday.
Final Score: USA 3-1 France Fulltime
Cheney (USA) 9' Bompastor (FRA) 54'
Wambach (USA) 78'
Morgan (USA) 82'
____________________________________________________________________________
Team USA takes on France in the Women's World Cup semifinal today in Germany, and the US is trying to break its semifinal duck.
The US has been sent home in the semis of the last two World Cups, while France is making its first appearance in a semifinal in any major tournament.
The US had all the odds stacked against them but even down a player, pulled out a miracle against Brazil on Sunday, but they're hoping not to do it the hard way today.
France's young squad is just riding high on their best ever run of form and hoping they can finally start getting some recognition back home.
Keep it here on Bleacher Report for regular updates on the match and get it on the commentary yourself in the comments section below!
France at many times were the better technical team, but they couldn't find the finished product. US finished their best chances, could have had a couple more.
Solo really not challenged much. US back line and all defending was what won it.
And there's the final whistle! USA 3-1 France. US back in the World Cup final, first time since 1999.
Ball just being thrown around. US has defended so well today.
France just trying to bomb it forward now. Minute and change to go.
Just two minutes stoppage time.
Seconds to go till full 90.
Thomis' speed gets her into the box, but inexperience loses the ball.
Odd to take it long. Play it short and just hod the ball, 88th minute.
Morgan in again, takes a good shot, but Sapowicz makes the save. Corner to US.
Fresh, defensive legs to finish this out.
France keeper is just awful. Tobin Heath is on for Heather O'Reilly. Last US sub.
Five and stoppage minutes left.
Le Sommer with a good chance six yards out, right in front of goal, but she puts it well over.
France have had the better technical play, but never managed to really challenge Solo.
Morgan just turned 22 a couple weeks ago, youngest player in the squad.
Rapinoe taps the ball over, Morgan gets behind France back line and keeper goes down way too early and Morgan chips it perfectly over her.
France will throw it all forward now.
Morgan gets in behind and puts it away. 3-1 USA!!! On the way back to the final!
That is Abby's 12th World Cup goal, tied for most all time in US history with Michelle Akers.
Meanwhile, Le Sommer all alone on back post but heads it completely wide.
Abby with her third goal of the tournament. Back post, gets away from her defender, rises, Sapowicz nowhere to be found.
Cheney takes the corner. Abby rises and heads it into the net!!!!
Sapowicz passes straight to Rapinoe, crosses into box, Wambach muscled down in box. US win a corner.
This article is
What is the duplicate article?
Why is this article offensive?
Where is this article plagiarized from?
Why is this article poorly edited?