Arsenal Transfer Prospects: 8 Strikers Wenger Would Love to Sign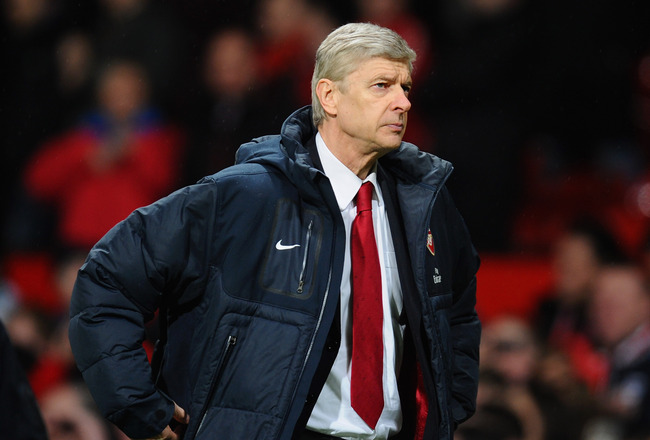 Clive Mason/Getty Images
Arsenal officially secured their first Summer transfer with the news striker Gervinho has agreed to terms with the Gunners', arriving from French champions OSC Lille. It comes as welcome relief for the Arsenal faithful as almost the entire transfer speculation regarding the North London giants was about the potential departures of key players such as Cesc Fabregas and Samir Nasri.
A number of Arsenal players have been linked with moves away with the Emirates as cries for Arsene Wenger to implement severe changes into his young squad in a bid to achieve silverware after six successive seasons. Forwards Nicklas Bendtner and Andrei Arshavin have uncertain futures and Gervinho's new presence is viewed as a replacement option. However Wenger is still searching for a clinical striker.
The Frenchman has the luxury of increased funds due to the need for success at Arsenal intensifying and it does enable the Arsenal manager to target highly for a big name striker. However whether Wenger will spend big remains to be unseen but should the departures of either Samir Nasri or Cesc Fabregas materialize then it is likely Wenger will spend.
But just who does the Gunners' tactician desire?
There have been numerous rumours linking Wenger with some quality strikers and BleacherReport establishes the eight strikers Wenger would love to sign.
8. Moussa Sow-OSC Lille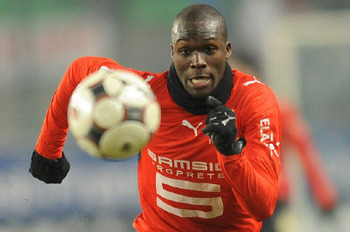 With Andrei Arshavin potentially on the move and the impending inconsistency of Marouane Chamakh alongside rumours Wenger is changing Arsenal's formation. The Frenchman may look to add a more efficient striker to his ranks
French giants Lille enjoyed a stellar 2010/2011 in which the Mastiffs' achieved their first Ligue 1 trophy in 57 years alongside also securing the Coupe de France. Striker Moussa Sow enjoyed a breakthrough season which was pivotal in Lille's success.
The 25-year-old managed 25 goals in 36 league appearances for Lille and concluded an immensely successful season as the Ligue 1 top scorer. A quick, strong efficient striker, Sow could implement a lacking clinical edge to the Gunners' attack which is compacted with taller, imposing strikers.
Sow also possesses an impressive, lethal relationship with Gervinho and would instill much needed depth to the Arsenal forward line.
7. Romelu Lukaku-Anderlecht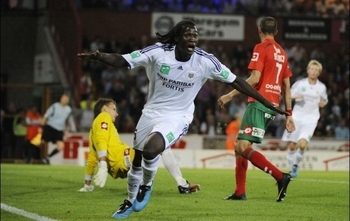 If Arsenal are to succeed in 2011/2012, they need to enhance an efficency in the air as crossing from the full backs is a prominent factor in Arsenal's attack. Marouane Chamakh and Robin van Persie are both imposing figures but routinely fail to provide an aeiral goal scoring tought.
An exciting prospect who has been linked with a move to Arsenal along with Chelsea, Liverpool, Tottenham and numerous other big name sides, such is the calibre of the 17-year-old. A powerful, efficient striker who would enforce immediate aieral power to the Gunners'.
In his first full season, last campaign, the Belgium striker completed 45 appearances for Belgium giants Anderlecht, securing 19 goals.This season, Lukaku boats 40 appearances with 18 goals, and he hasn't even turned 18. Touted as the next Didier Drogba, the young striker is said to be worth up to £20 million by Anderlecht.
Whether this price tag will scare off Wenger remains to be seen, but there is no denying Romelu Lukaku will not be in the Belgium League for much longer.
With sufficient experience, goal scoring touch and international appearances, the youngster is heading for big things.
6. Peter Odemwingie-West Bromwich Albion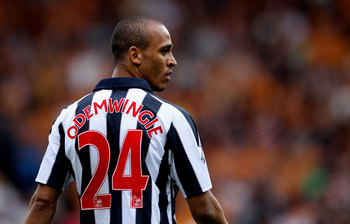 Scott Heavey/Getty Images
The Nigerian enjoyed a stellar debut season in the English Premier League after joining West Bromwich Albion from Russian side Lokomotiv Moscow. The 29-year-old was easily the Hawthorns' best player for 2010/2011 and earned many admirers as he secured fifteen goals in 32 EPL appearances.
A quick, evasive and composed striker, Odemwingie would be able to patrol both the wing, second striker and striker role, effectively mitigating the losses of either Andrei Arshavin, Nicklas Bendtner and Samir Nasri. WBA manager Roy Hodgson has no intentions to sell the Nigeria international but with the temptation of UEFA Champions League football and a sufficient title challege, Odemwingie may desire a move to the Emirates.
Wenger could be forced to spend up to £15 million but the former OSC Lille striker has proven his ability in the English Premier League and will only continue to develop with experience.
5. Hulk-FC Porto
Scott Heavey/Getty Images
The heroically named striker is a strong, powerful option who combines speed and strength impressively to bring a threatening approach to a side's front line. The Porto striker has enjoyed a stellar season as the Dragons took out the Portuguese crown and the UEFA Cup with Hulk contributing 36 goals in 51 appearances, ensuring the former Tokyo Verdy striker has become one of the most prolific strikers in Europe.
Wenger has tracked the Brazilian for a number of years now, but a deal has failed to materialize. However, with Bendtner's uncertain future, Hulk has emerged as a prime replacement who could thrive in the English Premier League.
With ambitions to play in both the EPL, Wenger's side is an attractive opportunity for Hulk, but Wenger may be less inclined to target the forward due to a £18 million price tag.
4. Gonzalo Higuain-Real Madrid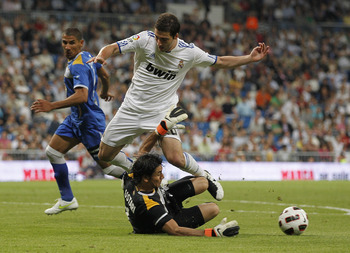 Angel Martinez/Getty Images
Arsene Wenger has long been an admirer of Gonzalo Higuain and with reason. The Argentina international has become one of the most consistent strikers in the Spanish La Liga despite playing in a side that possesses the likes of Cristiano Ronaldo and Kaka.
Renowned for his goal scoring ability and composure that has materialized 66 goals in 109 appearances for Spanish giants Real Madrid, the 23-year-old is still young yet overly experienced and would provide Arsenal with a devastating front line.
Although Madrid manager Jose Mourinho is eager to maintain Higuain, the Argentine does desire to play in the English Premier League and could be tempted by a more consistent role at Arsenal. None the less Arsene Wengr would love to secure Gonzalo Higuain.
3. Karim Benzema-Real Madrid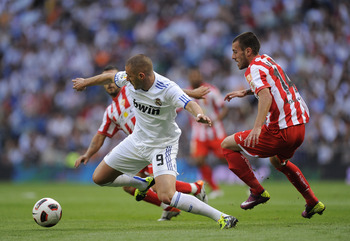 Denis Doyle/Getty Images
Arsene Wenger has also long been an eager admirer of Benzema, and many have often predicted a potential move for the Frenchman to the Gunners. A strong, imposing striker who has achieved superb success with French giants Lyon before a move to the La Liga in 2009.
The 23-year-old recorded 26 goals in 48 appearances this term for Jose Mourinho and did endure injury woes. Few question the immense ability of the 23-year-old who flair, strength, aerial threat and efficiency to ensure the Frenchman is a devastating attacker.
A fan of Arsenal's style of play, the former Lyon striker would not refuse a move to the Emirates but it could cost the Gunners' heavily. However it would surely be worth it.
2. Radamel Falcao-FC Porto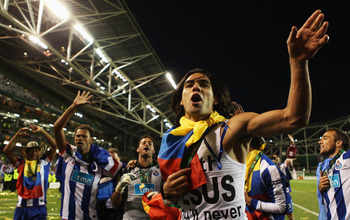 Scott Heavey/Getty Images
One can tell that a player is a strong striker if in the last two seasons they amassed 72 goals in 85 appearances. Thats just what Radamel Falcao has achieved with Portuguese giants FC Porto from 2009 onwards and the 25-year-old was superbly pivotal as Porto achieved great success with the Portuguese title and the UEFA Cup.
The 25-year-old is now highly sought after and desires a move to bigger opportunities. The EPL is considered Falcao's desired destination along with UEFA Champions League football. Wenger is in favour as Falcao is a great admirer of the Arsenal style of play, but the Frenchman may be tentative to sign due to a £25 million price demand. None the less Wenger would be over the moon with the signing of Radamel Falcao,
1. Eden Hazard-OSC Lille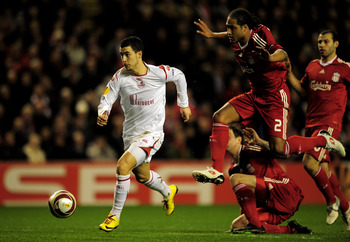 Shaun Botterill/Getty Images
Although not primarily a striker, Eden Hazard is a forward who many believe will follow in Theirry Henry's footsteps and make the transition from wing to striker. Furthermore the Belgian is the hottest prospect in World Football and is wanted all around Europe, and it's easy to see why.
A devastating attacker, Hazard is blessed with amazing speed and balance alongside great creativity and a ferocious shot. Boasting over 130 appearances for French giants Lille and 19 Belgium National caps, Hazard ticks every box.
Did we mention he's only 20?
Many have likened the Belgium magician to Lionel Messi and Cristiano Ronaldo due to his explosive style of play. The young gun made his debut for Lille as a 16-year-old and has since won the UNFP Young Player of the Year award twice, as well as being named in French League Team of the Year.
Lille were superb this campaign, and Hazard was integral in their achievements, the Mastiffs are well aware of their dynamo's talent and the attraction the Belgium international is materializing, and it is said the French side are asking for up to £30 million
Keep Reading

Arsenal: Like this team?