Liverpool FC: Tme to Say Goodbye to the Fields of Anflield Road
July 12, 2011
Darwin once postulated about the "survival of the fittest." He wrote about a world where a creature had to adapt or die. 
Modern business is Darwinism in practice, The weak, the needy, the hesitant and the delusional all get swallowed up.
Football is very much a part of modern business.
Liverpool Football club are in the Premier League with, among others, the biggest sporting brand in the world—Manchester United—and two sides funded by spendthrift billionaires with more money that sense—Chelsea and Manchester City. 
We seek to be regularly involved in the Champions League, where we will likely have to compete alongside teams like Barcelona, Real Madrid, Malaga, PSG, Napoli, the Milans, Munich and various other financial powerhouses. 
And not only do we expect to compete, but we as Reds fans expect to win. We want league titles and Champions Leagues. We want to be the best again.
Which of course raises a question—how?
How do we expect this to happen. We have good funding from excellent and reputable ownership, but the reality is we do not have an owner who can cater to our every whim.
We are not in a long-term position to throw money at a problem and expect it to go away. Our long term competitiveness will have to be derived from good business sense and the maximization of our money making powers.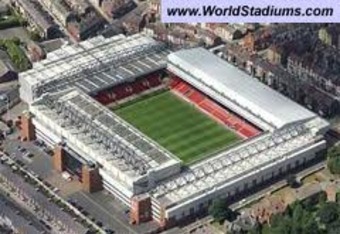 We may seem to be fighting an uphill battle at the moment when teams like Chelsea and Man City can throw money around like Confetti. But when the FFP rules get embedded, their spending ways will be curtailed.
It will then be the clubs that make the most who can spend the most.
And it is in this that our hope lies.
Liverpool is a huge club, a global brand. Our savvy new owners are already trying to boost our marketability in the far east and in the U.S., two clever moves.
But the fact is that one of any football clubs biggest profit generating machines is its stadium.
From tickets for individual seats to executive boxes to naming rights to the ability to hold show-piece finals, a club stadium can be turned into a veritable goldmine. And Liverpool is one of the most prominent names in the world with a huge fanbase.
We are sitting on a pot of gold and we need, as rational people, to realize that the only way we will prosper in the future is if we put emotion aside and do the right thing for the club.
Anfield is a landmark. A legend. A football icon. It is a cauldron of passion and emotion and history, an almost living breathing Colosseum and testament to the glory days of old.
So many memories exist in that old hallowed ground that it would be impossible to count. It is more than bricks and stone and metal. It is a part of our psyche and a key element in the rich and beautiful tapestry of the history of our club and our sport.
But it is far too small, far too old and we need to say goodbye.
Redevelopment would be great. It would be lovely to see the old girl rebuilt and reinvigorated, ready to retake its rightful place as the home to the finest club in the country and the world. But the cost estimations are, according to Liverpool officials, through the roof.
Astronomical. It is cheaper than building a new stadium but not by as much as one would think or hope.
When you combine that with the amount of lost revenue that we will incur from playing somewhere else while the job is done, the redevelopment begins to luck idealistic but sadly unwieldy and impractical.
We could continue to play at Anfield as it is, but in the modern world of football finances no club can afford to leave the type of money on the table that Liverpool would be ignoring.
The sad but simple and unavoidable truth is that we need to move. We need a new home. Stanley Park could provide us with 60,000 seats, executive boxes and a lucrative naming contract.
And while many of you may find the very idea of naming our stadium after an insurance company or a bank or a car brand distasteful, I find the prospect of lingering in mediocrity to be even more of a bitter pill to swallow. 
Liverpool may make a run at a title this year, but will likely come up short. There is, I believe, no rational fan who would say we have anything like the best squad in the country or in Europe. Dalglish has spent some big money on players—too much on some in my view but that's a different story—but we still have a squad barely even comparable to the depth of talent available at City or Chelsea.
And the fact is that, while Dalglish was given money to bolster the squad this summer, we cannot expect these type of funds to be routinely available. And, even if they were, they would be of no use to us if we want to play in the Champions League thanks to the new FFP rules.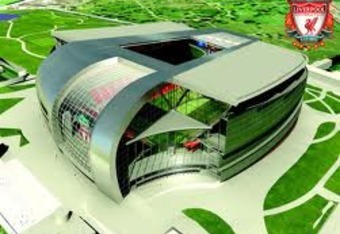 The only way we can remain truly competitive for the future is if we start earning enough money to be able to afford to pay big money on players because we are a profitable club.
This would mean we could take advantage of our brand, which is far stronger than either of City or Chelsea, and make more money as a business.
And, thanks to the FFP rules, this would mean we would be able to redress the balance and close the disparity in spending power between our clubs.
All this means that we need a new stadium, and we need to make as much money from it as possible. That is the future for Liverpool. It is our best hope at finally seeing the sun again.
Anfield can and will never be forgotten. It will eternally be in the veins of the club. But we could try, with a fresh start in a new home, to create some new memories. To create a second cauldron of history and memory.
It is all academic at this point of course but one fact remains undeniable.
If we do not change now and face into the future head on, we will be left, as before, stuck in the past treasuring memories of long dead glory.