FC Barcelona: 5 Reasons Lionel Messi Has Peaked at Barça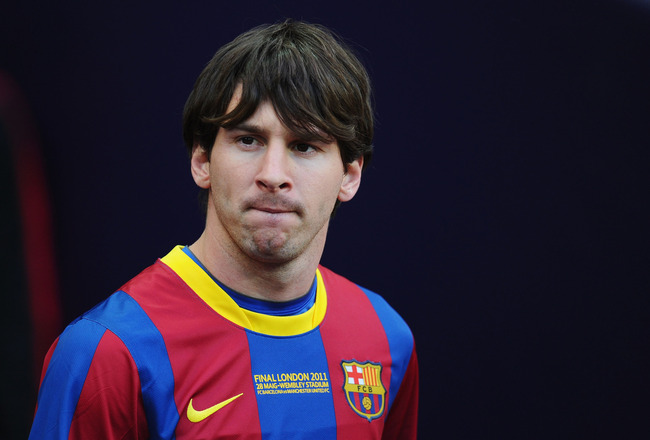 Clive Mason/Getty Images
Lionel Andrés Messi scored 53 times and contributed more than 70 goals to push Barça to win La Liga and the UEFA Champions League.
He has been at a ludicrous level for almost three seasons with the Blaugrana.
When will he slow down?
Or will he continue to perform up to the very high standards he has set for himself?
Personally, I think there are some very clear indications that Messi will start his decline when he starts the 2011-12 season for FC Barcelona.
It's all downhill for the Argentinian from here on out.
Want to know why?
Have a look at the slides and find out.
He Has Won Every Single Title Out There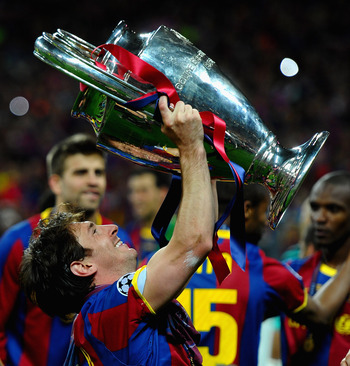 Laurence Griffiths/Getty Images
Here's a quick look into Messi's winning honours with Barça:
La Liga: 5 (2005, 2006, 2009, 2010, 2011)
Copa del Rey: 1 (2009)
Supercopa de España: 4 (2005, 2006, 2009, 2010)
UEFA Champions League: 3 (2006, 2009, 2011)
UEFA Super Cup: 1 (2009)
FIFA Club World Cup: (2009)
And now here's what Lio's won individually:
Ballon d'Or: 1 (2009 and 2010)
FIFA World Player of the Year: 1 (2009)
FIFA Team of the Year: 3 (2008, 2009, 2010)
La Liga Player of the Year: 3 (2009, 2010, 2011)
La Liga top goalscorer: 1 (2010)
European Golden Shoe: 1 (2010)
UEFA Champions League top goalscorer: 3 (2009, 2010, 2011)
UEFA Champions League Final Fans' Man of the Match: 2 (2009, 2011)
FIFPro World Player of the Year: 2 (2009, 2010)
FIFPro World XI: 4 (2007, 2008, 2009, 2010)
I think it's fair to say he's won it all, some of the titles several times over.
If anything, he's missing titles with his National Team.
It's exciting to be the best the first time around.
With the second win you can prove that the first one wasn't a fluke.
The third time around, you establish as a given that you're the best.
But will Messi really be craving to win a title a fourth, fifth, or sixth time?
This Was His Best Season and He'll Win His Third Consecutive Ballon D'Or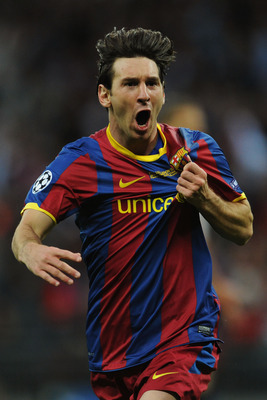 Jasper Juinen/Getty Images
Lionel Messi's 2010/11 Stats:
La Liga: 31 goals, 20 assists
Champions League: 12 goals, 4 assists
Copa del Rey: 7 goals, 3 assists
Supercopa de España: 3 goals
Total: 53 goals and 27 assists
That's Messi's season for you.
I honestly think there's nowhere to go but down after a season like that.
Add the fact that he will win the 2011 Ballon d'Or for sure (Fellow B/R writer Manuel Traquete explains why if you have any doubts).
Messi's already won it in 2009 and 2010.
With his third he'll join Johan Cruyff, Michel Platini, and Marco Van Basten as the trophy's most winning player ever.
Nobody has ever won a fourth.
Odds are Messi won't be able to win number four either, and he almost definitely won't be able to reach five.
This Will Be His Seventh Full Season as a Professional in His Career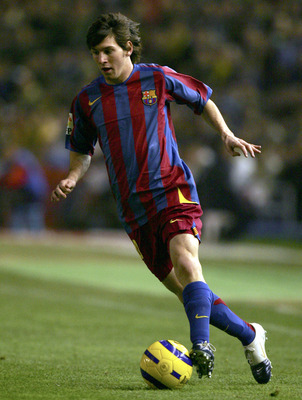 Denis Doyle/Getty Images
Messi just turned 24. So he's young right?
Yeah, he's young in actual years alive. But he's actually seven years old football wise.
Messi's debut was in 2005, so he has already completed six full seasons as a Blaugrana and 2011-12 will be his seventh with the Catalans.
So,while he's young in years, his legs are actually far older.
He already has over 175 games played with Barça and has already crossed the 20 thousand minute played mark.
When you add in his minutes with Argentina, he's almost at 25 thousand minutes played.
As a comparison, here are some fellow Barça players' minutes:
Pedrito (23 years old) has just over 8 thousand minutes played.
Piqué (23 years old) has under 20 thousand minutes played.
Iniesta (27 years old) has just under 27 thousand.
Villa (29 years old) has 29 thousand counting National Team and all the clubs he has played in.
So minute-wise, Lionel Messi is not as young as he might seem and is closer to a 27 year old than a 23 year old player
Just as his career started early, his winding-down might do the same.
His Right Thigh Is Injury Prone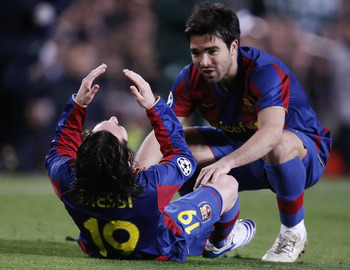 Denis Doyle/Getty Images
Some of you might have forgotten, but when Messi's career started he had four injuries in two years in his right leg.
This led several specialists to conclude that Messi had a predisposition to get injured or that growth hormones could be taking their toll on the Argentinian.
Added to the silly amount of contact Lio receives from opposing defenders every other game, it has truly been a miracle we haven't seen him stretched off in a game for a while.
The last three seasons he has avoided these problems, but odds are that if he plays 50+ games this season again, we might see Messi hurting at one time or another.
Injuries are what usually slows down football players, and with Messi it could be no different.
He Could Get Bored of Winning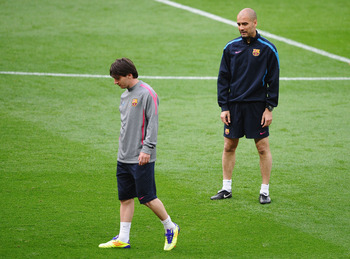 Laurence Griffiths/Getty Images
Pep is afraid Messi could get bored. So am I.
It's been shown time and time again that Lio plays best when he's happy (in every way possible).
Messi hasn't won anything with Argentina, and his performance just isn't the same when he puts on the Albiceleste.
But his desire to win with his country could eventually lead him to slow down when playing with Barça so that he can be as fresh as possible to win it all with Argentina.
If he doesn't want to win anymore and Barcelona becomes tedious for him, it wouldn't be strange to see him slow down with the Blaugrana.
Ironically, in the team he's not bored with, he's called "pecho frío" and his compatriots question his ability to win a game by himself.
Would he be able to win by himself if Barça started under-performing?
I sincerely doubt it.
Follow me on Twitter @ehrli
Keep Reading

FC Barcelona: Like this team?