Manchester United Transfer Rumors: Sir Alex Ferguson's Midfield Short List
July 8, 2011
Dean Mouhtaropoulos/Getty Images
Sir Alex Ferguson has made quite a bit of noise so far in this summer transfer window, but it seems the boss is not done yet. Ferguson has made some key signings with the likes of winger Ashley Young, goalkeeper David de Gea and defender Phil Jones. 
Right back Gary Neville seems to be very impressed with the recent signings, meaning the morale at Old Trafford is very high right now. And if Ferguson can get one more big singing, which he plans to do, then expectations will be at an all time high for the Red Devils.
Let us start Ferguson's short list of midfielders:
Luka Modric
The Tottenham star has been the apple of many clubs' eye, including fellow English Premier League heavyweights Chelsea and Manchester City. Luka Modric is the type of creative, young, attacking midfielder Ferguson and the Red Devils have been searching for.
It is reported that Modric may be involved in a three-player switch. Ferguson would send striker Dimitar Berbatov and defender Jonny Evans, along with £10-12 million in exchange for the 25-year-old Croatian. 
This type of deal lands Harry Redknapp a striker who he can hang his hat on in Berbatov, along with a nice, solid defender in the Northern Irishman Evans, along with some cash. Modric has already expressed his desire to leave White Hart Lane.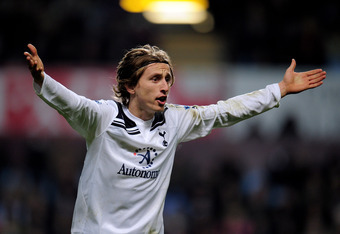 Shaun Botterill/Getty Images
Fergie and company may have to put forth a tad more in the deal if they truly want Modric, seeing as how the odds-on favorite right now is likely to be Chelsea. 
Wesley Sneijder
A few months ago, Wesley Sneijder told the media how he was not leaving the San Siro and theta he is completely happy with the Italian giants, Inter Milan. It seems now that money talks and it is singing a different tune. 
The Red Devils have expressed open interest to Inter Milan for the Dutch midfielder, but he will not come cheap. Inter Milan President, Massimo Moratti, has put a price tag of £40 million on the 27-year-old. Moratti says he is not concerned with Manchester United's interest, but if the Red Devils are willing to pay, Moratti may not have a choice due to their financial woes.
Sneijder would be perfectly suited as the man in the midfield, but the uncertainty of Moratti allowing him to leave and the unwillingness of Fergie to spend the amount that he must are fairly big obstacles at this point.
Samir Nasri
Samir Nasri could be another suitable man in the midfield, a creative, serviceable playmaker like that of Wesley Sneijder, only cheaper. The Arsenal man is said to be priced at £25 million at the least, with Manchester United being denied of their £20 million bid for the Frenchman.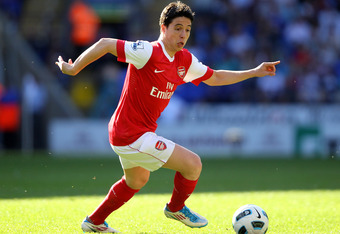 Clive Brunskill/Getty Images
Samir Nasri has been being monitored by many of the giant football clubs in Europe, but Arsene Wenger has been keen on keeping him along with superstar Cesc Fabregas. Unfortunately, for Wenger and the Gunners, it seems as if both will be making exits this summer.
Nasri would be an absolute ideal player for the Red Devils, and he would come at a relatively cheap price unless a bidding war starts upwards of £25 million.
Bastian Schweinsteiger
The well versed German midfielder has been reported as another possible option in the middle of the Red Devil attacking plan. The rumor is that a Schweinsteiger-Dimitar Berbatov swap would be in place to bring the German to Old Trafford.
Berbatov fell out of favor with the recent developments and play of Javier "Chicharito" Hernandez. Schweinsteiger has 87 caps with his German national team where he has scored 21 goals. The German has come up in rumors in the past couple weeks as being the replacement for the legendary Paul Scholes. 
Sir Alex Ferguson seems to be poised to make one final move this summer. Who do you want to seem him pick up?
Follow me on Twitter: @vincesapienza