Liverpool Transfer News: What Charlie Adam Can Bring to Liverpool
July 7, 2011
Shaun Botterill/Getty Images
It was inevitable that in the aftermath of Blackpool's relegation back to the championship that some of their high profile players would jump ship.
From a neutral perspective, Blackpool in the Premiership played with such inspiring determination, overcoming their limited weapons to excel and challenge those at the top.
In the end, their lack of player strength could not subvert their praised and passionate style of play. Their top scorer now looks to head to the team that Blackpool dramatically did the double over in their single season in the top flight.  
Sneaking Charlie Adam from under rival Tottenham's noses, Liverpool look to enhance their impressive turnaround by taking the Scottish defender under their wing.
One question I would like to ask Adam is, did he chose Liverpool because he could see greater potential at the team? Could he win trophies at Anfield, something he would not be in as good a position to achieve at White Hart Lane? 
With the Kenny Dalglish revolution underway, the answer is probably yes.
His central midfielder position will make him a likely partner to Steven Gerrard. A solid first season at Anfield that will no doubt add to the 12 league goals scored at Blackpool will remind Scottish side Rangers what they missed out on when he was shipped off on loan in 2009.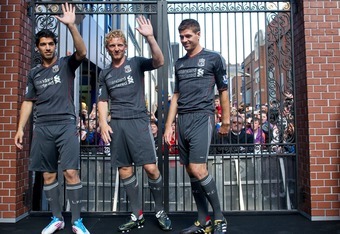 Getty Images/Getty Images
The 25-year-old will have many years left in him to make an even bigger name for himself.
What it means for Liverpool is that the Kop side have a player used to a particular style of attacking play. And at Liverpool, Adam will be in the likely position of seeing more of the ball than he ever saw at Blackpool.
His sporadic ventures at Blackpool may be replaced with a side who like to keep hold of the ball, but with Luis Suarez now at the helm, it could signal a new era of dominant travels deep into the oppositions half that will make the side a definite force to be reckoned with. 
You must also consider the partnership that could be formed between Adam and tall striker Andy Carroll. What we saw at Blackpool was that Charlie Adam is capable of intricate deep passes that can lead the sides strikers into sensational positions to take advantage. 
With Gerrard also a constant portrayor of long, carefully planned balls, the goal-scoring potential of the Liverpool side is greatly enhanced. And let us not forget that a central midfielder capable of producing Gerrard-esque passes would allow the homegrown Liverpudlian to move forward into a more proficient goal-scoring role.
With their superb defensive record in the second half of last season, could this charge Liverpool to the top of the League? Let's hope so.