Arsenal Transfer Talk:Why Wenger's Transfer Policy Needs Serious Reconsideration
July 5, 2011
Shaun Botterill/Getty Images
Thirty-eight days into the transfer window, Arsenal has been profitable in the transfer market too.
Wenger bought Carl Jenkinson for £1 million and has so far sold Gael Clichy to Manchester City for £7 million.
Assuming my calculation is correct, then Arsenal has achieved a profit of £6 million. This value increases with Fabregas set to leave for Barcelona for around £35 million and assuming Bendtner and Denilson get buyers, then Arsenal's profit in this transfer window alone would reach a value around £50 million.
Arsenal has been linked with Christopher Samba, Scott Parker, Gary Cahill, Gervinho, Ricky Alvarez and the rumours even went to the extent of linking Benzema, Higuain and Falcao with the Gunners.
Let us not talk about Nasri's comments or Fabregas' almost done transfer deal now. The Gunners have to feel sad only for Fabregas' departure as he will be missed. Nasri is replaceable with Wenger making an £18 million bid for Spanish winger Juan Mata.
Manchester United have completed three signings so far. City, Liverpool and Arsenal each have one while Chelsea has none.
But still most newspapers and reports are spelling doom for Arsenal. Reason? Because Wenger has not made a big signing so far and many of his stars are planning to move out of the Emirates with Walcott and Van Persie also being linked (not believable though).
The main reason that I consider for this Arsenal-doom theory is Wenger's transfer policy. The Gunners fans were excited for the arrival of July 1 as it was expected Wenger would complete the signings of Alvarez, Gervinho and Chamberlain.
Five days later, the Gunners boss has still not opened his account (Jenkinson, Bellerin and Toral Harper cannot be considered as important signings).
Though Wenger was inactive in the transfer market, I was confident that Alvarez and Gervinho will join the ranks of the Gunners soon.
Gervinho has clearly hinted that he will become a Gunner soon as the two clubs were negotiating over his transfer cost. Lille has evaluated the striker at around £11 million whereas Wenger has made only a £7 million bid.
According to the metro.co.uk, Inter Milan have signed Alvarez for £11 million. The Argentinian winger was evaluated by Velez at around £11 million and Arsenal made only a £9 million bid, hence losing him to Inter.
If Wenger really needed Alvarez, he should have directly made a £11 million bid. Having been given a transfer kitty of £35 million and now Clichy's transfer funds adding, Wenger should have not had any second thoughts while bidding for Alvarez who was expected to be the new Fabregas.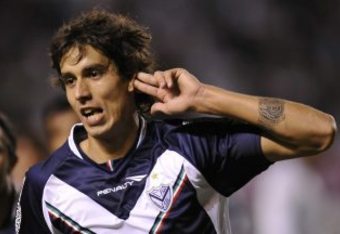 On June 30, Alvarez tweeted, "I love to play in the arsenal, would be a dream for me! I wish to God that is realized!" Maybe he has to forget about that dream!
Southampton's boss Nigel Adkins has stated that he has received no bids for Chamberlain. Now if Wenger needs Chamberlain, he should have at least made a bid for the youngster.
Bolton's Gary Cahill was Arsenal's target to consolidate the defense and there have been a lot of rumours in the past month about the defender. Bolton want £17 million for the defender. In this case also, Owen Coyle has told Arsenal to either put up or shut up in their pursuit of Cahill.
Arsenal has made an £18 million bid for Valencia's Juan Mata but a value around £23 million is expected to tempt Valencia, which is not financially well off. Will Wenger improve his bid or just see his transfer target signing for a different club? Its a big question mark!
Even Wenger clearly would have an idea that his current squad (without Fabregas, Nasri and the world's best striker) cannot compete with the likes of Chelsea and the two Manchester clubs.
He has to modify his transfer rules a bit.
The transfer market is inflated. So what? It did not stop the top clubs from spending big for their targets. When Wenger spent around £6 million on Squillaci, why is he hesitating on the price tags of £12 million (Samba) and £17 million (Cahill)?
With Van Persie and Walcott having only 2 more years in their contract, they are weighing their options. If Arsenal goes another season trophy-less,then they may also leave.Unless Wenger changes his transfer policy, Arsenal's title chances are less.