Manchester United Transfers: Top 6 Targets for Sir Alex Ferguson to Add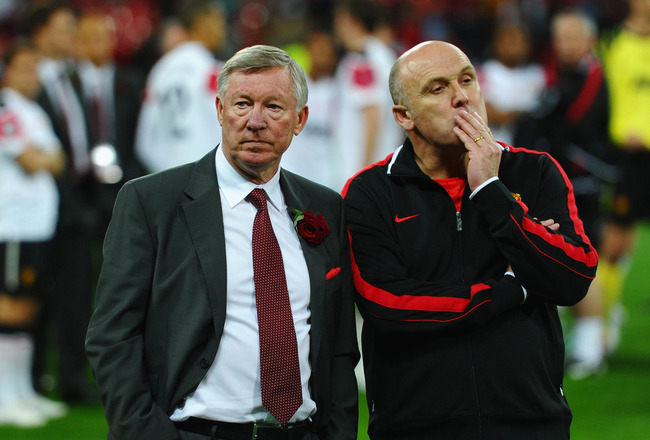 Laurence Griffiths/Getty Images
IN: Phil Jones, Ashley Young, David de Gea.
OUT: Edwin van der Sar (retired), Paul Scholes (retired), Owen Hargreaves (released), Bébé (loaned out to Beşiktaş), Ritchie De Laet (loaned out to Norwich City).
So far this has been manager Sir Alex Ferguson's transfer activity, and my article will go into six transfer targets that he needs. Two will be certain starters, and the other four may range from being impact players to squad players.
Ferguson's has yet to satisfy Manchester United's number one transfer need: creative midfielder.
Yet my number one transfer target for Manchester United isn't one.
1. Arturo Vidal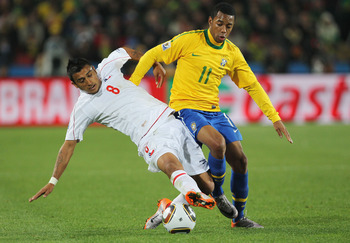 Clive Rose/Getty Images
For me Arturo Vidal is a world-class midfielder, who is a big move away from gaining public recognition as a world-class midfielder.
An extremely versatile footballer, who can play in defence and in midfield, Vidal should be Sir Alex Ferguson's No. 1 transfer target.
This season, Vidal played a very free role, and he just ran around the pitch intercepting, creating, pressuring, contesting and scoring.
So in that retrospect, I find it peculiar as to why some people have called him a limited defensive midfielder. It couldn't be further from the truth, because he didn't hold his position in front of the defence and he's anything but limited.
Gareth McKnight at Goal.com reported Bayer Leverkusen sporting director Rudi Völler stating Vidal would not be allowed to move to any Bundesliga club, especially Bayern Munich, and they would only sell Vidal to foreign clubs.
What Vidal adds to Manchester United: Box-to-box running, tenacious tackling in midfield and goals.
What are the risks in signing Vidal: Discipline—his all action style has often seen him become an easy target for referees. Also if Ferguson decides not to give him a free role in midfield, can Vidal stop himself from roaming?
2. Éver Banega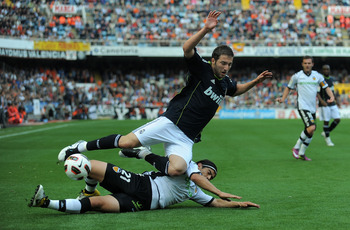 Denis Doyle/Getty Images
Club: Valencia
Position: Centre midfielder
Age: 23
Nationality: Argentinean
Éver Banega should be signed ahead of Luka Modrić and Wesley Sneijder.
It must be an English thing to inflate transfer fees to an extent, where it's so disproportionate to the player's ability. Modrić has had a very good season, but is he worth £35-45 million? No.
My reason against Manchester United signing Sneijder isn't based on ability, it's based on health.
When you collapse in the change room during the half time break because of anemia, you're too much of a health risk.
So with this in mind, what about Banega?
One of the best passers in world football, at times, it's almost as if he can see the pitch from how viewers see it on TV.
Banega will be a perfect addition in a Manchester United midfield devoid of creativity.
That being said, he's had a turbulent season at Valencia, where he was seen smoking and his partying lifestyle was well documented—so it came as no surprise that this season, his performances were lacking to say the least.
Oh and he still doesn't see eye to eye with manager Unai Emery.
Valencia are in dire financial straits, Banega is a burden for Emery to deal with, and Valencia should be willing to sell Banega at a loss—they bought him for €18 million in 2008 from Boca Juniors.
According to Francisco Acedo at Sky Sports, Valencia are willing to sell Banega for €9 million.
What Banega adds to Manchester United: Paul Scholes-esq passing, and some bite in the midfield like Scholes (though that could also be a bad attribute).
What are the risks in signing Banega: What happens if he doesn't like the English lifestyle? What happens if he disagrees with manager Sir Alex Ferguson? What happens if he decides to sulk? Attitude problems and this conceited view that he's always right is a major problem.
3. Scott Parker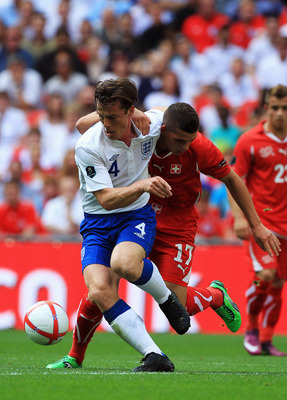 David Cannon/Getty Images
Club: West Ham United
Position: Defensive midfielder
Age: 30
Nationality: English
Perhaps with Darren Fletcher, Anderson and Darron Gibson, it would seem pointless for Manchester United to add another defensive minded midfielder, when they need creative midfielders.
But this is Manchester United, they should have the luxury of having Scott Parker as a back up to Darren Fletcher or vice-versa.
For me, Scott Parker was the best defensive midfielder this season, and with West Ham United relegated, why doesn't manager Sir Alex Ferguson poach a quality player like Parker?
What Parker adds to Manchester United: Professionalism, determination, solid tackling, and leadership.
What are the risks in signing Parker: He's 30 years old, so he'll only be a short term option. Also Parker's signing could disrupt Anderson.
4. Ivo Iličević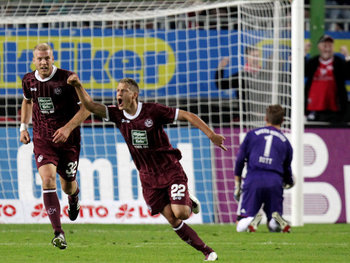 Club: Kaiserslautern
Position: Right/left winger
Age: 24
Nationality: Croatian
You had the debacle over at Borussia Dortmund with Nuri Şahin's pathetic £6.5 million release clause, and now you have Ivo Iličević's £4 million release clause.
Bayern Munich have their eyes set on Iličević, and if Manchester United are willing to pay £7.4 million for Bébé, who didn't even play a game in the Portuguese Primeira Liga—why don't they pay £5 million for a proven performer in the Bundesliga?
You want quality in your squad, and there is no doubt Iličević has that.
An intelligent winger, with one heck of a shot, he can play on both wings, and even in the centre if asked to.
What Iličević adds to Manchester United: Depth in midfield and proven quality. Certainly you'd trust this guy to produce the goods over Bébé and Gabriel Obertan.
What are the risks in signing Iličević: Extremely injury prone—he has suffered a ruptured ankle ligament, knee problems and an abdominal muscle strain in the past three seasons. Also will he be okay with sitting on the bench?
5. Pablo Piatti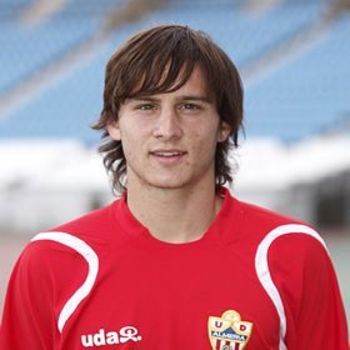 Club: Almeria
Position: Left forward/left winger
Age: 22
Nationality: Argentinean
Pablo Piatti is a diminutive winger, who has excelled in a free role as a left sided forward for Almeria, where he continued to display speed, and remarkable skills.
With Almeria relegated, they'll be forced to sell their best asset, and I see Piatti as dynamic option off the bench.
What Piatti adds to Manchester United: Incisive dribbling and pace.
What are the risks in signing Piatti: Can someone at just 1.63m tall (5 ft 4) excel in a very physical English Premier League? Can he adapt to life in England? Having been the star player for Almeria, is he willing to bide his time behind Young?
6. Andrea Poli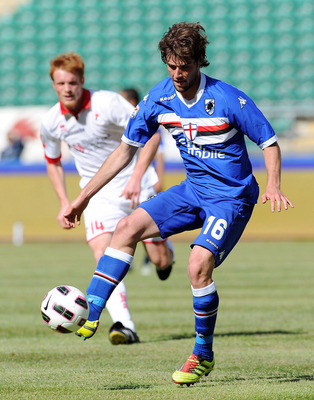 Giuseppe Bellini/Getty Images
Club: Sampdoria
Position: Centre midfielder
Age: 21
Nationality: Italian
Andrea Poli is a fallen star, albeit a young one.
Poli was earmarked as Andrea Pirlo's replacement, and whilst Poli has displayed his passing ability, he has yet to develop into one of the best midfielders in the Serie A.
He's had an indifferent season at Sampdoria, as has more of their players including Federico Macheda—hence why Sampdoria were relegated.
Signing Poli is an example of snatching the best prospect from a relegated club, who is in no position to play hardball.
However it would be more beneficial for Poli's career if he stayed and attempted to help Sampdoria get re-promoted back into the Serie A.
What Poli adds to Manchester United: He'll add depth to the midfield, when he comes off the bench or plays the odd game, you'll know he'll retain and distribute possession with success.
What are the risks in signing Poli: He may never eventuated into a Manchester United starter or even be an impact player off the bench. If anything, his Old Trafford career may end up like Rodrigo Possebon.
-----------------------------------------------------------------------------
Other Must Read Articles
Keep Reading

Manchester United: Like this team?