2011 FIFA Women's World Cup: 4 Underrated Players at the Tournament
July 2, 2011
Joern Pollex/Getty Images
We are about half-way through the group stages of the 2011 FIFA Women's World Cup, and we've already had some surprising results.
Japan and France each have a dominant 4-0 win under their belts, while hosts and two-time defending champions Germany have looked rather shaky so far.
There's plenty of teenagers at this World Cup, and though they haven't received much attention, they've been the spark for their teams.
Let's take a look at four of the most underrated players or factors so far in this World Cup.

1. North Korea's teenagers 
North Korea is a very mysterious team, but what we do know is that their oldest player in this tournament is 25.
North Korea will be heading home after losing their first two group matches, but these girls lost only by a combined 3-0, to the US and Sweden no less. Plenty of teenagers have been in the starting lineup as well.
In goal, 19-year-old Hong Myong-Hui frustrated the US, most notably Abby Wambach, who has 118 international goals to her name. Midfielder Kwon Song-Hwa, 19, got around the US defense a number of times.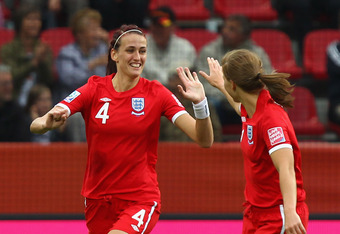 Martin Rose/Getty Images
If they can avoid lightning, this North Korea team could be one to watch for many years. 

2. Gaetene Thiney, France
 France have long been tortured by Germany in European competition, and now they have the chance to win Group A over the heavily favored Germans.
And it's in large part thanks to Gaetene Thiney and her two goals against Canada.
France defeated Canada 4-0 to send the Canadians home early, but the first two goals really made the difference to send France to the quarterfinals for the first time in just their second World Cup appearance.
A draw against Germany in the final group game would be enough for France to top the group.

3. US camaraderie
The camaraderie of the US team really is amazing. Megan Rapinoe showed no hard feelings at losing her starting spot just days before the opening match, and Lauren Cheney justified her spot with the opening goal in the US's 2-0 win over North Korea.
Abby Wambach shows no frustration at not scoring yet, even though she's been agonizingly close. As long as the team wins, she's happy.
The squad really is 21 players deep, and they're playing like one cohesive unit no matter which 11 are on the pitch.

4. Jill Scott, England
With England, much of the attention goes to Kelly Smith, and rightly so. But Jill Scott inspired the Three Lionesses to their much-needed 2-1 comeback victory over New Zealand.
Scott scored the tying goal and set up the winner with a great showing of unselfishness just seven minutes from time. 
England will need another inspired performance from Scott if they want to beat Japan and win Group B.
For all of your news and updates on the road to the 2011 FIFA Women's World Cup, stay tuned to Bleacher Report.