EPL: After First Season at Tottenham, Van Der Vaart "In Love" with Spurs
June 29, 2011
Scott Heavey/Getty Images
In a recent interview, Tottenham Hotspur's dazzling free-kick and long-range specialist, Rafael van der Vaart, revealed details on how he ended up in North London, how he feels about the club now and what the future might hold.
"It wasn't easy to leave Real Madrid," he admitted.  "But when Spurs came in, I spoke with the manager and the chairman, fell in love with the club, and wanted to join Tottenham," he said as he recalled the last-minute transfer deal that secured his place in English football.
With thirteen league goals, the Dutch midfielder was Tottenham's leading EPL goal-scorer, a cherished title to hold on a club whose manager, Harry Redknapp, admitted to being upset that his forwards let him down when it came to putting balls in the back of the net.
Van der Vaart also revealed that good friend and colleague, former Spurs defensive midfielder Edgar Davis, helped to sell him on the club.
"I had some contact with Edgar, who had also played for Spurs, and he told me it was a great club and the people are good," he was quoted saying.  "He also said the league would fit me well." And it certainly has, as Van der Vaart impressed the outspoken crown at White Hart Lane and earned himself a nomination and near-victory for the PFA Player of the Year Award.
Also playing an important role in the decision was Dutch legend, John Metgod, who played twelve games with the Spurs in the late eighties and currently manages the first team at Derby County.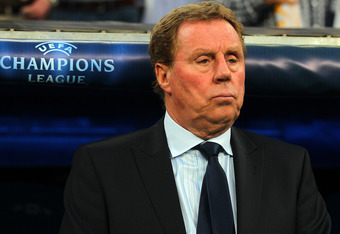 Clive Rose/Getty Images
Van der Vaart's love affair with Tottenham comes as good news to manager Harry Redknapp, who has expressed strong feelings towards keeping essential players at the club during the transfer season.  And make no mistake about it, the nine-million pound transfer bargain of the 2010-11 season has been essential.
The news is even sweeter coming on the heels of a rumored disagreement in March over a substitution decision between Van der Vaart and Redknapp, who would prefer to not have to deal with another key player keen on jumping ship like Luka Modric.  Despite that disagreement, the Dutchman's love for the Spurs has not wavered.
It seems as though Van der Vaart still feels that he made the right move in joining Tottenham, and unlike Modric, it looks as though he is not likely to make a push to avoid helping the Spurs land another spectacular Champions League berth.