Key Matchups to Watchout for in the Most Important Milan Derby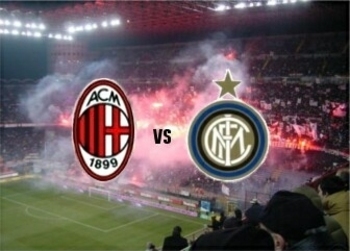 Source: http://worldfootballcolumns.com/2010/11/13/the-weekend-catch-for-13-14%C2%A0november/
Come Saturday, the city of Milan will be divided right down the middle. It is time for the Derby della Madonnina—for many, the greatest derby in the world.
The strange thing about this matchup is that the two teams have rarely been equally competitive at the same time. In the late 90's and early 00's, Milan were much the superior team and Inter couldn't buy a win. In recent times though, the tables have turned with Inter having the superior squad and having the upper hand.
But tomorrow's derby sees both the teams at the top of the summit separated by a mere two points. That's a great stat to exemplify the magnitude of this game. The winner of the derby cannot be certain of winning the league, but the loser will surely have to all but give up any hopes of winning the Scudetto this season.
Inter head into this game full of confidence. They are through to the next round in the Champions League and have also chalked up a decent string of results. Over the same time, Milan has faltered. They got dumped out of Europe by tournament debutantes Spurs. They have also lost points in the league which has allowed Napoli and Inter to close in.
Coming back to tomorrow's game, where will this game be won or lost? Who will be the hero for their team? Lets take a quick look at some key matchups in tomorrow's firecracker contest.
Samuel Eto'o vs. Alessandro Nesta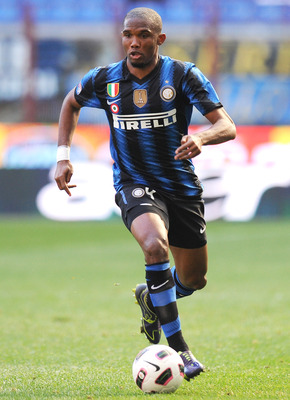 Tullio M. Puglia/Getty Images
Eto'o might be third in the Serie A scoring charts, but ask any defender in Italy and Europe and he would be the striker they would least likely want to face up to.
But then again, there are defenders and then there's Nesta. Nesta has enough experience to outsmart the Cameroonian hitman. In six games against Milan, Eto'o has managed only a solitary goal. I am intrigued by the prospect of watching Eto'o take on one of the best defenders of his generation.
This season's Eto'o is a different animal and has been terrorizing defenses all season long. The winner of this contest will have a big say in which half of Milan wins.
Alex Pato vs. Andrea Ranocchia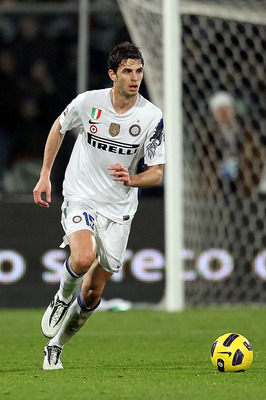 Gabriele Maltinti/Getty Images
At the other end of the pitch, we have the battle of the starlets, Pato and Ranocchia.
With Lucio being unavailable for Inter, the responsibility for marshalling the Nerazzurri defense rests on the young shoulders of the classy Ranocchia. However, all the raw talent in the world cannot make up for the experience you need when facing the likes of Robinho and Pato.
Pato, in particular, has been spectacular over recent weeks. If Ranocchia is able to keep him quiet in this game, it would be a giant step in his rise to the top.
Rino Gattuso vs. Esteban Cambiasso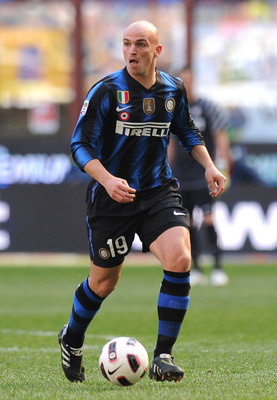 Tullio M. Puglia/Getty Images
Gattuso will be given the task of keeping Inter's No. 10 Wesley Sneijder quiet. Cambiasso, on the other hand, will be tasked with shielding the slightly re-jigged defense behind him and also keeping tabs on Cassano.
I for one, think Gattuso is an accident waiting to happen and things could really unravel for Milan and him in this game. Sneijder has far too much skill and should be able to maneuver around him quite easily.
Most Milan fans would agree that Gattuso isn't really the same player that kept Cristiano Ronaldo under lock and key a few seasons ago. Some might argue that the same argument goes for Cambiasso.
I think that, barring a few off games when he has been forced to play on the flanks, his performances have been pretty good.
He has also chipped in with a handy contribution in terms of goals. Cambiasso's ability to shield the defense and act as the driving force in Inter's midfield is truly something to admire.
I suspect Cambiasso outshining Gattuso in performing their respective tasks in tomorrow's game.
Leonardo vs. Massimilano Allegri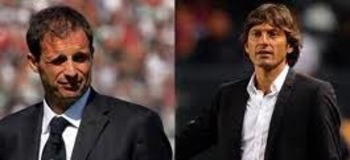 Source: http://www.tifomilan.it/allegri_vs_mourinho_leonardo_3_0-notizie_del_ac_milan-ispyp-138615.htm
It seems strange that the coach's names figure in the key matchups given the array of talent in both teams. This is in fact one of the key reasons why each coach's strategy and inspirational work will play a crucial role.
Inter has been a Jekyll and Hyde team this season. Woeful in the first half and brilliant in the second. Leonardo is somehow able to inspire his team to great things. Even in the game against Munich, he kept plodding his troops forward.
Allegri is a slightly different personality. He is more subdued, a student of the game if you like. That doesn't mean that his players do not respond to him. Milan's performances towards the end of last season and at the beginning of the new year when they had most of their team out injured proved that he is able to inspire his troops beyond question.
But in a game as tight as tomorrow's, it is probably going to require a masterful substitution or tactical switch when their team is losing. Leonardo, who was accused of being late to react on many occasions last season, has shown to be much more pro-active this season.
Allegri is arguably tactically more astute. It is a very close matchup to call, but given Leonardo's recent success at inspiring his team from almost certain elimination, I wouldn't put it past him to get one over on his team.
Keep Reading

Inter Milan: Like this team?