Power Shift in North London: Spurs Finally Have a Squad To Beat Arsenal in EPL
September 26, 2011
Mike Hewitt/Getty Images
In the last few years, Spurs have beaten Arsenal, their local rivals, home and away in premier league, which they did not do over the last decade. While these wins resulted in murmurs of a power shift in North London, to me, there will be a true power shift only when Spurs beat Arsenal over a season in the league.
In 2006, Martin Jol's Spurs squad came close to going above Arsenal, but were denied by West Ham in the final game of the season in the then notorious Lasagna-gate incident. Last season, again, Spurs came close but were not good enough to beat Arsenal over the season. 
Arsenal are not the team they were five years ago. Having said that, Tottenham are not the same team either. While Arsenal has drifted into mediocrity in the last two seasons, Tottenham have gone from strength to strength.
Arsenal & Wenger in the Transfer Window
While Arsenal couldn't keep their key players like Fabregas and Nasri, Tottenham on the other hand, kept their key players Modric, Bale, VDV and Sandro. To put things into perspective, the very fact that Tottenham did not have CL football and are also not able to give good wages makes this fact even more incredible.
Arsene Wenger is a great man and a great coach. He has built Arsenal in the last 14 years on his own. But now, he is seeing the other clubs are taking him on his own turf—the transfer market.  
Wenger had the knack of picking players out of nowhere, coaching them and turning them into world class players. But now, it is far more difficult to scout and pick an Anelka or a Viera or a Toure. The problem now is his competitors, likes United, City, Chelsea and Spurs, get the same player on a better deal, leaving him high and dry.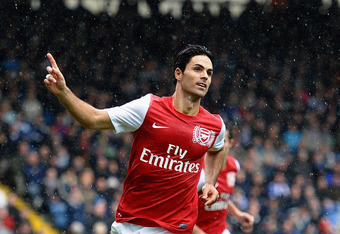 Laurence Griffiths/Getty Images
This summer window is the first time in a long time that we have seen panic buys from Wenger. Not only did he buy a League-1 Player (Chamberlain) for £12 million, but he also went into overdrive on the final day (after 8-2 loss to United) to get Matesacker, Arteta, Santos and Benayoun (on loan). While these players are not bad (or great either), they are not the kind of players to replace the players they lost.
It is known that Wenger was after Yann M Villa, Hazard, Benzema and Kaka (on loan) but he could not get any of them, mostly due to the fact that the selling club priced him out of the market.
Simply put, coming into 2011-12 season, Wenger did not get the players he wanted after losing key players. 
Tottenham & Redknapp in the Transfer Window
On the other hand, Daniel Levy, Spurs chairman, went to war with Modric to keep him. He went to the extent of defiance, done by no other chairman, in the premier league era.
Well, things could have turned sour had Modric sulked after the transfer window. Credit to Modric, he has put things behind him. It may be, Levy knew he could gamble on a player like Modric rather than a Berbatov. Whatever is the case, Spurs have come out of the transfer window well.
Daniel Levy and Redknapp have done some amazing business.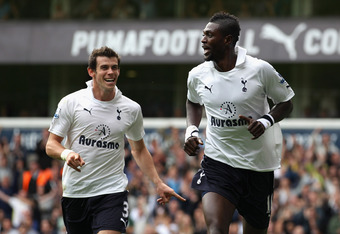 Clive Rose/Getty Images
They kept their key players.
They sold £24 million worth of dead wood, mainly thanks to Stoke City and Tony Pulis.
He got in a reliable goalie on a free and a seasoned PL midfielder in Scott Parker on a £5 million deal.
Then, he did amazing business, getting Adebayor from Man City on loan, adding to the buying of some young talents like Coulibaly and Cebellos. 
Redknapp said before the window that he needed two or three class players. I guess he has got those players in Adebayor, Parker and Friedel. 
Simply put, coming into the 2011-12 season, without CL football and good wages, Spurs kept their key players, sold dead wood for £24 million, effectively bought 3 class players for just £5 million, made a profit of £19 million on net sales, yet improved their first XI by leaps and bounds.
After the Transfer Window
Both Arsenal and Tottenham started poorly. While Arsenal had red cards & injuries to worry about, Spurs had nine injuries going into the first game. Both teams had to field debutants on key positions. Arsenal were the most affected, but they have only themselves to blame having a poor last few transfer windows. Spurs lost to United with their second team midfield and were humiliated at home to City.
But both games were played in the transfer window. They did not have Adebayor, Parker, Sandro or King. All the four are first XI starters. Arsenal too were not strong in their earlier games with a fragile and inexperienced defense. 
Things did not change much for Arsenal after the window, their defense had(still have) many holes to fill. The very fact that they could not even draw a game having scored three goals is incredible. This is a club that set defensive records last decade in premier league. Last Saturday's home win against Bolton should give them confidence. But is their problem solved?
I guess Arsenal's worst is over with an 8-2 loss at United, and their best is yet to come. Wilshere's comeback could do the trick, but if Arsenal really want to flourish and get back to their best, defense and defending as a team is the key.
Conclusion
Finally, let's look at the bench strength and competitions to play.
Arsenal is to play in the Carling Cup, FA Cup, Premier League and Champions League. While they could field kids in the first two competitions, they will field their best XI in the other two.
Spurs are knocked out of the Carling Cup but are still in FA Cup, Europa League and Premier League. Redknapp has clearly said he will field his best team in Europa only from knockouts. So, it is clear that Spurs will field their best XI mainly only in Premier league, keeping them fitter and fresher.
Looking at the squad of Arsenal and Spurs, Spurs arguably have a better first XI and have more fire power from the bench than Arsenal with Gallas, Dawson, Kranjcar, Lennon, Dos Santos, Pavlyuchenko etc... 
I would conclude that Spurs have finally got a better squad than Arsenal and have a less number of high intensity games and arguably better players than Arsenal in some positions. So, I would be disappointed if Spurs do not beat Arsenal in league table action on May 13, 2012.
Whether, Spurs will finish in the top four is still to be answered. They could have beaten Liverpool convincingly, but it doesn't mean they will finish ahead of Kop at the end of season. The same will be the case against Arsenal this coming week. But seeing squads of Liverpool, Arsenal and Spurs post transfer window, to me, Spurs are the favorites at the moment and could very well shift the power in the North London at the end of season.