Everton: Who Will Leave in the Summer Transfer Window?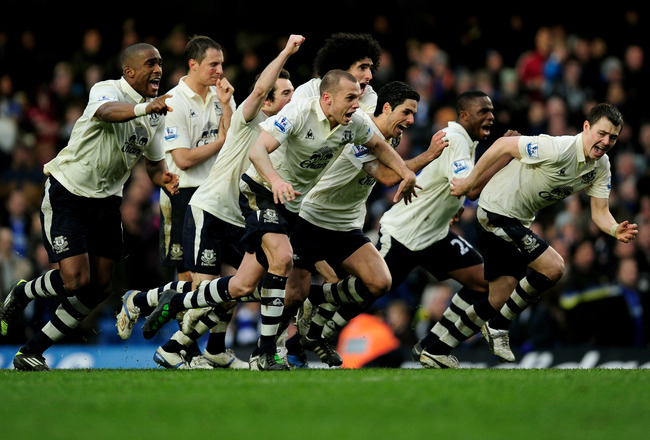 Jamie McDonald/Getty Images
With daunting debts approaching £50 million, and a Chairman seemingly unable to secure the necessary investment needed for the club to progress, Everton will surely face another summer fighting to hold onto their vital assets.
Despite barely entering recent transfer markets, Everton once again saw these debts increase further, when the club's latest financial accounts were revealed. Sad to say, Everton will continue to struggle financially until they either finally find a generous benefactor, or they secure a new stadium. Every home game, Everton collect approximately £750,000, well short of the £2-3 million that "big" clubs manage to secure. Each weekend, Everton, as well as the majority of clubs, fall further behind the elite, financially.
In order to try and balance the books in this money dominated modern era, reluctantly for the club and the fans, it seems a big name player will have to vacate the Merseyside outfit this summer.
Several players have been linked away from Goodison Park in past weeks. Which of the following seems most likely to leave to you?
Leighton Baines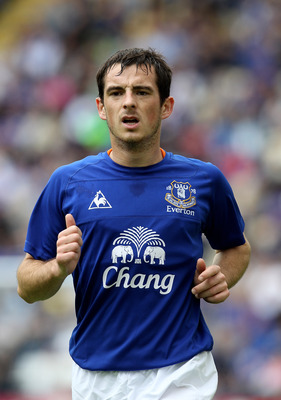 David Rogers/Getty Images
Everton's best player so far this season, and indeed he was Everton Players' Player of the Season last season. Only five players have provided more assists this season in the Premier League than the pocket-sized left back, and none of the top 40 providers are defenders. He has also been scoring more for Everton, with four already this season (only four Everton players have scored more).
In the past, Fabio Capello's stubborn insistence of selecting Stephen Warnock and Kieran Gibbs ahead of him in England squads, as Ashley Cole's back up, has stifled his Premier League reputation. However, by once again forcing his way onto the England squad against Denmark recently, as well as continued eye-catching displays down Everton's left flank, Baines has and will continue to cause many to monitor his rapid progress.
Bayern Munich came calling in January, and Manchester United have also been continually linked (though with Patrice Evra finally signing his contract, that particular rumour may soon diminish).
Yet there are several reasons why I can see Baines sticking with Everton. He has just started a five year contract. He is a self-confessed family man who I cannot imagine wanting to stray too far from his family in the North West. A rumoured reason for his absence from the 2010 England World Cup squad was said to be due to an article published, in which he implied how homesick he would get were he to make the squad, and how he hates being away from his family.
Of course all of this could be false perception, and the North West still has both Manchester clubs and even, dare I say it, another Merseyside club who are desperately seeking a left back. They could all feasible entertain the idea of pursuing Baines.
I vote... Baines stays.
Jack Rodwell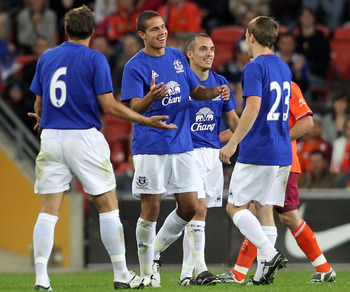 Bradley Kanaris/Getty Images
Jack Rodwell has long been hailed as a future England, certainty from the moment he broke into the Everton team at just 16. In fact, so long hailed, it is easy to firstly want to query why he is not yet more of a central figure for Everton, and secondly, forget that he is still a teenager. This season, a combination of niggling injuries, as well as the fact he is competing for a place in central midfield—one of the few, well-stocked areas of Everton's team—has somewhat checked his progress.
Everton fans have grown used to reading Sunday papers stacked full of rumours linking Rodwell to Manchester United, Chelsea, Manchester City, and even Real Madrid. Is this the summer that those speculative links become more concrete?
Rodwell is local boy who supported Everton as a child, and his departure would anger many devout Evertonians. Additionally, were he to stay, Everton could feasibly command a far higher price for him in the future, were he to eventually work his way into the England squad, and begin flourish more in the Everton starting XI. With the way Everton's finances are shaping up, this could prove the most pivotal factor with regards to Rodwell staying.
There are arguments that the departure of Rodwell would cause the least disruption to the current Everton squad, which is true, as he is not yet a regular starter. Yet at the same time, with Everton currently festering at the lower end of the league, is some disruption and fresh new blood not what Everton need?
I vote... Probably not yet, Rodwell stays.
Marouane Fellaini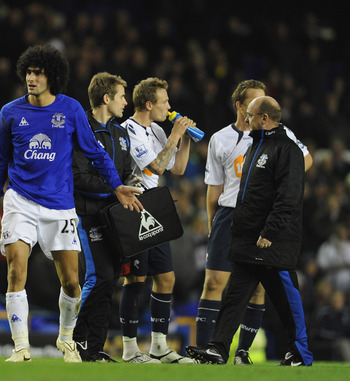 Michael Regan/Getty Images
Like Baines, Fellaini has been one of the rare positives to emerge this season for Everton. He has grown in stature for the Toffees, producing several impressive displays in the middle of the park. David Moyes clearly rates him, playing him as much as he can, and before injury curtailed his season last year, Moyes openly described him as the best midfielder in the country.
What makes Fellaini more likely to be the one to go is that he is the only one on this list not at the beginning of a new contract. Seemingly an ambitious player, would he want to sign a new contract?
His father is often quoted, almost teasing Everton fans, saying how his son will soon ply his trade for a Champions League club. Would Fellaini be the player most likely to get itchy feet, should Everton once again fail to reach Europe this season? If they did, would the Europa League be enough to match his ambitions?
Negotiations are apparently set to begin on a new contract. Everton would be keen to avoid another contract situation similar to that of Steven Pienaar, a player they spent £15 million on. That £15 million fee is also a factor, as Everton invested a lot in the Belgian international. A sale now would not provide Everton with any great profit margin, but would his value increase vastly in the future?
What would Everton do without all of those Fellaini wigs that appear on match days?
I vote... Fellaini may have to go.
Phil Jagielka
David Rogers/Getty Images
A firm fan favourite who a couple of seasons ago topped shirt sales for the club. Jagielka was heavily linked with a move away last summer, with Everton admitting they had rejected a bid from Arsenal, supposedly around the £14 million mark. Despite this, Jagielka remained focused with life at Everton, not tempted to sulk in the manner of his former defensive partner, Joleon Lescott, the summer before.
With Everton's less than impressive season, Jagielka's stock may have fallen slightly, with not as many stand-out performances as normal. That may prevent any colossal bid coming in that Kenwright and Moyes would find too good to resist, given Everton's current financial predicament.
His continued presence in and around the England starting line-up will keep suitors poised, but with a fairly new contract, Jagielka may well stay on Merseyside.
I vote... Jagielka stays.
Mikel Arteta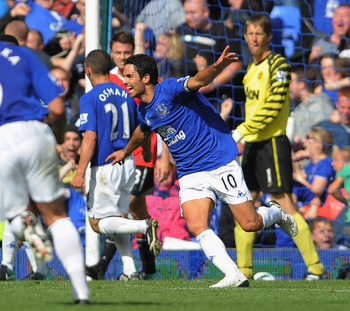 Michael Regan/Getty Images
Mikel Arteta has played in seven Premier League seasons for Everton, and generally has produced stellar displays. His name is another that has frequently been tossed about the rumour columns over the years, but he has remained very loyal to the club.
Possibly what fuels some of these rumours is how he has openly admits he would like to return to Spain one day to finish his career.
Financially for Everton, he is the club's highest earner, and in signing his new bumper contract, has since struggled through his least successful period on the pitch. Were a bid to come in, not only should it be a decent amount, but it would free up a lot of Everton's wage budget, which is edging dangerously close to an alarming 70% of turnover at the club.
Despite this, Moyes and Kenwright value Arteta as one of the key components at the football club. It must also be remembered that Arteta's wife has recently given birth, and moving now may not make sense to another family man.
He is still on the right side of 30, and though his transfer fee falls year after year as he gets older, he should have many seasons left on the pitch with Everton before he may want to return to his homeland. In past seasons, Everton fans would not have even contemplated Arteta leaving. Yet after this frustrating season, it is possibly the only time in Arteta's Everton career, that debate on him leaving the club may be thought of as necessary by a few lone Everton fans.
I vote... Arteta stays.
Nobody Listed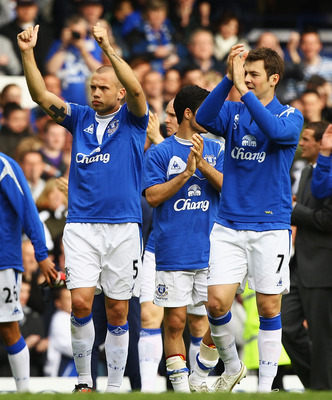 Matthew Lewis/Getty Images
I have argued in a previous article that Everton should not sell a major player at this stage, and instead look to raise funds by selling one or two fringe players.
The enigmatic Johnny Heitinga, unable to hold down a place in the team at his favoured position of centre back. The at times infuriating Diniyar Bilyaletdinov, who still seems to lack the pace required to succeed at Premier League level. These two, along with fees collected from players currently out on loan, Yobo, Yakubu and Vaughan, could amount to a handy total for David Moyes.
I still think there is enough to be mustered out of this crop of players for now, yet reading into Everton's recent financial reports, it does not look as though the club will tread this path. Everton may well prefer, and need to take, a big transfer fee.
For the fans, it would look better if just one player were to leave. Everton would not want to suddenly give off an image of a club doing a quick-fire sell, the way Portsmouth did, as they have always maintained that they hang on to their best players. They may also be against reducing an already slim squad any further.
I vote... Wheel 'n' deal, if you can!
Votes Are In...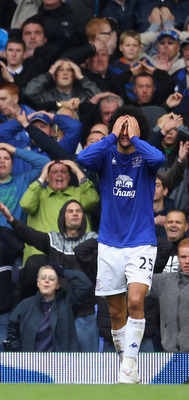 Alex Livesey/Getty Images
...Fellaini goes.
Before I alienate myself further from Everton fans, I do not want this to happen, but this is what I feel will happen.
The fact that Everton, a well established, meticulously and guardedly run club with the eighth highest attendance in the EPL, should find themselves in such a financial battle is a sad indictment of the way money dominates the modern game.
But, they are in a financial battle, and so is most of the football world. With few alternatives, Everton must and surely will, sell a key player. I vote Fellaini, who edges out Rodwell for now.
Baines, Jagielka, Arteta and Rodwell are all not long into new contracts. Everton can command outrageous figures due to their contractual situations. That makes the prospect of any of these four leaving not impossible, but not so likely if Everton do sell Fellaini. If a big club comes calling, my view is that Fellaini is the most likely to actively seek a move if Everton are not progressing sufficiently to match his ambitions. He also does not have the contract length of the others to provide Everton with time to manoeuvre.
Baines, Arteta and Jagielka are such integral pieces in David Moyes' plans that their departure would surely go against his wishes, and would cause an uproar from the Goodison Park faithful. I tend to think their departure would dent the club most in the long run. All three have been tempted by big clubs before, but they have remained steadfast, committed to David Moyes, and Everton.
Everton are not in a position to reject £25-30 million, if it comes in for any of these names. If it does, then that player would surely go, but that is unlikely. For me, it is between Fellaini and Rodwell over the others. Everton have most competition for places in central midfield, and if one of these goes, the other will provide competent enough cover.
I understand arguments for Rodwell to depart, damaging the current team the least. However, were Fellaini to go, it could provide Rodwell the platform to fully blossom and fulfil his vast potential. In doing so, he would also be adding millions to his value, something most Everton fans would be keen to see happen in the royal blue of Everton, not elsewhere.
Who could you see going?
Keep Reading

Everton: Like this team?