Inter Milan vs. Juventus: Battles To Be Fought in Derby D'Italia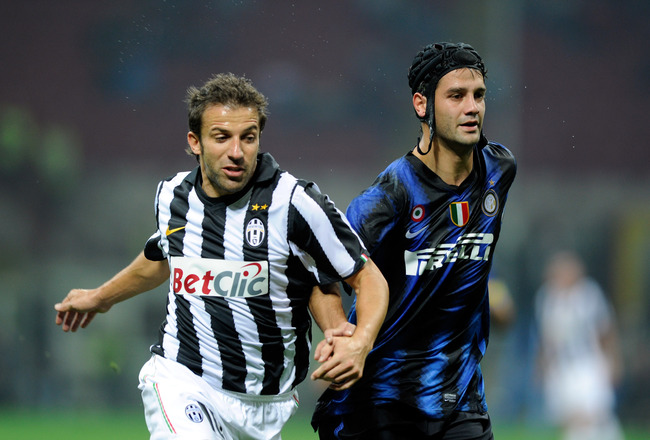 Claudio Villa/Getty Images
Juventus will have to overcome a major obstacle in their pursuit for a Champions League qualifying spot, when they face reigning Serie A champions Internazionale Milano in the derby d'Italia this coming Sunday.
The venue is set in Stadio Olimpico di Torino, Juventus' turf, and the home side will be looking to take advantage of this factor, though the same hasn't happened throughout the season.
It is not an easy task to predict the team that will emerge victorious in this matchup, looking at the various aspects that one has to study before making an educated guess.
Now let us take a good look at the anticipated battles that might take place in the awaited clash:
The Defensive Aspect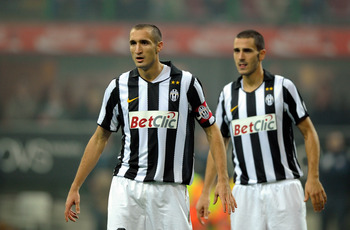 Claudio Villa/Getty Images
Both teams have world-class goalkeepers. The Italian national squad's goalkeeper Buffon, and the Brazilian national squad's goalkeeper will be looking forward to show the world who's the better keeper.
"Strikers win matches and defenders win trophies."
This is an adage which I completely agree with.
In the 2009/10 season, in addition to boasting a powerful offensive force, Internazionale had a solid defense, which majorly contributed in winning the treble.
The Fullbacks
A comparison between either Grygera or Sorensen and the almighty Maicon might sound ridiculous to any Calcio fanatic. The right back position has been a weak spot for Juventus during the past five years, with Zambrotta being Juventus' last world-class right back before departing to Barcelona back in 2006. Grygera is average at best, and while Sorenson has potential to improve vastly in the future, the switch from a center back (his original position) to a right back hasn't proved to be very effective. Maicon started this season poorly with Rafa Benitez, but with new coach Leonardo we are seeing glimpses of the '09/'10 Maicon, the powerful fullback who rips defences apart by his crosses and speed.
Therefore, Maicon > Grygera or Sorensen.
Chiellini, returning to his old position as a left back after switching to a center back during the last four years, is one of the best defenders in the world and only a few can deny this claim. Zanetti, Internazionale's captain and Serie A veteran, is a legend who is known for being a versatile and consistent player, and is both good in offensive and defensive play.
Therefore, Zanetti = Chiellini.
The Center Backs
The purchase of Ranocchia is proving to be a very shrewd acquisition, with him being a promising young prospect and proving to the world that he is a solid center back, when the Germans found it hard to get past him. Ranocchia's partner in that match up, Leonardo Bonucci, is one of Juve's best deals in the summer mercato, and this is what Ozil had to say on Bonucci: "I've never played against a better defender, I was scared throughout the game." Juventus' new signing this January, A. Barzagli, played well against Cagliari in his debut, and can be ranked as an equal to Cordoba.
Therefore, Bonucci and Barzagli = Ranocchia and Cordoba.
The Midfield Battle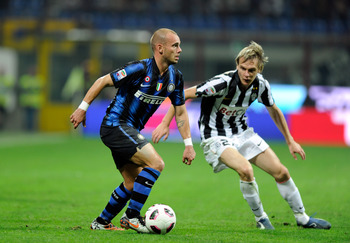 Claudio Villa/Getty Images
The source of Juventus' prowess this season is their commanding midfield that has thrived up till now.
Krasic, the crafty and skillful Serbian right winger, proved to be a vital addition to this year's squad.
Aquilani, the central midfielder who has great vision of the game and supplies accurate passes and crosses to his teammates, is in fact the key player Juve were missing in recent years.
Melo, the tough and rigid defensive midfielder, who makes insipid tackles sometimes, but commands his area very well.
The club youth product, Claudio Marchisio, who's playing out of position this year as a left midfielder, still adds a lot to the Juve game with his grit and his never-say-die attitude.
On the other hand, Internazionale plays a central game and does not depend on wingers in their tactics.
T. Motta and E. Cambiasso are both world-class defensive midfielders, with the first being excellent in retrieving the ball from the opposition and the latter being the source of Inter's widespread counterattacking force.
Sneijder is, without a doubt, one of the top three central midfielders in the past year, and will constantly pose and engender a threat to Juve's defence with his apt through balls.
H. Kharja, Inter's new attacking midfielder, who's on loan from Genoa, has had two impressive games with Inter so far, and Leonardo might be extolled for getting him.
Both teams' midfields are evenly matched, but some might claim that Juve's midfield is more of a cohesive unit than Inter's, and we'll be waiting to see who's better tomorrow.
The Attacking Force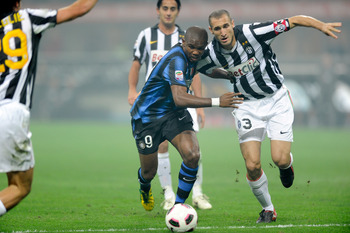 Claudio Villa/Getty Images
Internazionale's world-class striker S. Eto'o is famous for penetrating defences with ease, creating brilliant chances and scoring goals for fun.
Inter's new striker, G. Pazzini, started his debut with two goals and getting a penalty call for his team. The old-fashioned Italian target man has good shot accuracy and an excellent heading ability.
Juventus' star striker F. Quaglariella's injury this past month made things harder for the team when it comes to scoring.
However, Juve's acquisition of A. Matri (11 goals in the Serie A) from Cagliari in the last day of the transfer market, gave the Bianconeri fans hope that their team is planning to fight for honors this year.
Whether it's Toni or A. Del Piero that will start next to Matri, the team will have a good offensive force.
That being said, there is a clear gap between both teams' offenses, with Inter being the better side.
Hopefully this match will show the world Serie A's worth, when two of its heavyweight teams face each other this Sunday.
Keep Reading

Juventus: Like this team?