La Liga Rumours: Five Reasons Why Guardiola Would Leave FC Barcelona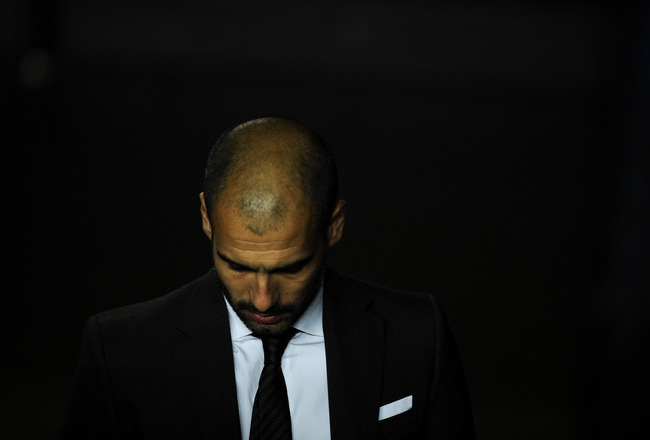 Guardiola Is Putting Barça's Fan Nervous...Very Nervous
David Ramos/Getty Images
Guardiola is the man.
With a record breaking debut season, in which he stunned the world with six titles and some amazing football season, this proud Catalan is said to be on his way out of Barcelona.
After two memorable seasons and looking up on another memorable year, Guardiola is probably one of the most coveted managers in the world.
The fact, that he has recently said that he would only think about renewing his one-year-deal at Barcelona by the end of the season, has already shaken things up.
Still what everybody feels as impossible could become a reality.
Would Guardiola leave Barcelona?
I wouldn't be so sure on saying no.
Guardiola's Attitude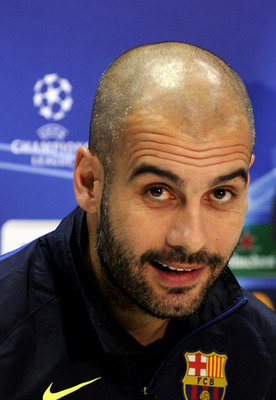 Claudio Villa/Getty Images
Last summer he denied a two-year extension.
Clever move to have a raise come June 2011 or will he look for new challenges?
Guardiola said that he knew that he would leave Barcelona some day, but it seems as if he might leave before everyone could have expected.
Throughout these years, we've seen Pep as "Barcelonism's" Sir Alex Ferguson, still the feeling is that the former captain might want to step down.
Especially after he said that he would only think of renovating two days prior to the contract's end, it makes you wonder, whether Guardiola is in to keeping himself at the helm of the culés.
The Usual Suspect: Money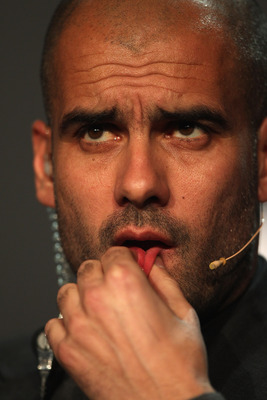 Michael Steele/Getty Images
If I told you, that Guardiola earns something around the €1,5 million marker, you would think that it is impossible.
It isn't.
Guardiola is, without any doubt, the manager with the lowest salary among Europe's elite teams.
Although he can triple his salary through multiple bonuses, the offers on the table are big and they will only grow with all the speculation come this June.
Manchester City reportedly offered him €7 million and, according to some insiders, Italy's big three and Manchester United are among the clubs interested in his services.
According to yesterday's reports on sport.com, one of Barcelona's sports newspapers, the Qatari FA is preparing a €20 million/year offer.
That would be the biggest contract in professional football, outweighing Ronaldo's yearly earnings by €8 million.
Barcelona is in a deep financial crisis and, right now, the team can either transfer some player funds to Guardiola or it might as well offer him a small upgrade.
Financially, Barcelona can't compete with these prohibitive salaries.
And we all know, that those fancy suits don't come cheap.
The Pressure Might Be Too High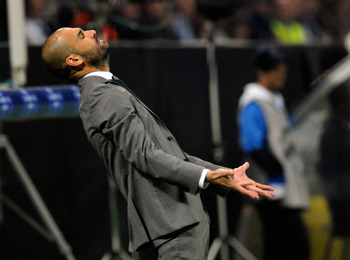 Claudio Villa/Getty Images
Guardiola delivers. He has been perfect.
Sure, he hasn't won the Champions League last season, but Barça was close.
This season they are the favorites, once again, and after breaking record after record in Spain, they are my safe pick for another triplet.
The problem is, that with all this perfection, pressure is sure to follow.
Once Barcelona got off to a regular, and I'll underline regular, La Liga start, many were starting to question his methods.
Several months later all is forgotten, but what will happen if the blaugrana don't win the title or if they have an early Champions League exit?
Right now, a game lost would mean defeat for this team and at the rate Barça is playing, the expectations won't wear off in the coming seasons.
Guardiola Doesn't Want To Be Sacked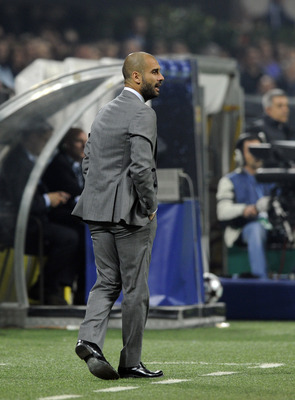 Claudio Villa/Getty Images
Let's be honest.
The majority of football's insiders would attribute Barça's success to the roster than to the manager.
Although Guardiola has won everything, no one is sure about his managing abilities.
Many of his signings have been of dubious quality and right now, Guardiola's biggest merit is picking up the guys playing in La Masia, e.g. Busquets, Pedro, Jeffren.
As I said before, the pressure is immensely high and no one is untouchable or irreplaceable, well Sir Alex Ferguson might be the exception, still I stand by my quote.
A bad season could throw Guardiola out of the Camp Nou and it would hurt his reputation immensely.
If he is too leave by his own foot and initiative in June, he will have a glorious exit, provided he wins La Liga and/or the Champions League.
His run in Barcelona will be remembered with a lot of "what if" questions and he will undoubtedly go down as one of Barça's dearest coaches.
He will leave Camp Nou as a hero and contract offers would be immensely high. If he's sacked, well, you might expect a millionaire contract in one of Europe's new-rich-clubs.
The Man Needs His Recognition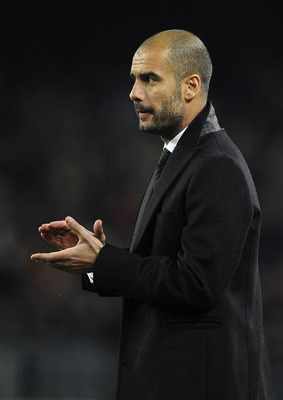 David Ramos/Getty Images
Guardiola's quality as a manager is one of the biggest questions in the world of football.
Although he is regarded as one of the most successful managers in recent years and as the creative force behind the revival of Total Football in Barcelona, many of us won't put Guardiola in the same category as Mourinho or Sir Alex Ferguson.
If we look at Mourinho's career, we can link his recognition as today's top manager to two things:
He wins.
He wins everywhere.
Excluding his Spanish tenure at Real Madrid for obvious reasons, Mourinho has won at least the league and a domestic cup in every country he coached.
That is what ranks him among the all-time greats, although his career is still relatively young.
Whether we like it or not, Guardiola's success in Barcelona will only be fully attributed to him, if he succeeds after the retirement of many key figures, e.g. Xavi, Iniesta and Puyol.
There is still a long way to go until those days and with the bar set extremely high, it would be hard for any coach to keep a long tenure in Barcelona without having a couple of heart attacks or nervous meltdowns.
If Guardiola leaves and a) wins in his new club and b) makes them play some beautiful football, we might have found ourselves another all-time great.
Keep Reading

FC Barcelona: Like this team?