Countdown to El Clasico: When FC Barcelona and Real Madrid Fans Collide! Part I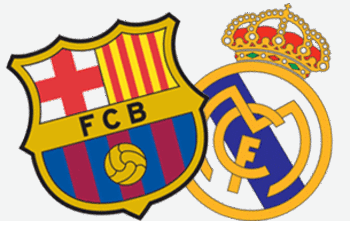 The Spanish Superpowers
This year's La Liga season promises to be the most exciting since…well, since last season. It is safe to assume that neither FC Barcelona nor Real Madrid will repeat their overall point haul.
While there has always been a huge gap in financial flexibility between Spain's top two and the rest of the Primera Division, it isn't as evident as in recent seasons.
FC Barcelona still dominate their opponents, but are lacking the final product. The Blaugrana are guilty of wasting a truckload of chances—chances they would have ruthlessly exploited mere months ago. What makes their case more curious is that with the acquisition of David Villa (and riddance of Zlatan Ibrahimovic), they should have become an even more efficient unit.
To be fair, David Villa isn't missing a beat when he is playing with his new ("new" is a bit of stretch, he knows most of them through the national team already) teammates; his off-the-ball movement and work-rate are a definite improvement over Ibrahimovic. What's worrisome is his apparent lack of fortune in front of goal.
With Villa misfiring and the increasing dependence on Xavi and Messi, it wouldn't take too much to derail FC Barcelona's 2010-2011 campaign.
After spending a quarter of a billion euro, no less, Real Madrid have been uncharacteristically prudent (for Madrid standards) in last summer's transfer window. Florentino Perez's obligatory Galactico was nowhere to be found, or better yet, not purchased. But that is if you are looking for a galactic player.
Real Madrid's biggest signing usually sits on the bench (or should) for 90 minutes plus extra-time. His name: Jose Mourinho.
If there is a Galactico among modern-day managers, it's Mourinho. Love him or loathe him, the guy is an even bigger superstar than most of his players. When you are as big a superstar as your players, especially in Madrid, then you can justify labeling yourself "the special one".
Los Blancos' problem is, and has been for a while, continuity. Manuel Pellegrini didn't win La Liga, but he hardly failed as the manager of Real Madrid.
When Pellegrin led los Merengues to the second-highest point tally of all time, he couldn't have possibly failed; he was just unlucky another team acquired even more points.
Now, under Mourinho, Real Madrid are starting over, yet again. After an initial batch of unconvincing displays, Madrid are beginning to gel as a team. But, so far, Mourinho's Galacticos haven't been tested by top-class opponents, thus the verdict is still out. The encounter against AC Milan should provide more insight to the current state of play.
FC Barcelona and Real Madrid have always had and always will share one of the most intense rivalries in world football. As has been the case in recent seasons, this year's Clasico will be a key fixture in the race for La Liga.
To build up anticipation for the fixture and provide some insight to the rivalry of these two marvelous clubs, I will publish a Barca/Madrid article every week until the Clasico.
Since I can't possibly write from an Real Madrid perspective, I asked my friend Muffhakam Shaheriyar (a die-hard Madrid fan) to contribute to this piece. I also invited my fellow Culé and Featured Columnist for FC Barcelona, Manuel Traquete, to participate and represent for the Blaugrana.
Neither of them shies away from controversial views or opinions regarding the other team, which is exactly why these two were perfect for this project. All I asked of them was to keep a respectful tone, which they did throughout.
It's not a requirement to be the best of friends or to share the same opinion in order to create an interesting piece; rather, respect and an open mind. At the end of the day, everyone who reads this article will agree to disagree, but it will invite a lot of people (hopefully) to engage in the subsequent debate.
It's easy to write something with someone who agrees with your every opinion, but it's a more difficult undertaking to do such thing with a "sworn enemy." All the credit goes to these two talented writers who didn't hesitate to help me out with my idea, which without their contribution wouldn't have been possible.
I hope you can enjoy and appreciate the efforts made by Muffhakam Shaheriyar and Manuel Traquete.
Regards,
Adi-Oula Sebastian
Brazilian Connection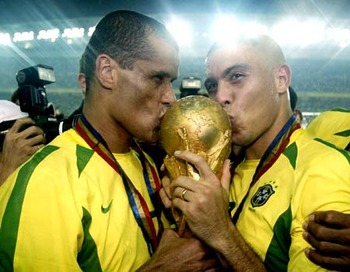 R&R
Since when have you been a fan of your team?
Muffakham Shaheriyar: Well, I have been a fan of Real Madrid since 2002. To be accurate, after Ronaldo switched from Inter Milan To Madrid. I actually started following football during World Cup 2002 in Japan/South Korea, with Ronaldo naturally catching my eye. With time passing, my passion for Real Madrid outgrew the one for Ronaldo. He still is my favorite, but I like Real more.
Manuel Traquete: I've been a fan since 2000. I had just started watching football and everything about the team fascinated me. Despite the lack of success, Rivaldo was and still is my favorite player. I guess I can say I was a Rivaldo fan before being a Barcelona fan.
Note: Under different circumstances, they could have supported the other team.
Game Theory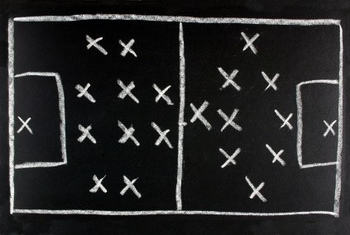 Game Time
What is the definite system for your team?
MT: 4-3-3, of course. Cruyff's system.
MS: The definite system would be 4-2-3-1 with Karim Benzema leading the line. I would prefer Benzema because I feel Higuain is not that good in the lone striker role. So, if Benzema improved his work ethic a bit, then he would be the better choice.
What If...?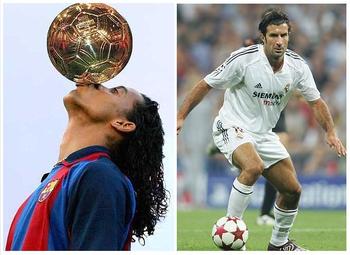 Ballon d'Or certified
Any player who you wish had never played for the other team?
MS: In recent years, it would have been Ronaldinho. When you think about it, he was rumored to be rejected by Perez in favor of Beckham because Perez wasn't convinced he could sell shirts the way Becks could. Still, I wished Ronaldo had never played for Barca before moving to Internazionale.
MT: Luis Figo. Being Portuguese myself, I'd have preferred if Figo had stayed with Barcelona.
Thou Shalt Not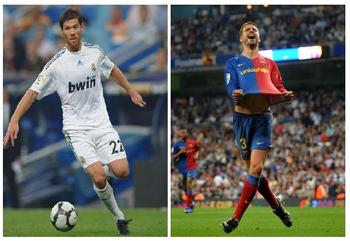 We already play for the same, don't we?
Is there any player from the other team you would like to have in your team?
MT: Yes. I believe Xabi Alonso is a player who would have fit very well with Barcelona.
MS: From the current set-up, if given a choice, I would like to see Gerard Pique in the Whites. I agree, he is a loudmouth when it comes to Real Madrid, but I still think he would be a great addition to our defense. Apart from that, I like my Madrid, thank you.
Trivia:
Xabi Alonso's father Miguel Ángel Alonso Oyarbide played for FC Barcelona (1982-1985); while Gerard Pique's full name is Gerard Piqué i Bernabeu.
From Hero to Villain or From Villain to Hero?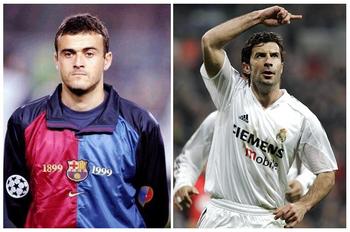 Hero or Villain?
What do you think of Luis Enrique/Luis Figo?
MS: Well, I never really followed Luis Enrique, so I am not so clear about the circumstances under which he left. Still, joining Barcelona is an inexcusable offence for a Blanco as far as I am concerned. Therefore, I don't hold him in much stead.
As for Luis Figo, well, I hold him in much reverence, which won't go down to nicely with the Barcelona faithful. I can understand what he did wasn't really acceptable for Culés, but he left for the better and bigger club, as I see it.
Figo enjoyed a successful spell in Madrid. He won two league titles and a Champions League, plus became a part of one of the best squads of all time along with Zidane, Ronaldo, Raul, Roberto Carlos, et al.
Even if they didn't win all the titles, they did play great and classy football together. Isn't that a toast to football?
Well, we at Real always hold good and attacking football at the forefront, so I guess they did give us that. He had a few successful years in Madrid. Who can forget the beating the Galacticos handed out to Manchester United at the Santaigo Bernabeu or Ronaldo's one-man show at Old Trafford?
It wouldn't have been possible without him and others, so I guess he did do us a favor by joining Real Madrid.
MT: Figo is my countryman and I have the utmost respect for him, despite his move. But of course I wish it hadn't happened. As for Luis Enrique, he never impressed me too much as a player and, personally, I don't consider him a Barcelona legend. His connection to Real Madrid makes my conviction even stronger.
To Be Continued...Part II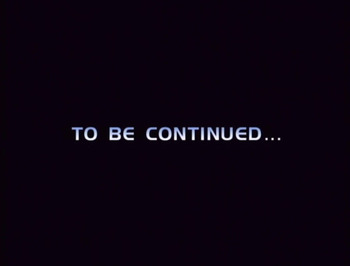 Wait for part 2
That's it for Part I. Part II will be published in the Real Madrid section.
I, for my part, have been surprised with the answers to some of the questions. Ronaldinho and Pique, anyone?
In any case, it shed some light on what's been going on, at least from a fan's perspective. That's you and me, isn't it?
In Part II, we will explore the more controversial topics…Di Stefano, maybe =)
Keep Reading

FC Barcelona: Like this team?