The Ten Most Expensive Football Players Of All-Time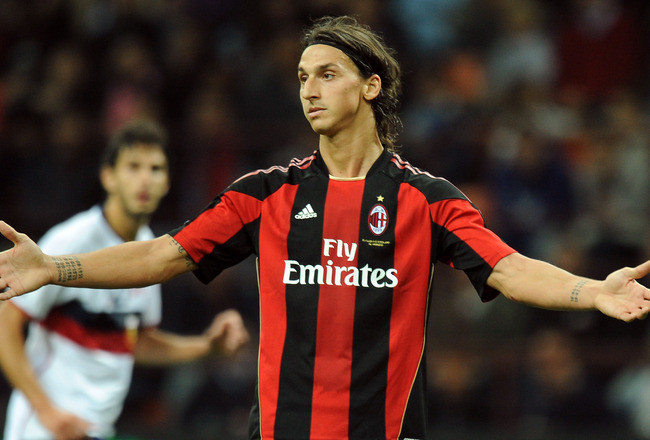 I'm just as confused as you are
Tullio M. Puglia/Getty Images
To be quite honest I had a bit of downtime so I figured rather than wasting my time watching videos on YouTube, that I do something productive. I intended to write an article about something, but this year's edition of the Champions League is kind of dull.
Don't ask me how but I ended up researching total transfer values and made quite some surprising discoveries. A few players that don't exactly scream world-class managed to accumulate a total transfer fee of more than 90.000.000€ despite being never considered one of the very best in his position.
Just to give you an idea how weird this list is…Kaka did not make it. Yes, Real Madrid's second most expensive signing of all-time didn't crack the top 10 whilst some others surpassed him quite easily.
If you have asked yourself how some clubs (my beloved FC Barcelona among them) can accumulate so much debt, this list shows you some of the most outrageous transfers ever sanctioned.
Please enjoy or rather look in shock how some of these players wind up being the top 10 most expensive signings of all-time.
No. 10 Zinedine Zidane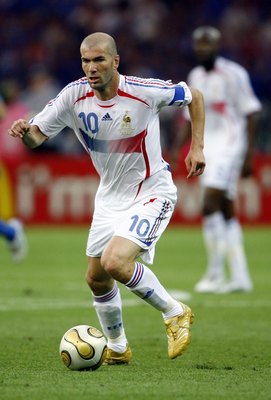 How the hell did one of the finest players of ever wound up being no. 10?
Shaun Botterill/Getty Images
Arguably the finest player of his generation, and at one point the most expensive signing ever made. He is also the most accomplished player on this list. Now let that sink in, the most accomplished player on this list only finished at No. 10. I don't know how you feel but something is wrong when Zidane is not even cracking the top three.
Things must really be messed up if one of the greatest footballers of all-time barely edges out Arjen Robben (total transfer value: 82.300.000€) for a top ten place.
Transfers:
AS Cannes to FC Girondins Bordeaux, 7.000.000€
FC Girondins Bordeaux to Juventus Turin, 3.500.000€
Juventus Turin to Real Madrid, 73.500.000€
Total transfer fee: 84.000.000€
No. 9 Robinho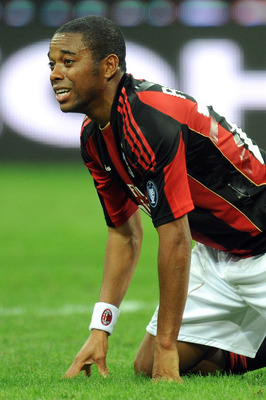 Robinho above Zidane...something is wrong.
Tullio M. Puglia/Getty Images
Another Los Blancos purchase that made the list, although the obviously gifted Brazilian is better known for his off-field antics. A certified troublemaker, drama has followed him wherever he went.
Even his transfer from Santos FC to Real Madrid has been anything but a smooth operation.
Transfers:
Santos FC to Real Madrid, 24.000.000€
Real Madrid to Manchester City, 43.000.000€
Manchester City to AC Milan, 18.000.000€
Total transfer fee: 85.000.000
No. 8 Christian Vieri
The most expensive Italian, still not enough to be no. 1
Mark Thompson/Getty Images
There was no doubt that at the beginning of this decade the Italian gave, his then teammate, the original Ronaldo, a run for his money as the best striker in the world. Nowadays he is running a fashion label with his friend and fellow former Italian international, the impeccable Paolo Maldini.
Transfers:
Atalanta Bergamo to Juventus Turin, 2.500.000€
Juventus Turin to Atletico Madrid, 15.000.000€
Atletico Madrid to Lazio Rome, 25.000.000€
Lazio Rome to Inter Milan, 45.000.000€
Total transfer fee: 87.500.000€
No. 7 Robbie Keane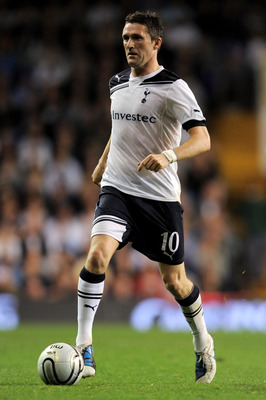 No Comment
Michael Regan/Getty Images
Yes, you can trust your eyes Tottenham's own Robbie Keane has cost more than Zinedine Zidane. This will mark about the only time that Robbie Keane joins Zinedine Zidane in a top 10 list of anything. To make things weirder as they are, he even ranks higher than the legendary Frenchman.
Transfers:
Wolverhampton Wanderes to Coventry City, 9.000.000€
Coventry City to Inter Milan, 19.500.000€
Inter Milan to Leeds United, 18.000.000€
Leeds United to Tottenham Hotspur, 10.500.000€
Tottenham Hotspur to FC Liverpool, 24.000.000€
Liverpool to Tottenham Hotspur, 16.700.000€
Total transfer fee: 97.700.000€
No. 6 Ronaldo
Usually that's all defenders saw when they played Ronaldo...his back.
Denis Doyle/Getty Images
Il Phenomeno the original Ronaldo, an all-time great, arguably the greatest striker of his generation he definitely warrants a place among the most expensive signings ever.
He also holds the distinction of having played for some of greatest rivals in football, FC Barcelona/Real Madrid; Inter Milan/AC Milan.
Transfers:
Cruzeiro to PSV Eindhoven, 5.475.000€
PSV Eindhoven to FC Barcelona, 15.000.000€
FC Barcelona to Inter Milan, 28.000.000€
Inter Milan to Real Madrid, 45.000.000€
Real Madrid to AC Milan, 7.500.000€
Total transfer fee: 100.975.000€
No. 5 Cristiano Ronaldo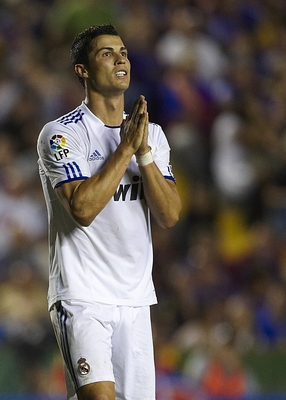 Dude what do you want?
Manuel Queimadelos Alonso/Getty Images
Yet another Galatico, the player that commands the single biggest transfer fee of all-time. The Portuguese player has thus proved to be good value for his new employers Real Madrid. The third and last Ballon d'Or & World Player Of The Year recipient on this—I'd love to say exclusive but it really isn't—list.
I was wondering why Real Madrid would shell out this much money for a player. But after realizing that a so-so player like Robbie Keane can command upwards of 90.000.000€ in accumulated transfer fees, I assume Ronaldo's price tag was more than justified.
Transfers:
Sporting Lisbon to Manchester United, 17.500.000€
Manchester United to Real Madrid, 94.000.000€
Total transfer fee: 111.500.000€
No. 4 Juan Sebastian Veron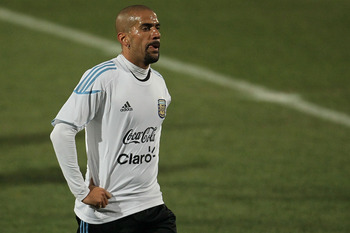 35, still going strong.
Chris McGrath/Getty Images
He's got Sebastian in his name so he must be good…chuckles. No, seriously in his heyday the Argentinean midfielder was among the finest players at his position. He just made an ill-advised move to England where his style didn't really mesh with the fast-paced nature of the Premier League.
Transfers:
Estudiantes to Boca Juniors, 2.200.000€
Boca Juniors to Sampdoria Genoa, ???
Sampdoria Genoa to Lazio Rome, 30.000.000€
Lazio Rome to Manchester United, 42.600.000€
Manchester United to Chelsea FC, 22.500.000€
Chelsea FC to Inter Milan, ???
Inter Milan to Estudiantes, 2.200.000€
Total transfer fee: 117.000.000€
No. 3 Hernan Crespo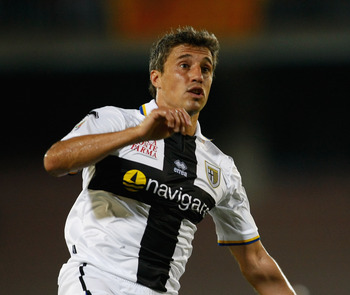 Please say goodbye already.
Maurizio Lagana/Getty Images
Another one of Chelsea's super expensive flops, this one actually cracked the top three. Crespo must not know when to call it quits because he is still playing. If Gennaro Gattuso is past it, then Hernan Crespo is something else.
But there was a time when Crespo's name would strike fear into any defense in Italy as well as Europe. Somebody please remind him that those days are long gone.
Transfers:
River Plate to FC Parma, 4.000.000€
FC Parma to Lazio Rome, 55.000.000€
Lazio Rome to Inter Milan, 36.000.000€
Inter Milan to Chelsea FC, 26.000.000€
Total transfer fee: 121.000.000€
No. 2 Nicolas Anelka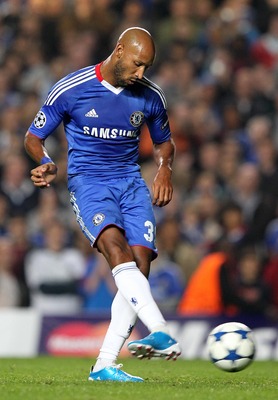 Football Nomad
Jan Kruger/Getty Images
The football version of a restless nomad, the Frenchman must have played in every league across Europe you can imagine. Though he is not known for his exceptional goal-scoring exploits, this striker has somehow managed to play for some of the biggest clubs in world football.
To this day Le Sulk has never lived up to the promise he has shown as an Arsenal youngster. One can only assume that with the right frame of mind this player could've gone on to achieve big things in football.
Transfers:
FC Arsenal to Real Madrid, 35.000.000 €
Real Madrid to FC Paris Saint-Germain, 34.500.000 €
FC Paris Saint-Germain to FC Liverpool, 1.400.000 € (loan)
FC Paris Saint-Germain to Manchester City, 19.800.000 €
Manchester City to Fenerbahce Istanbul, 5.500.000 €
Fenerbahce Istanbul to Bolton Wanderers, 12.000.000 €
Bolton Wanderers to FC Chelsea, 19.900.000 €
Total transfer fee: 128.600.000€
No. 1 Zlatan Ibrahimovic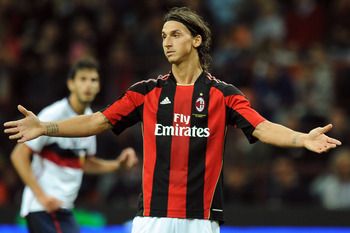 I'm as clueless as you are...how the hell did you become so expensive?
Tullio M. Puglia/Getty Images
The volatile Swede remains an enigma. He is arguably the most gifted striker of his generation, he has the height, power, technique, composure, and flair. But for some reason he always comes up short on the European stage. Whether it is the European Championships or the UEFA Champions League, he somehow manages to disappear in the knock-out stages.
Not to suggest that his is not a top quality player, but his form can be erratic at times. In a good but not great Inter Milan side he was the main inspiration of goals. In Barcelona a team revered for its one-touch football, he looked like a foreign object even though he possesses all the required skills to succeeded in Catalunya.
But even in defeat he wins, as his ill-fated spell in Barcelona made him the most expensive player of all-time.
His talents or to be more precise his attitude will still divide the public opinion, but based on sheer talent alone it's okay that he makes this list although he shouldn't come in at No. 1.
Transfers:
Malmö FF to Ajax Amsterdam, 7.800.000€
Ajax Amsterdam to Juventus Turin, 25.000.000 €
Juventus Turin to Inter Milan, 24.800.000 €
Inter Milan to FC Barcelona, 69.500.000 € (49.500.000€ plus Samuel Eto'o)
FC Barcelona to AC Milan, 24.000.000 € (Milan is obliged to buy him at the start of next season)
Total transfer fee: 150.600.000€
Final Words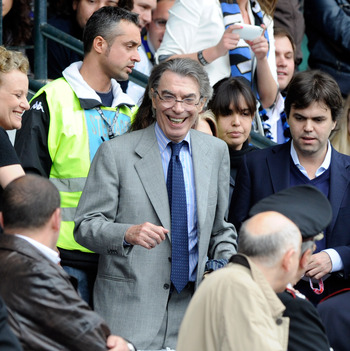 Smiling all the way to the bank
Claudio Villa/Getty Images
Is it just me or has almost every player on this list played for Inter Milan at one point or another? I've always thought that Real Madrid's Florentino Perez is transfer mad, but I guess his fellow billionaire buddy Massimo Moratti spends even more.
Keep Reading

FC Barcelona: Like this team?