Eight Reasons Tottenham Fans Shouldn't Be Disheartened By The Defeat To Arsenal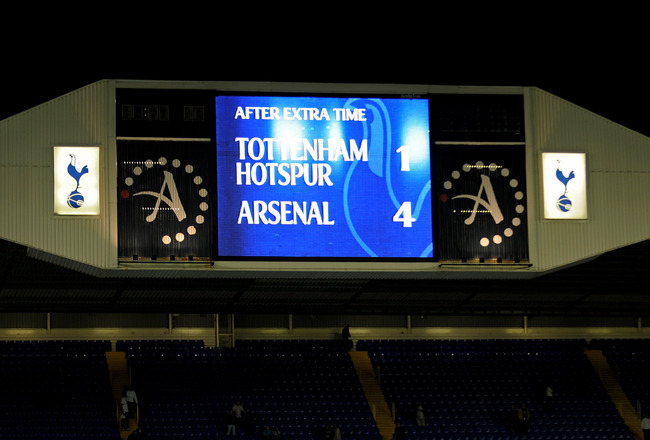 Michael Regan/Getty Images
In the latest North London derby, Arsenal beat Tottenham 4-1 in Tottenham's own stadium. While the whole episode may have seemed humiliating for Spurs fans, they actually have plenty to keep their chins up about.

Here are eight reasons Tottenham fans should not let his game disappoint them...
1. Robbie Keane Hit Form
Robbie Keane has struggled to find top form since moving to Liverpool for six months. When he returned to Tottenham for almost half the price soon after, the fans were thinking that he would jump straight back into his best form as he fits in the Tottenham set up far better. They were wrong.
With the competition from Peter Crouch, Jermain Defoe, Roman Pavlyuchenko, and Giovani Dos Santos, Robbie Keane has struggled to earn a regular starting place in the Tottenham squad, and despite one or two strong games, he has never managed to go on a long streak of his best form.
The game against Arsenal showed that he is not yet done and still has much more left in the bag. A very huge reassurance for Spurs fans following Jermain Defoe's recent injury.

And despite Arsenal's claims, he was not offside when he scored, it was a perfectly timed run (pictured).
2. It Was The Carling Cup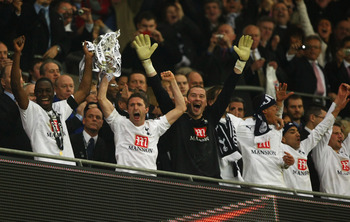 Mike Hewitt/Getty Images
Despite all the matter of Bragging rights, this game was only a Carling Cup game, the second domestic cup in England.

After the 5-1 win Tottenham earned over Arsenal in the semi finals of the tournament in 2008, the Arsenal fans laughed off the result, dubbing the tournament a 'Mickey Mouse cup'.

Fortunes now reversed, Tottenham need not take too much notice of losing to Arsenal in the 'Mickey Mouse cup'.
3. Tottenham Followed Arsene Wenger's Suit and Played Youngsters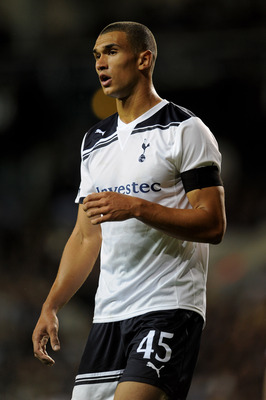 Michael Regan/Getty Images
Arsene Wenger has been playing his kids in the Carling Cup for years and has been regularly criticised. The critics have now been proven wrong as the likes of Jack Wilshere, Keiran Gibbs, and Henri Lansbury put in great performances. Wilshere and Gibbs are now international pedigree, and it is not expected to be too long before other players like Lansbury follow suit.

Redknapp played on average a third string Spurs side, including youngsters Jake Livermore and Staven Caulker. The only two starters who would normally be in the Spurs XI were Keane and Assou Ekotto. Redknapp also made 10 changes from his weekend Premier League line up, more than Arsenal made.

Arsenal's second string team beat Tottenham's third, and while the better team won on the day, Tottenham fans can take solace in the fact that they may will be giving these players crucial game time much like Wenger had in the past.
4. Tottenham Will Always Be The Original North London Team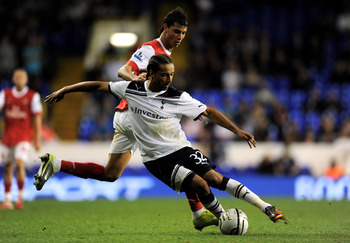 Michael Regan/Getty Images
Despite Arsenal's success over their club's life and the fact that they have won slightly more trophy's in their history, Tottenham will always be the original North London side.

While Arsenal have also had much success in games against Tottenham over the last few decades, the founding date of both clubs will never change.

Tottenham - 1882
Arsenal - 1886
5. Arsenal Have Far More To Lose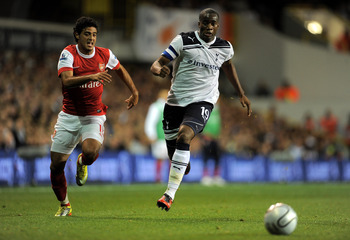 Michael Regan/Getty Images
While bragging rights are always going to exist between any two rivals, there is also an expectancy from one side that is rarely spoken of.

Aston Villa would expect to win their derby more than Birmingham City would.
Manchester United would expect to win their derby more than Manchester City would.
Watford would expect to win their derby more than Luton would.

This is the same for Arsenal against Tottenham. Arsenal are a regular in the 'big four' or now more usual 'big three', while Tottenham spend their seasons battling it out for fourth place with four or five other particularly strong clubs.

Were Tottenham to beat Arsenal it would be a big result for the club, but were Arsenal to beat Tottenham it would be exactly what the Premier League table suggests. Arsenal's cloud over Tottenham means they have far less to earn out of the North London derby than Spurs do. When Spurs win it really is something special. For Arsenal, it's just more normal.
6. Tottenham Can Look For Revenge, Arsenal Can't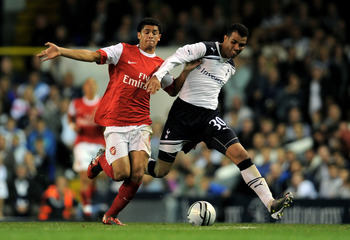 Michael Regan/Getty Images
Tottenham can now spend the rest of the season looking forward to beating Arsenal in the future. With at least two more games coming up against their rivals this season, they can look forward to getting revenge and sorting out the balance in North London.

Arsenal will have to spend the rest of their season looking over their shoulders at Tottenham, to make sure they stay in front. Having won the opening clash between the two this year, they will now feel the pressure to win the remaining two.

Tottenham have nothing left to lose against Arsenal this season and can go all or nothing into the next few games with them. Arsenal can't.
7. Tottenham Have a Far More Exciting Season Ahead
Michael Regan/Getty Images
Arsenal's season this year will consist of pushing for second or first in the Premier League, which they appears to be just out of their reach again this season. They will also be pushing to win the Champions League which also looks out of their reach. They should have no trouble holding on to third place in the Premier League however, and a respectable finish in the Champion's League. No ups and no downs at Arsenal again. There hasn't been for five or so seasons.

Tottenham's season this year consists of pushing to reclaim fourth place in the Premier League which as seen last year is within the clubs reach. They also face their first season in the Champions League not knowing what to expect, and fighting for a respectable finish, which is within the club's ability. Tottenham go through so many ups and downs, supporting the club is an enjoyable and exciting roller coaster experience.
8. The 4-1 Scoreline Is Flattering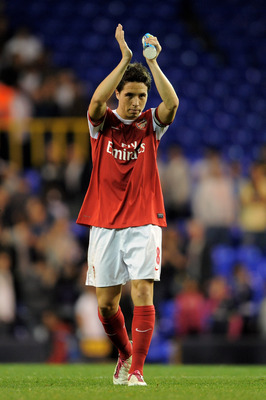 Michael Regan/Getty Images
Arsenal were the better team on the night. Arsenal outplayed Tottenham in most parts of the pitch. Arsenal had the most chances on goal. Arsenal also deserved their win at the end of the night.

That said, if the encounter had been a Premier League game, it would have finished at 1-1 after 90 minutes, which would have been a very respectable result for a poorly performing Tottenham reserve side playing against Arsenal's now experienced wonder kids.

Arsenal scored three goals in the first half of added time, two of which were penalties, one of which was a particularly questionable call. That penalty gave Arsenal the confidence to see out the rest of the game.

For a side that failed to convert any of their dominance in the main 90 minutes, a 4-1 victory is a very generous result for them.
Keep Reading

Tottenham Hotspur: Like this team?