Dimitar Berbatov and 10 EPL Players Ready To Bounce Back In 2010-2011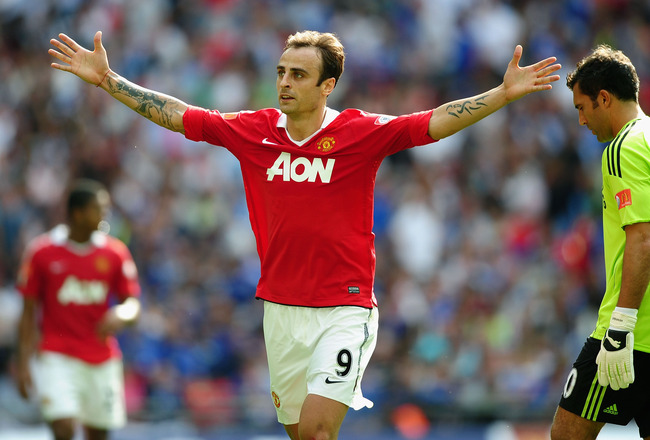 Laurence Griffiths/Getty Images
When we think about great players it is easy to think they were on top their whole career. The truth is, even the best have rough patches and can lose their shine for a season.
Injuries, loss of confidence or off the field problems can lead even the best to have a down spell.
Here we look at 10 players who have fell from grace recently, but are ready to counce back with a vengeance in the 2010/2011 Premier League season.
Emile Heskey: Aston Villa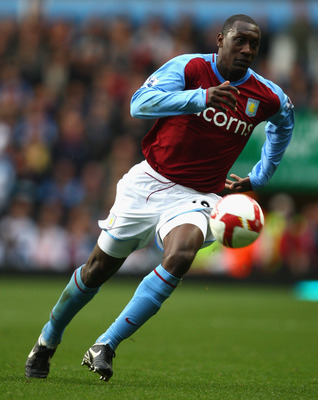 The perennial scape goat found himself in and out of the Villa team throughout last season, with almost half of his Premier League appearances coming from the bench. As a result, Heskey netted only three Premier League goals, but still earned a call to Fabio Capello's World Cup squad.
Heskey set up England's first goal with a clever pass to Steven Gerrard, but failed to score in the tournament and eventually lost his place to Jermain Defoe. Heskey was roundly abused by critics, who failed to note he outperformed star man Wayne Rooney over the summer.
With a new manager set to take over at Aston Villa, the powerful forward has a renewed chance to gain a starting spot and add to his career tally of 106 Premier League goals.
Ben Foster: Birmingham City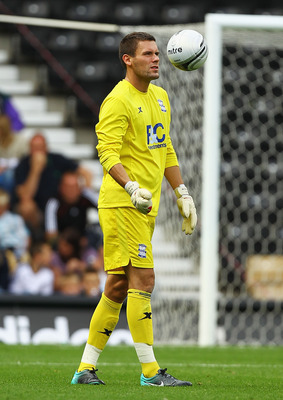 Ben Foster was once touted as the bright future of England's goalkeeping. He was loaned out from Manchester United to Watford in 2005, when thrilled Hornets manager Aidy Boothroyd crowed. "He is a better goalkeeper than Edwin Van Der Sar. He is going to be the best goalkeeper in the world."
While that propaganda was always going to be impossible to live up to, Foster played very well as Watford were promoted to the Premier League. Foster started in Watford's 3-0 playoff final victory over Leeds United at Wembley.
Foster returned to Waford on loan the following season and won the club's Player of the Year award. performing well in the face of relegation.
Foster had brief stints in goal for Manchester United, with the highlight being his performance in the 2009 League Cup Final against Tottenham Hotspur.
After a 1-1 tie, Foster starred in a 4-1 penalty shootout victory. Foster famously prepared for the shootout by watching footage of Tottenham players take penalties on his iPod.
However, Foster's fall from the spotlight has been gradual for the last few years. He is no longer in the England discussion, and has even faced competition to be the No. 2 keeper at Old Trafford.
Many fans still chuckle at the vision of him being beaten from 80 yards with a free kick from then England rival Paul Robinson.
Foster will spend this coming season at Birmingham City, and we need to look no further than Joe Hart to see the positive impact that can have on a goalkeeper's career.
If Shay Given holds on to his number one shirt above Hart at Manchester City, we could see Foster emerge once again as an England goalkeeper.
Martin Petrov - Bolton Wanderers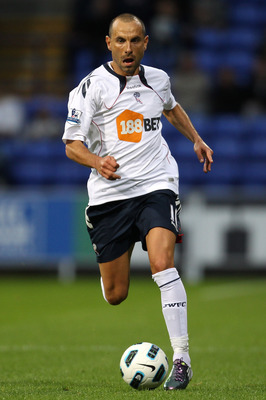 Martin Petrov burst onto the Premier League scene in 2007 when Sven-Goran Eriksson's Manchester City signed the flying winger from Atletico Madrid.
The flying winger in the black gloves became a staple of highlight shows throughout his first season as he racked up nine assists and five goals from out wide.
Petrov has a direct style of play and the ability to beat fullbacks off the dribble...a true throwback winger.
Last season Petrov started only eight Premier League games but still notched four goals and three assists.
Rather than give Petrov a road back into the City lineup, it merely preceded the signing of World Cup-winning winger Davis Silva.
Silva joined Shaun Wright Phillips, Craig Bellamy, Adam Johnson, and a host of other attacking options that shunted Petrov further down the pecking order, leading to his eventual release.
Motivation for Petrov will be abundant as he is still angry over his treatment at the hands of "unprofessional" Manchester City.
"I am 31 years old and I felt like I was 13 there. Nobody spoke with me," seethed the flying winger.
Expect City fullbacks to have their hands full with a fired-up Petrov when his new team Bolton Wanderers face them this season.
The threat of Petrov's crossing will be very potent at Bolton, as two exceptional aerial strikers will be on the end of them.
Spring heeled Kevin Davies and the powerful Johan Elmander will relish the service of Petrov, and help him bounce back onto the Premier League scene with a bang.
Michael Essien - Chelsea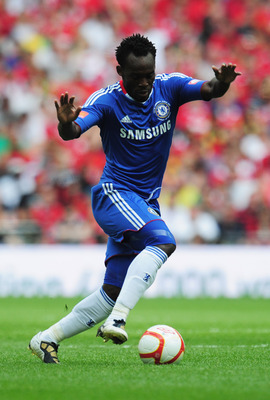 A World Player of the Year nominee in 2007, Injury has limited Michael Essien to only 25 Premier League appearnaces over the last two seasons.
The midfield dynamo also missed the World Cup while recuperating. It makes you wonder how well Ghana would have played had the excellent Essien been in their lineup.
Fully recovered and ready to go, Essien has expressed his enthusiasm to return to the Chelsea lineup after starting in the Community Shield defeat last weekend.
"It is good to be back in the team and I am looking forward to the new season," said the man some regard as the best box-to-box midfielder in the Premier League.
With his outstanding defensive ability and the ability to join the attack at pace, Chelsea fans will be just as excited to see Essien return to his place on top of world football.
Jamie Carragher - Liverpool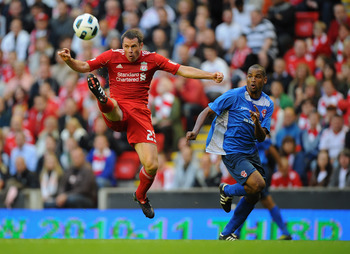 "We all dream of a team of Carragher's" is a song that has been sung by Liverpool fans over the years. Last season at times, it may as well have been sung by the opposition.
Carragher is one of the best defenders in the history of the Premier League, but last season he was exposed and beaten on a number of occasions.
His loss of form had a negative impact as perennial top four club Liverpool slipped from the Champions League spots.
The form of Carragher was no better during the World Cup after his surprise and what now seems pointless return to the England team.
His pace was brutally exposed by Jozy Altidore, and he struggled through the tournament before eventually being replaced by Matthew Upson.
Carragher is on his last legs as a Liverpool player but was recently handed a lifeline by new manager Roy Hodgson, who assured Carragher he could finish his career as a red.
Hodgson has a history of bringing the best out of players, and Carragher may just have big year left in him, as he bids to win the Premier League winner's medal he has coveted his entire career.
Stephen Ireland - Manchester City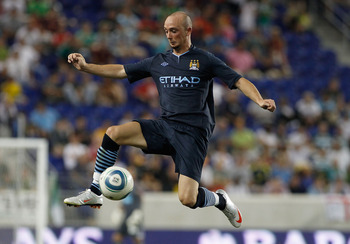 Like Petrov, Stephen Ireland is another player who has been buried underneath the never-ending hoarding of attacking players by Manchester City.
Last season Ireland scored three goals for Manchester City and recorded four assists. The season before, it was 13 goals and 13 assists.
A fan favorite known as 'Superman', Ireland has slowly been edged out of the team and is reportedly in talks regarding a move to Aston Villa, with James Milner heading in the opposite direction.
Ireland has pace, skill and the ability to time his forward runs with devastating effect.
A move will see him return as a regular Premier League starter, and give defensive players nightmares up and down the country.
Dimitar Berbatov - Manchester United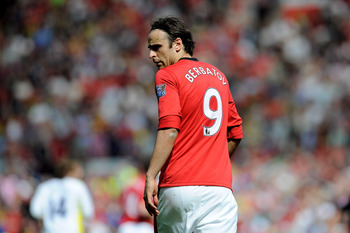 Dimitar Berbatov was signed by Sir Alex Ferguson in 2008 for over 23 million pounds.
Berbatov arrived at Old Trafford as one the Premier League's hottest strikers, having netted 45 goals in the previous two seasons for Tottenham Hotspur.
Berbatov has sublime technique, a silky tough and the ability to produce moments of sheer magic. However, he has become unpopular with many Manchester United fans in his time at Old Trafford so far.
Berbatov has netted 26 goals and produced 19 assists in his two seasons as a Red Devil, but he has been left on the bench for some big games.
The all-time leading scorer for his national team, Berbatov failed to help Bulgaria reach the World Cup.
This could prove beneficial for United, as Berbatov has a summer's rest and refreshment ahead of their title challenge.
Berbatov has looked sharp in preseason, and rounded off the scoring the 3-1 Community Shield victory over Chelsea with an excellent finish.
Berbatov received a vote of confidence from teammate Nemanja Vidic after the Community Shield victory.
"It was important for Dimitar to score; he's been under a lot of pressure but I think he'll score more this season." said the Serbian defender.
James Beattie - Stoke City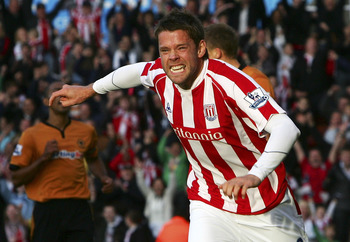 The former England hit man has endured a rough time at the Brittania Stadium of late.
After being needlessly assaulted by the unprofessional Tony Pulis, Beattie has sat in frustration as less talented forwards such as Mamady Sidibe have lead the line for the Potters.
It is very likely that as soon as Stoke bring in a forward, then Beattie will move on and resurrect his Premier League career.
Beattie is a powerful forward with a tremendous ability to win aerial balls and perform the dirty work of hold up play and defensive pressure.
Teams such as Blackpool and West Bromwich Albion have been showing interest in Beattie.
If anyone doubts the value Beattie could have for those clubs in their quest to stay in the league, they may want to bear in mind he has more Premier League goals to his name than Didier Drogba, Dennis Bergkamp, and Cristiano Ronaldo.
Robbie Keane - Tottenham Hotspur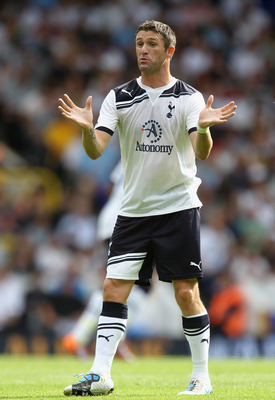 Paul Gilham/Getty Images
Robbie Keane was shipped north on loan to Glasgow Celtic in the last transfer window, a move that many believed could be the end of his days at Tottenham.
However, Keane has returned and is determined to crack the Spurs starting lineup. He may be helped by the off-field problems of John Terry wannabe, Peter Crouch.
"That spell on loan to Celtic got me back into the swing of things, it got my hunger back to football, which I have now, so that will stand me in good stead for the new season."
Keane has had an unusual career at times. He has played for seven different clubs, and achieved a dream move to Liverpool, only to be shipped back to Tottenham after playing only 19 games.
However, he is a truly quality player, and an excellent goal scorer.
The quality of Keane shows through in the fact that he received his 100th cap for the Republic of Ireland this week (he has scored 43 goals), and he is two goals away from joining the all-time top 10 goal scorers in Premier League history.
Robert Green - West Ham United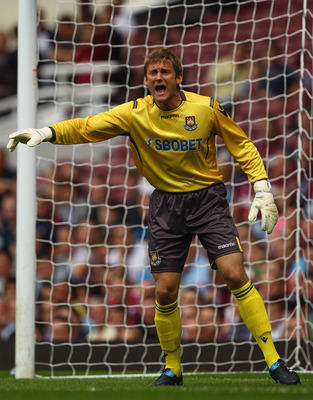 Nobody needs reminding of the performance of old Robert 'Soap Hands' Green during the World Cup.
Green's Premier League season with West Ham United was not too successful either. Green started all 38 Premier League games for West Ham, but conceded 66 goals as the Hammers just avoided relegation.
Green will face a tough time from English crowds throughout the season and will need to show mental strength to succeed, as well as ability.
So far in the preseason, routine saves made by Green have been met with ironic cheers from supporters.
Expect the spotlight to shine brightest when Green comes up against Clint Dempsey and Fulham.
Green has the ability to play goalkeeper to a high level, he must produce all season if he wants to break back into the England lineup.
Keep Reading

Manchester United: Like this team?