Freedom Newbies: Steamroller Brittany Bock
July 20, 2010
The third in a series of features on the new players of the Washington Freedom, the spotlight is focused on University of Notre Dame star Brittany Bock.
Merriam-Webster's Dictionary defines steamroller as "a crushing force especially when ruthlessly applied to overcome opposition."
Kindly direct your attention to the video below, and proceed to the 3:55 mark.
Yup, sounds about right.
"When it comes to physicality, she definitely brings it," Washington Freedom team captain Cat Whitehill said before a training session at the RFK Stadium in Washington, D.C. "You don't ever want to go into attacking with her 'cause you don't know if you'll come out alive."
Whitehill was of course joking about Brittany Bock, the fearless midfielder from Naperville, Illinois.
Acquired by the Freedom through the Los Angeles Sol Dispersal Draft earlier this year, Bock was one of the breakout stars in the inaugural season of the WPS. Part of the Sol backline that held the best defensive record in the league last season, Bock stood out enough to get call ups to the full national team in 2009.
And to think that being a center back for the first time in her career was not something she had anticipated when she joined the Sol.
"I was talking to my parents before the first game, 'Yeah they're gonna play me at center back and I don't know what I'm doing.' And you know, I liked being in the attack. I like creating goals, opportunities, scoring goals," Bock recalls. "So when I found out I was gonna be at the back, I thought, 'Aww man.'
"But new things come out of that and I got called in to the national team. Everything happens for a reason and I was just so stoked."
Bock played all season, even when she was starting to encounter some problems with her feet. The last straw came when, in Germany with the national team back in October, she got kicked on her left foot. Unable to play anymore, Bock had her feet looked at. Her left foot had a snapped ligament and her right foot had the sesamoid bone broken in half.
Bock went to a few doctors and had foot surgeries during the offseason, expecting to come back to LA to play for the Sol within a few months. But she, like the rest of the WPS community, was in for a surprise.
The Sol, the 2009 regular season champion, ceased operations in late January 2010.
A dispersal draft was immediately held as the Sol's players were picked up by the remaining eight teams in the league. The Freedom chose Bock.
"I've had so many struggles through this season. I had two foot surgeries, one on each foot. And then Sol folded. So I was like, 'Oh my gosh. My life,'" Bock recounts. "And the Freedom picked me up and have stuck with me and helped me out so much.

Bock practices with her Freedom teammates at the RFK Stadium.
"I'm still not really back on the pitch like I regularly would be, I'm still having a lot of pain. But they have been so extremely patient with me and behind me a hundred percent of the way. And I love this team. We're so close, we work so hard for each other, and regardless of what happens on the field, we're an extremely strong unit. This team has been more than I could ever ask for and I absolutely love it here."
Away from loved ones can be tough, but fortunately for Bock, aside from hanging out with her teammates, her parents, Brian and Kelly Bock, often make trips to visit her and watch her games. Especially mom Kelly, who became rather popular at a Sol-Freedom game last year (2:35 mark).
Fans recognize Kelly Bock in Freedom games, and at times even cheer for her. Whether it's because of her TV appearance last year, or that she's a regular staple at home games and events, or that she wears a Freedom "Bock" jersey, Kelly has emerged as a new celebrity ("My mom said, 'I'm more famous than you!'"). And the soccer mom has been a supporter since the start.
Growing up in Naperville, Illinois, the younger Bock got into soccer when her parents let her and her siblings get into different sports, to see which one they would enjoy the most.
Bock chose soccer and grew up playing in co-ed teams and girls' teams as a kid. Yet while playing in girls' teams, she trained with boys. And in high school, Bock joined boys' team Chicago Magic to become a quicker, faster, and stronger player.
Which must have paid off as Bock enjoyed an incredible college career with the University of Notre Dame, including being named a Hermann Trophy semi-finalist. She also played for the U.S. Youth National Teams before getting called up by the full national team last year.
Now playing for the nation's capital, Bock hopes to get 100% healthy so she could help the Freedom out more as they fight for a spot at the playoffs. Used to being a 90-minute player, she has only come in at the second half in the few games that she has played. But like that game in California against FC Gold Pride, Bock can prove that she is still a force to be reckoned with.
"I have this 'no fear' attitude. I literally run through anything and everything. I go for the ball, and if something's in my way, I mean I don't want to hurt them but..." Bock laughs.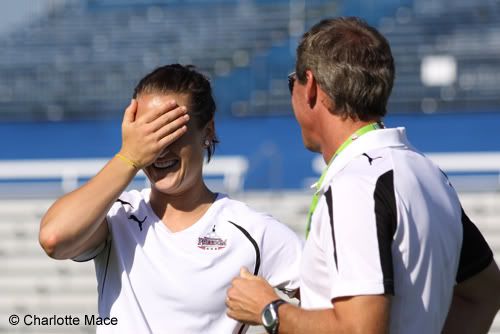 Watch Bock charge through her opponents by catching a game at the Maryland SoccerPlex. Go to WashingtonFreedom.com for more information.
To get to know other Freedom Newbies, check out the feature on Norwegian striker Lene Mykjaland and rookie defender/forward Nikki Marshall.