2010 FIFA World Cup Predictions: A Prediction for Every Single Game
The only truly predictable thing about any World Cup is its unpredictability.
This may be especially true for this summer's festivities in South Africa, where five out of the nine host cities are at altitudes of over 1200m.
Playing at a height will affect the players' physical performances, as well as altering the usual flight of the ball.
It is the first time since Mexico '86 that the World Cup will have been played at any great altitude, which should lead to some unpredictable results.
But that's not going to stop us from giving it a go, as we present a match-by-match score prediction from the group stages all the way to the final.
Feel free to tell us how wrong we will be.
Begin Slideshow

»
June 11th:
South Africa 1
Mexico 1
Uruguay 2
France 2
The tournament opens with a pair of entertaining draws.
Spurred on by the home crowd, "Bafana Bafana" scrape a draw against a wasteful Mexico.
Meanwhile, France is fortunate to come away with a point against the South American qualifiers.
June 16th:
South Africa 1
Uruguay 3
June 17th:
France 1
Mexico 2
The host nation's dreams are destroyed by the free-scoring Uruguayans.
In one of the big upsets of the round, France is thoroughly outplayed by the classy Mexicans.
June 22nd:
Mexico 1
Uruguay 1
France 2
South Africa 0
The French need to win to have any hope of qualifying and duly beat a devastated South Africa.
However, Mexico and Uruguay play out a rather convenient draw that sends them both through to the second round.
"Les bleus" are out!
June 12th:
Argentina 1
Nigeria 1
South Korea 1
Greece 0
The World Cup has yet to see a win as its third match sees a shambolic Argentina scrape a point against a well-organized Nigeria.
Three points are finally gathered as South Korea eventually finds a hole in the tough Greek defense.
June 17th:
Argentina 2
South Korea 1
Greece 1
Nigeria 2
Argentina continues to stumble but eventually manages to beat the unlucky Koreans.
Nigeria puts one foot in the second round with a victory over the Greeks in an unexpectedly entertaining match.
June 22nd:
Greece 0
Argentina 3
Nigeria 2
South Korea 3
In a humdinger of a battle, South Korea breaks a nation's heart, as the Super Eagles fly home early. The impressive Koreans are in the second round.
Maradona's side finally clicks into gear. Argentina trounces the unfortunate Greece and tops Group B.
June 12th:
England 2
USA 1
June 13th:
Algeria 0
Slovenia 1
A spirited American effort brings no reward as an unimpressive England wins the Group C opener.
The group's little-watched second game sees Slovenia pick up three points against a poor Algerian side.
June 18th:
Slovenia 1
USA 3
England 2
Algeria 0
The US makes up for its previous disappointment with an excellent win against the European qualifiers.
England continues to under-whelm with a routine victory over its African opponents.
June 23rd:
USA 2
Algeria 1
Slovenia 2
England 2
America starts to dream as they reach the second round with a hard-fought victory over Algeria. The Desert Foxes finally put in a good performance, even if it is a case of too little, too late.
A scare for Fabio Capello's team as Slovenia comes close to taking three points. But the USA's victory means a draw is not enough and Matjaz's Kek's plucky side is out of the World Cup.
June 13th:
Serbia 2
Ghana 3
Germany 3
Australia 0
The first classic of the tournament sees Ghana enticed out of their defensive shell by the skillful Serbs. The Black Stars shine in a thrilling win.
Germany coach Joachim Low surprisingly starts with Stuttgart's Cacau, and poor Australia is taken apart by the Brazilian-born striker.
June 18th:
Germany 1
Serbia 2
June 19th:
Ghana 1
Australia 1
The Real Group of Death lives up to its billing as Germany is surprised by a classy performance from Raddy Antic's young Serbian side.
Meanwhile, the "Socceroos" keep their World Cup dream alive with a battling draw against Ghana.
June 23rd:
Australia 2
Serbia 1
Ghana 1
Germany 2
In a dramatic end to Group D, Serbia's World Cup dream finishes in a 2-1 defeat to Australia.
Despite their win, the "Socceroos" are also out as Germany's narrow win over Ghana means both teams are through to the second round.
June 14th:
Holland 3
Denmark 1
Japan 0
Cameroon 2
The Dutch show why they are one of the tournament's pre-favorites with a fine victory over Denmark.
Cameroon gets off to a good start with a win against a poor Japanese side.
June 19th:
Holland 4
Japan 0
Cameroon 4
Denmark 3
Holland routs Japan to ease their way into the second round.
Cameroon also books its place in the knockout stages by beating the Danes in a thrilling match in Pretoria.
June 24th:
Cameroon 0
Holland 2
Denmark 1
Japan 0
With both sides already qualified and resting key players, Holland secures top spot in Group E.
The disappointed Danes salvage some pride as Japan exits the World Cup without scoring a goal.
June 14th:
Italy 0
Paraguay 0
New Zealand 0
Slovakia 1
A sluggish Italy gets off to its traditional slow start against South American qualifiers Paraguay. It is the first scoreless draw of the tournament.
Underdog New Zealand battles hard but is unable to prevent Slovakia from picking up a useful three points.
June 20th:
Slovakia 1
Paraguay 2
Italy 1
New Zealand 0
Paraguay gets an important win against the European qualifiers.
Meanwhile, Italy continues to struggle as the "Kiwis" prove they are not the whipping boys everyone assumed they would be.
June 24th:
Slovakia 0
Italy 0
Paraguay 2
New Zealand 2
The "Azzurri" shut down shop and earn the point they need to secure a place in the second round, sending Slovakia home early.
The already-eliminated New Zealand picks up its first point of the tournament against a Paraguayan side with one eye on the second round.
June 15th:
Ivory Coast 2
Portugal 2
Brazil 2
North Korea 0
Despite the loss of star striker Didier Drogba, Ivory Coast finds the target twice against Portugal.
However a second-half comeback secures a point for Carlos Queiroz's European contenders.
Brazil efficiently dispatches a hard-working North Korea.
June 20th:
Brazil 2
Ivory Coast 1
June 21st:
Portugal 2
North Korea 0
Another effective performance from Brazil dispatches the challenge from the "Elephants."
No repeat of their 1966 heroics from North Korea as Portugal eventually break through their stout defense, eliminating them from the tournament.
June 25th:
North Korea 0
Ivory Coast 3
Portugal 1
Brazil 2
Needing plenty of goals to ensure progress to the second round, Ivory Coast's attack proves its worth in a victory over already-eliminated North Korea.
The "Elephants'" goal charge sends Portugal home on goal difference as Brazil ensures the top spot in Group G with a narrow win.
June 16th:
Honduras 1
Chile 2
Spain 2
Switzerland 0
The final group gets off to a flying start with an exciting 2-1 win for Chile over CONCACAF qualifiers Honduras.
World Cup favorites Spain get off to a strong start with a good victory over the Swiss.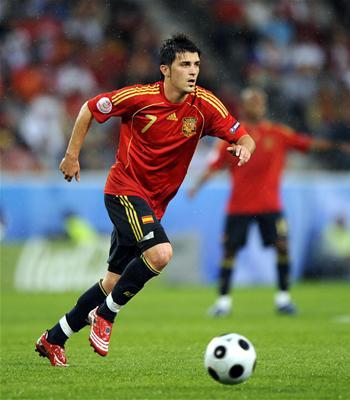 June 21st
Chile 2
Switzerland 1
Spain 3
Honduras 1
Chile secures its passage to the second round with a win over a battling Swiss side.
Spain does likewise with a convincing victory, which means plucky Honduras will go home early.
June 25th:
Chile 0
Spain 1
Switzerland 2
Honduras 2
Both Chile and Spain rest keys players as Spain's superior reserves secure top spot in the group.
The two eliminated sides share the honors in an entertaining draw.
June 26th:
Uruguay 4
South Korea 2
England 1
Ghana 0
A feast of attacking football sends the South Americans into the quarterfinals for the first time since 1970.
Ghana defends valiantly but eventually succumb to England's struggling attack.
June 27th
Germany 2
USA 1
Argentina 3
Mexico 2
Germany proves too strong for a battling USA side in an intriguing second round contest.
The tournament really comes to life as Argentina and Mexico trade goals in a thrilling match in Johannesburg. Argentina needs extra-time to send the Mexicans home heartbroken for the second successive World Cup.
June 28th:
Holland 2
Italy 0
Brazil 4
Chile 1
Italy's luck finally runs out as the holders lose their hold on the title against a superior Dutch side.
Brazil star to hit top gear with an excellent win over their impressive fellow South Americans.
June 29th:
Paraguay 0
Cameroon 1
Spain 2
Ivory Coast 1
Two nervy sides fail to score in 90 minutes before Cameroon earns a place in the quarterfinals with an extra-time winner.
Spain struggles to contain the "Elephants," needing extra-time to secure their quarterfinal spot.
July 2nd:
Netherlands 2
Brazil 2
(Brazil wins on penalties)
Uruguay 1
England 2
The most eagerly awaited of the quarterfinal clashes does not disappoint. After 120 minutes of glorious football Brazil wins the deciding penalty shoot-out, breaking Dutch hearts.
Uruguay pushes England close, but Fabio Capello's men finally show some good form and line-up a mouth-watering semi-final clash with Brazil.
July 3rd
Argentina 3
Germany 1
Cameroon 2
Spain 1
Argentina gets revenge for its 2006 World Cup exit at the hands of Germany. It's an impressive performance from a steadily improving side.
Roared on by the local crowd, Cameroon shock a tired-looking Spain in extra-time.
July 6th
England 0
Brazil 2
Brazil outclass Capello's men and marches on to the final with a routine victory against a disappointing England.
July 7th:
Argentina 3
Cameroon 1
Cameroon pushes Argentina, but Maradona's men eventually run out winners with two goals in extra-time.
July 10th:
England 1
Cameroon 2
The devastated England players seem uninterested as Paul Le Guen's surprise Cameroon side secures the bronze medal—Africa's first ever World Cup honors.
July 11th:
Brazil 2
Argentina 1
Tears for Maradona and vindication for under-pressure Brazil coach Dunga, as his Brazil side comfortably takes the title despite the best efforts of player of the tournament Leo Messi.