Chelsea's 6-3 win over Everton was without a doubt the wildest fixture of Week 3 of the 2014-15 Premier League season, with goals flying in from everywhere and the kind of pace only the British top division can offer.
Diego Costa and Branislav Ivanovic started proceedings with two goals inside of the first three minutes, before Kevin Mirallas pulled one back for the hosts.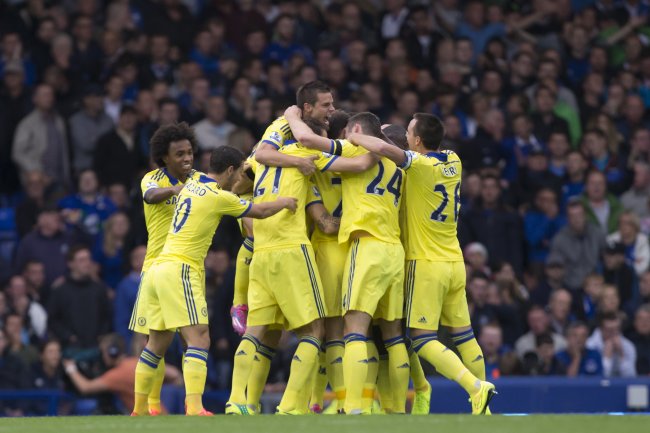 Jon Super/Associated Press
A Seamus Coleman own-goal set the stage for 11 crazy minutes, which saw goals from Steven Naismith, Nemanja Matic, Samuel Eto'o and Ramires. The Toffees came close to scoring when a Mirallas-volley was parried onto the post by Thibaut Courtois, before Diego Costa put the match to bed with his second of the day.
As shared by Squawka, the Spanish international had a near-flawless performance on Saturday:
Diego Costa game in numbers: 2 goals. 100% shot accuracy. 2 chances created. 4 tackles won. Top scorer. pic.twitter.com/BX1HD6pqBA

— Squawka Football (@Squawka) August 30, 2014
The Brazilian-born striker was brought in over the summer as a replacement for Fernando Torres, and per OptaJoe, it's safe to say the Blues made the right choice:
4 - Fernando Torres took 39 games to score four PL goals for Chelsea; Diego Costa has reached that total in three matches. Alternative.

— OptaJoe (@OptaJoe) August 30, 2014
SportCenter agrees the Spaniard's short career with the Blues has been nothing but brilliant so far:
Diego Costa's been nothing shy of brilliant for Chelsea. 4 goals in 3 games, 2 today in Blues' 6-3 win vs Everton. pic.twitter.com/ZVh1RFVA2H

— SportsCenter (@SportsCenter) August 30, 2014
His second goal also made him the top scorer of any of the top European leagues, per WhoScored.com:
Diego Costa: Has scored more goals than any other player in Europe's top 5 leagues this season (4) #CFC

— WhoScored.com (@WhoScored) August 30, 2014
Ivanovic also found himself on the scoresheet (albeit from an offside position), but the Serb struggled to contain Everton's powerful wingers and full-backs for much of the afternoon. As shared by Chelsea Updates, he believes the squad will have to remember this match for the rest of the season:
Ivanovic: It was a very hard game defensively and offensively. We conceeded goals which is quite unusual for us. It will serve as motivation

— Chelsea Updates (@Chels_Update) August 30, 2014
The defender has become quite the prolific scorer, via Squawka:
L. Baines is the only defender to score more Premier League goals (14) over the last 4 seasons than B. Ivanovic (13). pic.twitter.com/frZcU6xyDm

— Squawka Football (@Squawka) August 30, 2014
The Guardian's Phil Taylor was full of praise for the Serbian international:
Branislav Ivanovic is a machine for Chelsea - right-back, right-winger and occasional centre-forward all in one.

— Daniel Taylor (@DTguardian) August 30, 2014
Matic's goal came at a crucial time, as the Toffees appeared to be grabbing momentum following the score of Naismith. The young midfielder finished expertly from outside the box, and per Squawka, it was his first goal ever for the Blues:
Nemanja Matic scores his first goal for Chelsea with his first shot of the season. #CFC pic.twitter.com/DwXFsmTVos

— Squawka Football (@Squawka) August 30, 2014
It was only his first shot of the season, and Grantland's Bill Barnwell couldn't help himself:
Matic with the "We'll let Rajon Rondo take that three" shot into the corner.

— Bill Barnwell (@billbarnwell) August 30, 2014
FutbolBible was very impressed with the quality of his shot:
TAKE A BOW MATIC WHAT A GOAL!!!!! This game is incredible. Chelsea 4-2.

— FutbolBible (@FutbolBible) August 30, 2014
The Blues now share the top spot in the Premier League standings with Swansea City, and they'll host the Welsh outfit in Week 4 of action. The Swans have looked phenomenal in the attacking third as well, meaning fans could see a second-consecutive goal fest when these teams meet.