Everton and Arsenal played out a thrilling 2-2 draw on Saturday at Goodison Park, splitting the points in the most exciting match of the Premier League's second week of action.
Seamus Coleman and Steven Naismith had given the hosts a two-goal lead after the first half, but a pair of late goals from the Gunners made sure the visitors wouldn't be going home empty handed.
Everton dominated the first half but failed to muster any chances until Coleman found himself on the end of a beautiful ball from Leighton Baines, illustrated by Richard Swarbrick:
Illustration: Séamus Coleman's goal to give @Everton the lead vs Arsenal pic.twitter.com/qTWEVTUWwF

— Richard Swarbrick (@RikkiLeaks) August 23, 2014
Naismith doubled the Toffees' lead just before half-time, although replays showed he was in an offside position when Romelu Lukaku played him through on goal.
Arsenal struggled to build a rhythm in the second half and it appeared Everton would walk away with a deserved win, but two beautiful strikes down the left flank resulted in two excellent goals.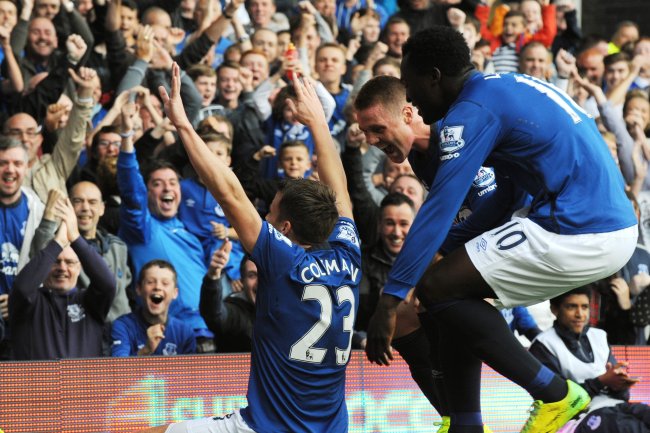 Rui Vieira/Associated Press
Aaron Ramsey first connected with a sharp cross with seven minutes left on the clock, and Olivier Giroud completed the comeback with a powerful header.
Roberto Martinez said, as quoted by the Premier League's official Twitter account, his team would have to be perfect to get past a strong side like Arsenal, and those words seemed even more true after the final whistle:
.@Everton boss Roberto Martinez: "When you play against a side like Arsenal you have to be perfect in everything you do." #EVEARS

— Premier League (@premierleague) August 23, 2014
He continued to note his team simply ran out of gas, something that can happen this early in the season:
.@Everton manager Roberto Martinez: "We ran out of energy. It's just where we are in the season." #EVEARS

— Premier League (@premierleague) August 23, 2014
The Toffees did indeed press Arsenal very high for the bulk of the match, with the full-backs putting together an excellent performance. But those same full-backs were unable to cope with Arsenal's attacking movement late, resulting in the two goals.
The Premier League's official Twitter account revealed Arsene Wenger was happy with the spirit his team showed, knowing full well many of the top teams will struggle at Goodison Park.
.@Arsenal boss Arsene Wenger: "We gave a great response with a complete desire to come back. Our spirit got us this point." #EVEARS

— Premier League (@premierleague) August 23, 2014
As shared by The Independent's Chris Wheatley, the Gunners' boss elaborated on the health of Giroud, as the striker picked up a knock late in the match. According to the French manager, the initial signs don't look good:
Wenger: "Giroud stretched his ankle. It doesn't look too good."

— Chris Wheatley (@GoonerTalk) August 23, 2014
Martinez said his players played the perfect match for 70-75 minutes via Everton's official twitter feed, similar to last year's massive 3-0 win over Arsenal:
RM: "For 70-75 minutes, it was the perfect performance - very similar to when we last played Arsenal." #EFCvAFC

— Everton (@Everton) August 23, 2014
He added that such a performance this early in the season is encouraging, with fitness becoming a factor in the coming weeks:
RM: "We felt really dominant against a good side. We have clear direction of how we need to work to get our performances strong for 90mins."

— Everton (@Everton) August 23, 2014
Steven Pienaar was forced to leave the pitch early after picking up an injury, and Martinez felt like the loss of the South African had a significant impact.
RM: "Pienaar's injury affected us massively. We didn't have a third sub in the last few minutes which was always going to be important."

— Everton (@Everton) August 23, 2014
As shared by Wheatley, Wenger felt his team deserved the draw on Saturday:
Wenger: "I think it is a strong point because we were 2-0 down. The game was played with high pace. It's a good & deserved point."

— Chris Wheatley (@GoonerTalk) August 23, 2014
Wenger added that the Premier League remains an incredibly competitive league, but his squad certainly showed their ambition:
Wenger: "The competition in England is tough for everyone. We are really ambitious and we've shown it again today."

— Chris Wheatley (@GoonerTalk) August 23, 2014
Everton will take a lot of positives from this performance but will rue their inability to put away teams late in matches, and that's something they simply can't afford to do when they play league-leaders Chelsea in Week 3.
The Blues have looked very strong early in the season, and a loss in that match would make the Toffees' bid to finish in the top five that much harder.
Arsenal will play Leicester City next week, and the newly promoted side have proven themselves a difficult out in the first two weeks of the 2014-15 season. While the Gunners will no doubt be favourites, they'll need to put in a better performance than the one they put forth on Saturday.