For 85 minutes, the United States couldn't have asked for a better sendoff to the 2014 FIFA World Cup in Brazil than the one they got versus Nigeria. The finish got a little hairy, because the finishes always seem to get a little hairy, but the United States held on to win, 2-1.
Jozy Altidore broke his goal-scoring drought with a brace. The defense looked mostly organized and compact. Michael Bradley was easily the finest player on the pitch. Jurgen Klinsmann's formational tweaks worked to perfection. And the United States mostly dominated a solid Nigeria side and frustrated them for much of the match.
The main storyline, of course, was Altidore finally getting on the board. Before the match, Klinsmann told Michelle Kaufman of The Miami Herald he thought a goal was coming:
He's full of energy. He's sharp. He's going for the goal, looking for his chances and creating himself some chances. He did very well. … He will come through and he will start to score. Obviously, the sooner the better for every striker, but I'm very, very positive.
Turns out Klinsmann is something of a prophet.
It was a strong performance in every phase of the game, and the USMNT will head to Brazil brimming with confidence, even if the clean sheet would have made the afternoon perfect. Victor Moses 86th-minute penalty conversion, after many of the USMNT's starters had been subbed off, ruined that.
But there was far more good than bad, and the U.S. finished with three straight friendly wins in their warmup for Brazil. From U.S. Soccer on Twitter:
An undefeated send-off series for your #USMNT! Next stop, Brazil. https://t.co/wk5PwMjkFC

— U.S. Soccer (@ussoccer) June 7, 2014
The most interesting aspect of the game early on—at least from the United States' perspective—was the formation the Stars and Stripes were aligned in, as it seemed to shift and morph with regularity. Leander Schaerlaeckens of Fox Sports and the folks in the press box were certainly having fun trying to figure it out:
We're having a hard time figuring out what this formation is up in the press box. But then Klinsmann says formations are thing of the past.

— LeanderLastNameNoFit (@LeanderOnFOX) June 7, 2014
Formation looking like a diamond again, with Jermaine Jones on the left. Or something. Or whatever. #USMNT

— LeanderLastNameNoFit (@LeanderOnFOX) June 7, 2014
Was Klinsmann giving his interpretation of the famous Dutch style of Total Football? Not exactly. The team appeared to be using a 4-4-2 diamond, albeit a very compact one, with Jermaine Jones playing tight enough on the left side to squeeze next to Kyle Beckerman as a defensive mid, with Alejandro Bedoya on the other side. Michael Bradley sat atop the diamond, with Jozy Altidore and Clint Dempsey playing as forwards.
But it was very fluid, with players swapping roles with regularity and shifting at times into a 4-2-3-1 or 4-1-3-2.
The first 20 minutes was a fairly cagey affair, with each team swapping decent chances but neither side looking particularly threatening. Michael Bradley nearly opened the scoring in the 23rd minute, however. He found room down the right and a lane to shoot just outside of the box. His shot was heading for the far corner but Vincent Enyeama made a smart save diving to his right.
On the ensuing corner, Bedoya found himself with room to shoot from outside of the box and let fly, but his curling effort sailed over the bar.
The United States would open the scoring in the 31st minute, however, on a lovely team goal. Jermaine Jones received a clearing pass and rushed forward, playing a pass to send Bedoya down the right flank. He played a quick through ball to Johnson that took him to the touch line, where he whipped a quick, low cross that Altidore tapped into a wide open net.
It was Johnson's incredibly smart run to the touch line that set up the play, however, reminding Bleacher Report's Dan Levy, among others, of his value:
Fabian Johnson is SO IMPORTANT to this team.

— Dan Levy (@DanLevyThinks) June 7, 2014
For Altidore, meanwhile, it ended a huge goal-scoring drought, as Squawka Football tweeted:
Jozy Altidore has just scored for the US national team; his first goal for club or country since scoring against Chelsea on 4th of December.

— Squawka Football (@Squawka) June 7, 2014
Nigeria nearly equalized before the half, however. After several decent chances and consecutive corners, defender Efe Ambrose got his head on the service into the box and ripped a strong header, but Tim Howard was up to the task and smothered the effort.
The game went into the half with the U.S. up a goal, a first 45 minutes that Nigeria likely weren't terribly pleased with. Along with the early deficit they also got terrible news about their first-choice left-back Uwa Echiejile, per ESPN FC:
On the U.S. goal, it should be noted that Nigeria announced today starting LB Uwa Echiejile is out for the World Cup. http://t.co/hm6LDN8BFT

— ESPN FC (@ESPNFC) June 7, 2014
This World Cup may be remembered for all of the excellent players who ultimately missed out due to injury. Add Echiejile to the list that already includes Marco Reus, Franck Ribery, Radamel Falcao and Theo Walcott, among others.
In all, it was a smart half from the United States, and the game plan was quite effective, per Kyle McCarthy of Fox Sports:
Pragmatic and effective plan from #USMNT. Keep the shape tight. Frustrate opposition. Break quickly at proper times. Pounce when possible.

— Kyle McCarthy (@kylejmccarthy) June 7, 2014
The U.S. was the stronger team early in the second half as well, although the proceedings began cagily again. In the 64th minute, Dempsey and Altidore found themselves on the break with room to work. Dempsey deked his defender and had the option to either shoot or slide a pass to Altidore. He chose to go for goal, but an onrushing Enyeama smothered the shot, as Dempsey didn't lift his effort enough to clear the keeper.
In the 68th minute, however, Altidore would make it two.
Bradley played a perfectly weighted pass over the top to Altidore in the box. The striker took a touch, cut inside and ripped an absolute screamer past the helpless Enyeama.
Late in the game, Nigeria looked like they had run out of ideas and had no idea how to break down the unique U.S. setup. That allowed several chances on the break for the Americans, though the attempts at catching the Nigerians off-balance came up empty.
But the U.S. just couldn't keep the clean sheet. Moses got free in the box and Matt Besler was overambitious in his tackle, leading the ref to point to the spot. Moses took the penalty cooly, sending Howard the wrong way and slotting the ball into the left side of the net.
Nigeria would make things nervy in the last few minutes, but the United States held on.
The Americans can take a lot of positives from this game. Altidore got back on track. Geoff Cameron and Besler looked good paired together in central defense. The 4-1-3-2 the United States seemed to favor during the match bottled up the midfield, freed up Bradley to be a creator and spurned on the counter-attack. Johnson was again wonderful at right-back.
If you were worried about the United States' tough group at the World Cup, this performance should give you some confidence, even if the late penalty was disappointing.
The game seemed to provide a solid game plan for Ghana, though one would imagine that would be a tougher contest than this one. Still, if the United States can stay compact, bide their time and pick their spots going forward, they are going to be very tough opponents for Ghana, Portugal and Germany.
Grades
United States Grades

| | | |
| --- | --- | --- |
| Position | Player | Grade |
| GK | Tim Howard | B+ |
| LB | DeMarcus Beasley (Off 75') | B+ |
| CB | Matt Besler | B- |
| CB | Geoff Cameron | B |
| RB | Fabian Johnson | A |
| CDM | Kyle Beckerman (Off 72') | B+ |
| LCM | Jermaine Jones | A- |
| RCM | Alejandro Bedoya (Off 60') | B+ |
| CAM | Michael Bradley | A |
| ST | Clint Dempsey (Off 87') | B |
| ST | Jozy Altidore (Off 80') | A |
| Subs | | |
| RCM | Graham Zusi (On 60') | B |
| CM | Mix Diskerud (On 72') | B |
| LB | Timmy Chandler (On 75') | B |
| CB | Omar Gonzalez (On 80') | D |
| ST | Chris Wondolowski | B |
Nigeria Grades

| | | |
| --- | --- | --- |
| Postition | Player | Grade |
| GK | Vincent Enyeama | A- |
| LB | Juwon Oshaniwa | C |
| CB | Joseph Yobo | C |
| CB | Godfrey Oboabona | C |
| RB | Efe Ambrose | C |
| CM | Ramon Azeez (Off 74') | C+ |
| CM | John Obi Mikel (Off 45') | B- |
| CM | Ogenyi Onazi | B- |
| LW | Victor Moses | B |
| ST | Shola Ameobi (Off 63') | B- |
| RW | Peter Odemwingie (Off 45') | B- |
| Subs | | |
| CM | Gabriel Reuben (On 45') | B- |
| RW | Babatunde Michael (On 45') | B |
| ST | Emmanuel Emenike (On 63') | B+ |
| MF | Michael Uchebo (On 74') | B |
Man of the Match: Michael Bradley, MF, United States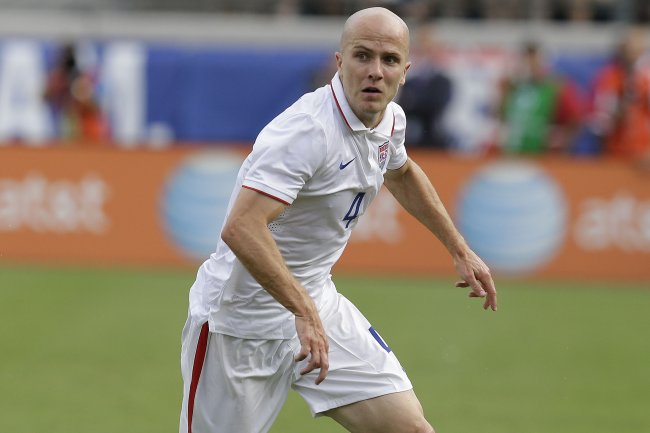 Mike Zarrilli/Getty Images
It was tempting to give this to Altidore for his brace—and Johnson deserved consideration as well—but from start to finish, Bradley was excellent.
Freed up to get more forward with Jones and Beckerman behind him, Bradley had his hand in everything. He set up his teammates. He ripped shots when the opportunity presented itself. He doubled back if necessary, disrupting Nigeria's counter-attack. He did everything you would want of him.
It was another fantastic showing from the USMNT's talisman. In Bradley we trust.
What's Next?
The World Cup! Both teams will play on Monday, June 16, with Nigeria facing Iran at 3 p.m. ET before the United States kick off their World Cup campaign at 6 p.m. ET against Ghana.