What a weekend for Arsenal Football Club.
Having navigated a potentially tricky home tie in the FA Cup quarter-finals with style and aplomb, taking Everton to the cleaners for a 4-1 triumph, Arsenal find themselves as the strongest team remaining in this year's tournament—on paper.
But in the oldest, most fabled and most prestigious cup competition in world football, absolutely anything can and does happen, showcased perfectly by Wigan Athletic's quite stunning upset at the Etihad on Sunday, dumping Manchester City out of contention with a 2-1 win and putting themselves in the semi-finals against the Gunners.
Arsene Wenger's men have plenty of reasons to be confident ahead of the semi-final—Arsenal's first visit to Wembley since the devastating Carling Cup Final loss to Birmingham City in February 2011. First and foremost, the way in which they killed the game off against a strong Everton side—who played much, much better than the scoreline might suggest—was fantastic.
Although Mikel Arteta's penalty to put Arsenal back in front did take some of the wind out of Evertonian sails, the final salvo, two Olivier Giroud goals, broke Merseyside hearts and confirmed Arsenal as FA Cup semi-finalists. To defeat that Everton side—arguably stronger than any one of Wigan, Hull City or Sheffield United, the remaining three cup hopefuls—and in such a decisive manner, gives Arsenal real hope of finally ending that notorious run of not capturing silverware.
But this is the clincher. If Arsenal do not go on to lift the trophy in the glow of Wembley sunshine come May, something will have gone seriously wrong.
They are the strongest team remaining in the competition; they have by far the strongest, most creative and inventive squad. They are led by perhaps the second-most successful manager in recent English football history. They have the momentum of Saturday's success, in front of a gleeful Emirates Stadium crowd, to propel them forwards in the quest for silverware.
Everything is set up perfectly. But they cannot underestimate their opponents—this goes for Wigan, as well as the other potential finalists.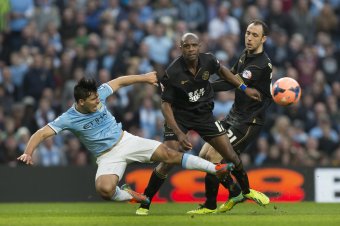 Jon Super/Associated Press
Wigan, as the holders and conquerors of Manchester City are perhaps the deadliest remaining threat for Arsenal. Going to the Etihad, truly a great fortress of recent football times, and vanquishing their hosts, is something that only one other team in England has accomplished this year—Premier League leaders Chelsea, via WhoScored.com.
That's something that Arsenal fell flat while trying to accomplish.
Wigan's squad, for the most part, comes straight from lifting this very same trophy last year; in contrast, not one member of Arsenal's squad was present when Patrick Vieira lifted the trophy in 2005's final (Mathieu Flamini did not feature in the matchday squad). So that's cup experience in the Lancashire outfit's favour.
Arsenal must rely on their stout defensive prowess to combat Wigan's counterattacks, as well as their ingenious midfield unit—which will be strengthened by the return of Aaron Ramsey from injury, touch wood—to break down a Wigan defense that not even Manchester City could conquer.
In summary, the winds of favour have blown in Arsenal's direction. They are the strongest team remaining in the FA Cup—but should they fail to live up to that billing, the consequences will be dire.
Failure is not an option. Arsenal have to win the FA Cup, and they have to do it this year.