Nigeria and Mexico played to a 0-0 draw Wednesday night in Atlanta.
With both countries already through to the World Cup, neither manager was much concerned with getting a result in this match. As these friendlies are all that's left between now and Brazil, this time is more about building chemistry within the squad and throwing stuff at the wall and seeing what works.
It's not always the best to watch, as the fans in the Georgia Dome voiced their displeasure at the final whistle.
The scoreline belies what was an enjoyable match, as beIN Sport's Ray Hudson pointed out. Both teams had their moments, and the lack of cohesion led to some scoring chances through mistakes at the back:
Splendid game of football…wonderful from both Mexico & Nigeria. If the cynics in Atlanta press cry about the 0-0 scoreline,there is no hope.

— Ray Hudson (@RayHudson) March 6, 2014
Much of the discussion about El Tri heading into the match was Mexico coach Miguel Herrera bringing foreign-based players into the side. Prior to Wednesday night, he had relied heavily on players from Liga MX, especially his own club, Club America.
So in came Javier Hernandez, Diego Reyes, Andres Guardado, Guillermo Ochoa, Hector Moreno, Javier Aquino and Hector Herrera. The performance of Chicharito, in particular, will be dissected to the nth degree, as questions remain as to whether he and Oribe Peralta, who has been on a great run of form with Mexico, can play together.
Hernandez played 45 minutes in the match. He was subbed off at halftime as a precautionary measure, per Mexican football journalist Tom Marshall:
Scrap that last Tweet. Chicharito seems to have a problem with his knee and was brought off as a precaution.

— Tom Marshall (@mexicoworldcup) March 6, 2014
In those 45 minutes, Chicharito failed to make much of an impression.
In the first 20 or so minutes of the first half, Mexico looked very disorganized at times, which allowed Nigeria to get the ball in attacking positions. Had it not been for the performance of Ochoa, El Tri could've been looking at a one- or two-goal deficit going into halftime.
Mexico looked much better as halftime crept closer. They pressured the ball more, which in turn gave them possession in the Nigerian half. The corners began piling up, but El Tri couldn't do anything with them.
Marshall pointed out what was the biggest problem with Mexico. You could understand why Herrera chose some foreign-based players, but they didn't have a lot of time to adapt to his tactics and playing style. That eliminated the fluidity they had demonstrated in previous matches:
Easy to understand Miguel Herrera's decision to not bring Euro-based players to WC playoff on 1st half. Difficult to adapt to his system.

— Tom Marshall (@mexicoworldcup) March 6, 2014
When the second half arrived, both managers made a few substitutions, which took a lot of the fun out of the game. You can't blame them, either, as they're playing with a view toward the World Cup, rather than winning a friendly in March.
Rafael Marquez thought that El Tri played better toward the end of the match:
Rafa Marquez: Little by little we adapted and by the second half we were much better.

— Tom Marshall (@mexicoworldcup) March 6, 2014
The one player who stood out for Mexico in the second half was Alan Pulido. He had a hat-trick in El Tri's last friendly, against South Korea, and followed it up with a decent performance on Wednesday. Although he didn't score, Pulido was making all the right runs and even managed to create some scoring opportunities, per FoxSoccer.com's Kyle McCarthy:
Match petered out a bit after the break with the inevitable substitutions and the lack of coherency. Decent effort by Pulido just now, tho.

— Kyle McCarthy (@kylejmccarthy) March 6, 2014
Thomas Hautmann of FoxSoccer.com was a bit cynical of Mexico's overall performance:
Another instant classic performance turned in by El Tri....

— Thomas Hautmann (@HautmannOnFOX) March 6, 2014
While El Tri weren't marauding up the pitch, there's no question that the team looks miles better than it was under Jose Manuel de la Torre.
Key Player Grades
Guillermo Ochoa, Mexico: A-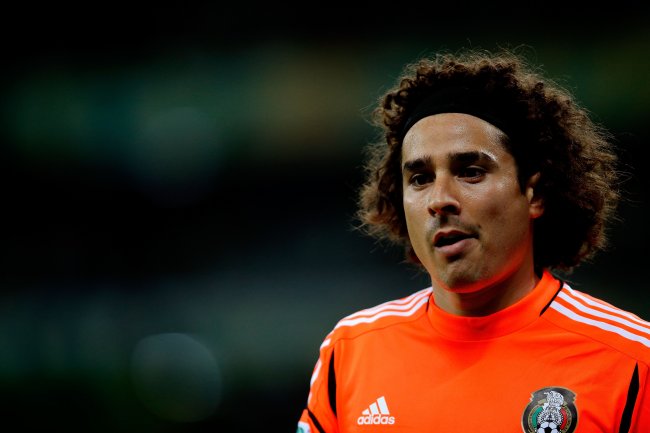 Dean Mouhtaropoulos/Getty Images
Miguel Herrera will likely be questioned for including foreign-based players. He only needs to point to the performance of Guillermo Ochoa as justification.
Ochoa came into this game knowing he needed to show Herrera something special, and that's exactly what he did. Eric Gomez of Fox Deportes gave the Ajaccio goalkeeper an A+:
If this was Ochoa's only audition for Brazil - A+

— Eric Gómez (@EricGomezFOX) March 6, 2014
Although I wouldn't go that far, Ochoa was the best player for Mexico on the night.
Alan Pulido, Mexico: B

Soobum Im-USA TODAY Sports
Alan Pulido keeps making a strong case that he deserves a plane ticket to Brazil, and even more than that, at least a substitute role on the team. He provided instant energy off the bench, running into the right areas and dragging Nigerian defenders with him. Pulido is doing what he can to build a case that he's at least a better option at striker than Raul Jimenez.
Vincent Enyeama, Nigeria: B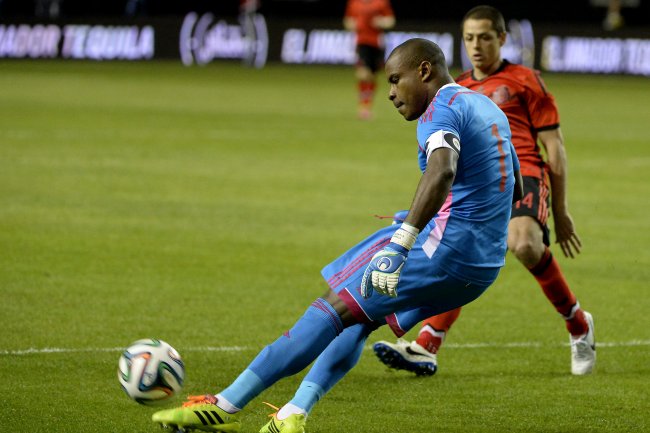 Dave Tulis/Associated Press
Although he only played the first half, Vincent Enyeama put in a "man of the match" performance for Nigeria. He did well to organize his back four and was there to deny what few Mexican scoring chances there were. Enyeama really excelled on the corner kicks, as he was a confident presence in the air and didn't allow Mexico any second-chance opportunities.
Mexico Player Grades

| | |
| --- | --- |
| Player | Grade |
| Guillermo Ochoa | A- |
| Andres Guardado | B |
| Hector Moreno | C+ |
| Rafael Marquez | C+ |
| Diego Reyes (off '64) | B- |
| Paul Aguilar | C+ |
| Luis Montes (off '46) | C+ |
| Juan Carlos Medina (off '64) | C+ |
| Hector Herrera (off '84) | B- |
| Oribe Peralta (off '70) | B- |
| Javier Hernandez (off '46) | C |
| Substitutes | |
| Javier Aquino | B- |
| Alan Pulido | B |
| Carlos Pena | C+ |
| Francisco Rodriguez | C |
| Raul Jimenez | C+ |
| Jose Juan Vazquez | INC |
Lineups via FoxSoccer.com
Nigeria Player Grades

| | |
| --- | --- |
| Player | Grade |
| Vincent Enyeama (off '46) | B |
| Elderson | C+ |
| Kenneth Omeruo | B |
| Godfrey Oboabona | B- |
| Efe Ambrose (off '46) | C+ |
| Victor Moses (off '71) | C |
| John Obi Mikel | C+ |
| Ogenyi Onazi | C |
| Michael Uchebo (off '46) | C |
| Emmanuel Emenike | C+ |
| Ahmed Musa (off '60) | C |
| Substitutes | |
| Austin Ejide | B- |
| Ramon Azeez | C+ |
| Leon Balogun | C- |
| Victor Obinna | C |
| Imoh Ezekiel | C+ |
| | |
Lineups via FoxSoccer.com
What's Next?
Mexico have about a month off. They play the United States on April 2. The next friendly on the docket for Nigeria isn't until May, away to Scotland on the 27th.